J.D. Vance Campaign First Test of Donald Trump Jr.'s Political Influence
Ohio's primary elections caught the eyes of politicians and pundits alike, as the nation prepared to test just how strong former President Donald Trump's grip remains over the Republican Party. But the outcome of the crowded and expensive GOP Senate race also revealed the political influence Trump's eldest son, Donald Trump, Jr., has, and hinted at how successful he could be should he mount his own run for office.
On Tuesday night, J.D. Vance—the venture capitalist backed by both Trump Sr. and his son—successfully beat out Matt Dolan and Josh Mandel in the tough seven-candidate Republican primary race to fill the seat left vacant by incumbent Senator Rob Portman.
While Vance secured backing from the former president, it was Trump Jr. who was sent to Ohio to lead the fieldwork on Vance's campaign. Although Trump Jr. has become increasingly involved in aspects of national politics for Republican candidates across the country, Vance's campaign is one of the first he embarked on without his father's heavy involvement.
In an unexpected move last month, Trump Sr. endorsed Vance, despite the candidate's previous criticisms of the former president—on which Vance has backtracked. And, despite the fact that Vance had never led the crowd of "America First" candidates fighting for the former president's support.
A Fox News poll found that the endorsement vaulted Vance, who was ranked third, to the top of the pack—a spot the former Marine managed to hold onto right up until the election. In Trafalgar's final poll of the race, Vance led with 26 percent and Dolan, who received a last-minute surge in support, polled closely behind with 22 percent.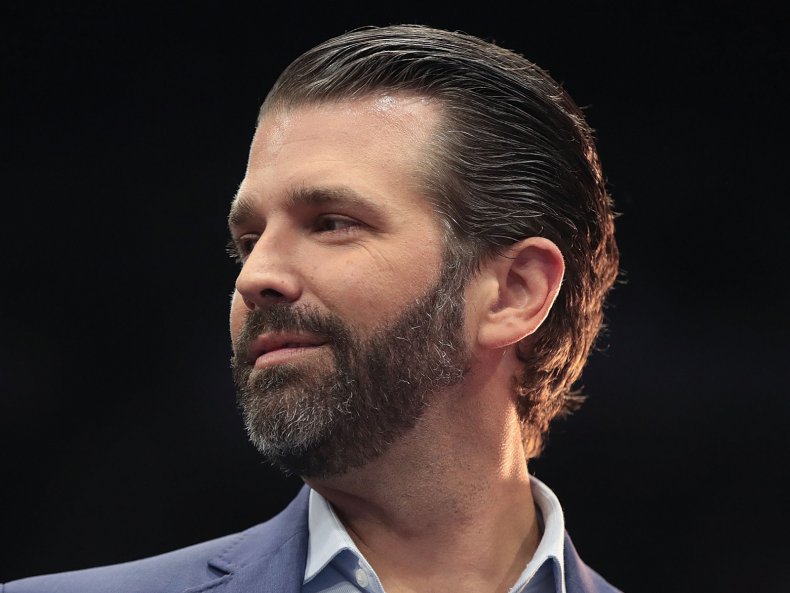 Vance's victory in the primary illustrates the power of Trump Jr.'s political influence, and signals that the eldest of the Trump children could make a compelling Republican candidate himself.
Trump Jr. is believed to have influenced his father's decision to endorse Vance, spending months urging Trump Sr. to back the businessman, according to the The New York Times. He also played a key role in drumming up on-the-ground support for Vance.
Between the mid-April endorsement and Tuesday's election, Trump Jr. repeatedly visited Ohio to canvass for Vance, appearing at a town-hall forum in Independence, a Cleveland suburb, just days after the announcement, then stumping for Vance again last week in Toledo, Dayton and West Chester.
"Tens of millions of RINO dollars spent to stop my man @JDVance1 in Ohio and they call it before 9 o'clock. The America First movement is alive and well people," Trump Jr. celebrated on Twitter Tuesday night. "Congrats JD, well done."
Political strategist Matt Klink told Newsweek that Trump Jr. has made "a very concerted effort to raise his profile," which makes him valuable in fundraising efforts and audience reach.
"He is successful at helping candidates raise money," Klink said. "Additionally, his aggressive social media presence, high name identification and strong polling among Republican voters in early primary states offer him a platform to run for election if he chooses to do so."
In Trump Jr.'s last appearance for Vance, he met with a couple hundred fans at Lori's Roadhouse, a bar on the outskirts of Cincinnati. Playing into winning themes, he took aim at Democrats, RINOs (Republicans in Name Only) and Big Tech, according to Michelle Cottle, a member of the The New York Times editorial board.
Cottle described Trump Jr.'s remarks as being received with "whoops and laughs" and warned Democrats to keep watch on his political development because he's "inherited the family flair for showmanship."
Klink also saw Trump Jr. as being able to bring a younger audience into the MAGA fold. He told Newsweek that he can carry the "America First" message to younger demographics that candidates like Vance need to motivate to turn out and vote. This is especially helpful in close, multi-candidate primary elections, according to Klink.
Vance's victory proves to the GOP that Trump Jr. is "someone who can, not only raise money, but he can also turn out voters and he can deliver a message that excites people," Klink said. Both of these are "building blocks for a successful run for political office."
The Republican strategist added that Vance becoming the Republican nominee confirms that Trump Jr. would be the most logical Trump to run for office if the former president decides to not seek re-election.