J.D. Vance Keeps Last-Minute Polling Lead Over Dolan as Ohio Booths Close
The final poll of Ohio's crowded U.S. Senate race shows Trump-backed candidate J.D. Vance holding his slight lead over state Senator Matt Dolan, who has positioned himself in stark contrast to the former president and the "America First" rhetoric.
While Dolan saw a slight surge in support in the days leading up to the May 3 primary, Trafalgar Group's Monday poll found Vance leading with 26.2 percent of the vote and Dolan trailing closely with 22 percent.
The poll, which was conducted between April 29 through May 1, suggested there could be a third frontrunner in former State Treasurer Josh Mandel, who came third with 20.8 percent of the vote.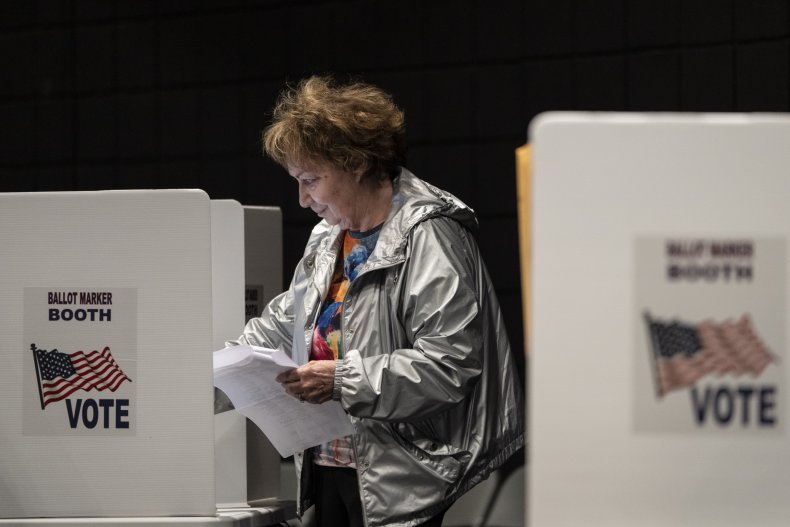 There are seven Republican candidates running in the race to fill the vacancy left by Senator Rob Portman, who has decided not to seek a third term.
Voting booths across Ohio closed on Tuesday at 7:30 p.m. local time.
The survey showed candidate Mike Gibbons with 13.1 percent of the vote among likely GOP voters, former Ohio GOP chair Jane Timken with 5.7 percent and Mark Pukita and Neil Patel—both Columbus business owners—with 1.9 and 1.7 percent, respectively.
Trafalgar's poll has a margin of error of about three percentage points, which puts Vance, Dolan and Mandel at a toss-up because each candidate's advantage could swing by up to six points.
It is the pollster's fourth survey of the Senate race. The group also conducted polls in December, early February and mid-April.
Emerson College's Friday poll showed Vance in the lead with 24 percent, but found Mandel to have higher support than Dolan, with 22 percent compared to the state senator's 18 percent.
Another poll conducted by Blueprint Polling in late April showed Dolan in the lead with 18 percent, which was one point higher than Vance.
Almost all of the candidates in the race had been vying for a Trump endorsement and aligned themselves with the former president. But only Vance secured the former president's backing and only Dolan has unapologetically denounced Trump.
Vance and Dolan's leads in the primaries reflects a divide among Republican voters and the outcome of the race is expected to signal just how strong Trump's grip over the party remains.
Vance has also been endorsed by other high-profile Republicans including Missouri Senator Josh Hawley and billionaire Peter Thiel, who donated $3.5 million to the super political action committee backing Vance.
Before Trump announced his endorsement of Vance in mid-April, Mandel had been the leading GOP candidate. The former state treasurer is being endorsed by Senator Ted Cruz.