Mike Gibbons Climbs in Ohio Race as J.D. Vance's Trump Comments Haunt Him
Senate candidate J.D. Vance's past comments on Donald Trump are coming back to haunt him as Mike Gibbons climbs in Ohio's Senate race.
A new survey from the Trafalgar Group found Vance behind Gibbons and Josh Mandel. Vance garnered 14.3 percent support from likely GOP voters compared with Gibbons's 16.4 percent and Mandel's 21 percent.
In December, a poll from the same group saw Vance behind Mandel but ahead of Gibbons by 3 percentage points. At the time, Vance had support from 14.9 percent of likely voters.
Vance's fall to third place is yet another sign that the Hillbilly Elegy author's campaign is taking a hit from his past negative statements about Donald Trump. Trump won Ohio in both his White House runs.
In 2016, Vance called Trump an "idiot" and said he was a "Never Trump" person.
The comments have been highlighted in advertisements by Club for Growth and USA Freedom Fund, two political action committees backing Mandel for the GOP nomination. Mandel spent eight years as the Buckeye State's treasurer and is shown leading many of the Republican primary polls. The two PACs have spent nearly $2 million on the ads targeting Vance.
"JD is the only candidate in the race to have millions spent against him. There is a reason for that—they know he understands what Ohioans care about. Independent polling has shown him able to weather the smear campaign," a campaign spokesperson told Newsweek.
Vance's campaign has tried to course-correct on Trump since he entered the crowded Republican primary to fill the state's open U.S. Senate seat.
During a recent stop on his bus tour of the state, Spectrum News reported that Vance said what "changed my mind about Donald Trump more than anything is that I saw the corruption in our institutions."
Vance also repeated Trump's false claims about the 2020 election being "stolen," Spectrum News reported.
"I think the fundamental problem is we had a massive effort to shift the election by very powerful people in this country," Vance said. "I don't care whether you say it's rigged, whether you say it's stolen, like I'll say what I'm going to say about it."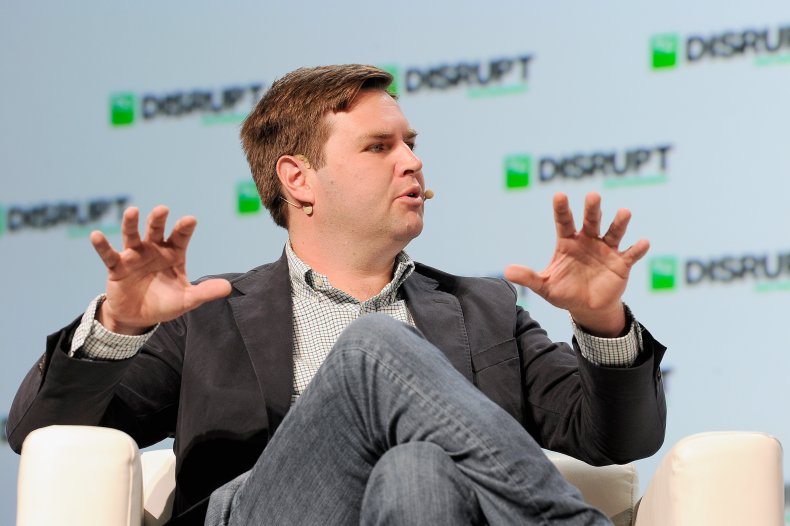 Trump has yet to endorse anyone in the primary, even though he's waded into more than 50 congressional races across the country. In good news for the Republicans running for the Senate nomination, the last Trafalgar Group survey found a quarter of likely voters were still undecided about who they would cast their ballot for in the race.
Other Republican candidates in the running include state senator Matt Dolan, former Ohio GOP chair Jane Timken and businessmen Neil Patel and Mark Pukita. The primary will be held on May 3.
Gibbons, an investment banker, loaned his campaign $3.5 million in the fourth quarter of 2021. Gibbons raised $81,000 from donors and had $6.5 million cash on hand at the end of the year, according to the latest filings with the Federal Election Commission.
Vance, a writer and venture capitalist, reported bringing in $1 million last quarter and had approximately $1.1 million cash on hand entering the new year. Vance previously loaned his campaign $100,000. He's also received support from former Facebook board member Peter Thiel, who has given $10 million to an outside group backing Vance.
On the Democratic side, Representative Tim Ryan is the leading candidate for the party's nomination. Ryan has $5 million cash on hand and raised $2.9 million during the fourth quarter of 2021.
Trafalgar polled 1,085 likely Republican primary voters between February 8 and February 10, 2022. The survey's margin of error is plus or minus 2.98 percentage points.
Update (2/14/22, 6:00 p.m. Eastern): This story has been updated with additional information and the headline has been changed to reflect Mike Gibbons's climb in the Trafalgar poll.