Jean-Claude Van Damme Is Mocking His Action Movies in New 'Jean-Claude Van Johnson' Trailer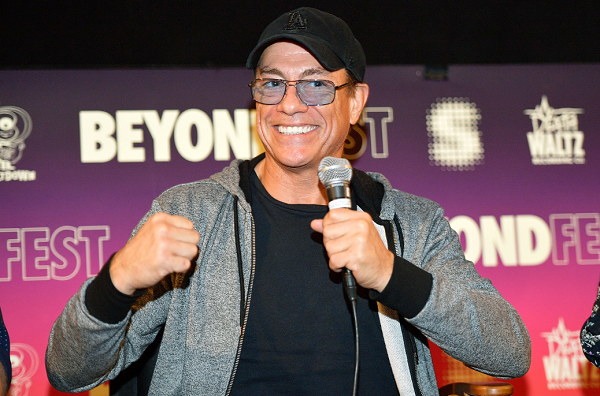 For much of the late 1980s and '90s, Jean-Claude Van Damme ruled the action movie genre. The badass Belgium actor was comparable to none, often performing his own stunts and fight scenes—because when you've won several professional fights and have literally TKO'd a man, who needs a stunt double?
Van Damme has been under the radar for most of the 2000s, with many of his action films going straight to video. But the original Street Fighter is returning with his own Amazon series.
However, he's not just kicking bad guy butt on the show, which drops on Amazon Prime Video in December. Van Damme also is mocking the hit action movies that made him a superstar under his alter-ego (and the show's title) Jean-Claude Van Johnson [JCVJ].
The trailer for JCVJ, which was released on Thursday, starts with Van Damme opening his eyes from a night's rest and introducing himself: "My name is Jean-Claude Van Damme. I used to be super famous."
Van Damme's character returns to a creative agency very reminiscent of Hollywood's renowned UTA and meets with his agent, played by Phylicia Rashad.
Rashad's character seems to be under the impression that Van Damme's visit means he's ready for a new acting gig, but no, he's back to reprise his alter-ego Jean Claude Van Johnson, who appears to be a covert agent that uses movies as his front to take down bad guys.
Van Damme seemed ubiquitous in the '90s, starring in 17 major films from 1990 to 1999—among them Kickboxer, Universal Soldier, Lion Heart and Double Impact. But his career started to decline after he appeared alongside basketball player Dennis Rodman in 1997's Double Team. That movie tanked at the box office, grossing only $11 million during its entire theatrical run compared to, say, 1994's Timecop, which brought in over $12 million in its opening weekend alone.
Van Damme managed to maintain his celebrity overseas with several of his more recent movies but has been largely absent from American cinemas in the 21st century. He's tried the self-parody route previously, starring in 2008's JCVD as a washed-up actor who winds up as a hostage during a bank robbery.
Jean-Claude Van Johnson premieres on Amazon on December 15.