Electronic music pioneer Jean-Michel Jarre has performed some spectacular open-air concerts over the years. His 1979 show at the Place de la Concorde in Paris drew an audience of more than 1 million spectators, setting a Guinness world record. He would break that record three other times.
He first did it in April 1986, when nearly 1.5 million in Houston witnessed his concert, which celebrated the 150th anniversary of Texas and the 25th anniversary of NASA's Johnson Space Center while commemorating the Challenger shuttle tragedy, which occurred two months earlier (astronaut Ron McNair, who was killed in the disaster, was slated to play saxophone from space on one song; jazz artist Kirk Whalum filled in for him). The record was broken a fourth time in September 1997, when 3.5 million attended his gig in Moscow in celebration of the city's 850th birthday.
But Jarre's performances for smaller audiences have often been just as magnificent. The May 20 concert I attended at Manhattan's Radio City Music Hall, part of the French musician's first-ever North American tour, certainly was. The tour—which lands in Broomfield, Colorado, on May 24; in Berkeley, California, on May 26; and finishes up in Los Angeles on May 27 before heading into its European portion in July—launched several weeks after Jarre played in Israel at Masada—part of a campaign to bring awareness to environmental issues facing the Dead Sea. (Jarre is a UNESCO goodwill ambassador who is renowned for his concerts at historical landmarks.)
At Radio City, Jarre's show was sonically and visually stunning, as laser effects and other gorgeous visuals blended with music from his three Oxygène albums; 2015's Electronica, Volume I: The Time Machine, including the title track, which Jarre played with what is known as a laser harp, and 2016's Electronica, Volume II: The Heart of Noise, which includes "Exit," his bold collaboration with NSA whistleblower Edward Snowden.
Jarre, who has sold 80 million albums worldwide, spoke to Newsweek.
When you recorded your two Electronica albums, you collaborated with other music artists, including Pete Townshend, Cyndi Lauper, Vince Clarke, Gesaffelstein, M83, Armin van Buuren, Robert "3D" Del Naja of Massive Attack and the late Edgar Froese of Tangerine Dream. I'm especially curious to hear what it was like working with Townshend.
The whole story of Electronica was to gather around me some people directly or indirectly linked to electronic music who had been a source of inspiration to me. Pete [Townshend] was quite high on my wish list. Pete is more linked to rock, but a lot of people forget that he is one of the musicians who introduced synthesizers in rock, with songs such as "Baba O'Riley" on Who's Next. And also beyond this, he's also been interested in pushing the boundaries of music performances with the rock opera as an art form, with Tommy and Quadrophenia. So it seemed to me quite appropriate to try to collaborate with him.
It was interesting to work with people from different generations and, in a sense, show that music has no boundaries anymore. It's quite transgenerational. And electronic music today has a legacy, and has a future, from Moby to Air, from Tangerine Dream to the Pet Shop Boys, or Gary Numan, or Laurie Anderson, and Armin van Buuren—from both sides of the pond. And all of us are using electronic gear and doing electronic music today, whatever the genre of music.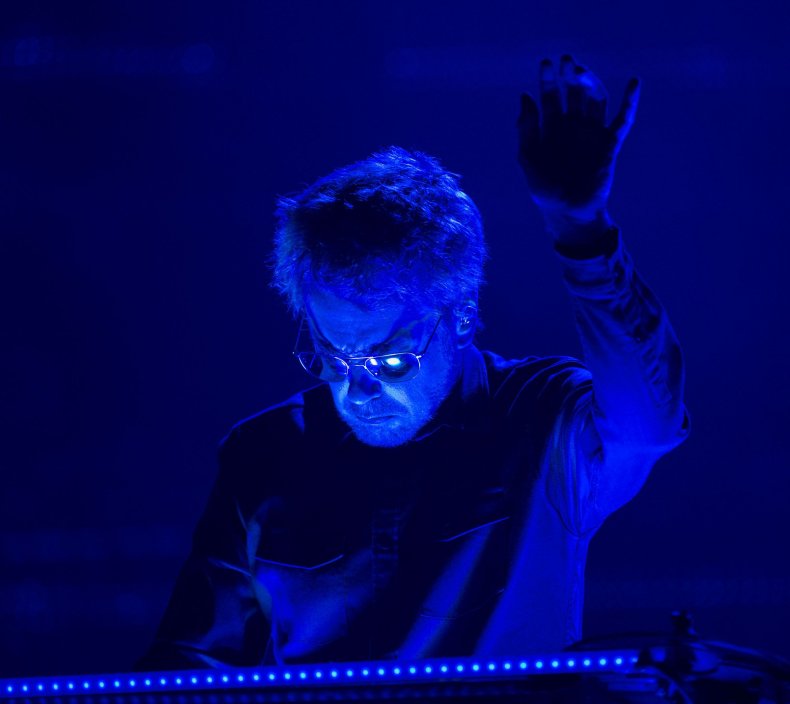 Who, and what, were some of your biggest influences when you first started recording and performing?
I'd say it was quite a privilege to be at the beginning of the movement, like the beginning of rock 'n' roll or the beginning of folk…. There is a kind of innocence, and you are able to open doors on virgin territories. I was taking from other art forms, such as paintings and movies. Example one is 2001: A Space Odyssey. It has been a major influence on me. This movie was just beyond a movie. It was a very interesting encounter, between the soundtrack and the contrast between the pace of the music and the visuals. And I've been a big fan of Arthur C. Clarke's books, and when 2010: Odyssey Two, his sequel to 2001, was released, I remember I was in London and I rushed into the bookstore to buy the book, and I was amazed and blown away when I saw my name in the acknowledgements. Because Arthur C. Clarke said he wrote the book, the second one, listening to my music! We became quite good friends.
Which painters influenced your work?
Painters such as Jackson Pollock and [Pierre] Soulages—all these abstract painters have been quite an influence. And for me, electronic music is very close to abstract painting. Mixing colors, elements, ingredients; mixing loops and beats and textures. I would say that beyond this, I look at electronic music like cooking. I come from Lyon, in France, and we like to consider ourselves the capital of food and cooking. It's the reverse of lots of preconceived ideas that electronic music is cold and robotic. It's always been the reverse…. When you are in front of synthesizers and electronic gear, and you can actually be your own craftsman, putting your hands in the world of noise and sounds. It's very sensual, and not abstract.
My master was Pierre Schaeffer and also [Karlheinz] Stockhausen, and these people were saying electronic music is not made only of notes but also of sounds that go outside—the sound of the wind, of the rain, and of the sound of the streets, and being able to do music with that.
And I love this idea that in ancient Greece, or ancient Egypt, people have said that sculptures are pre-existing. And what you do as a sculptor, you reveal the characters in the structures. I can see the music a little bit in the same way. With any kind of piece of music or song, there's a kind of maelstrom of noise around us in the universe, and by digging the sounds [out], you can reveal your own track, your own piece of music.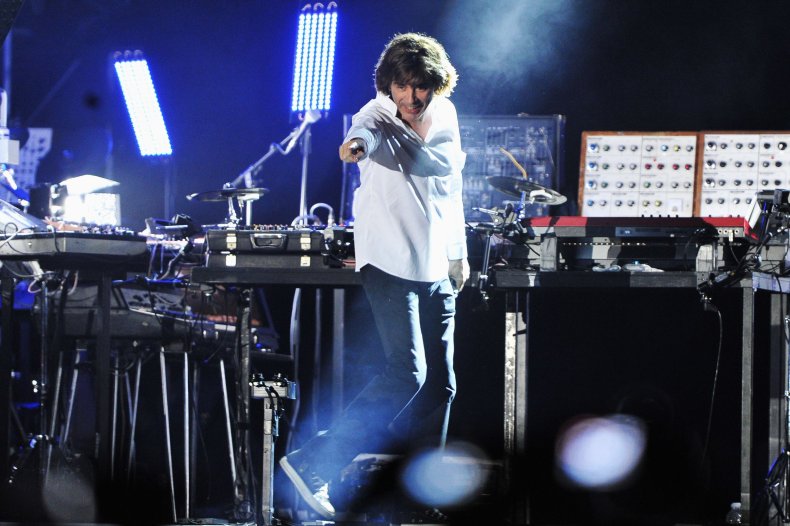 Last year, you released Oxygène 3, which is part of the trilogy that began with your third studio album, Oxygène, which came out in 1976. Considering the cover of the first Oxygène album and the sounds you create, do you feel the album offers some messages about the state of our planet?
Absolutely. And when I did the first Oxygène, there were not as many people involved in ecology and environmental issues. And nowadays it's more or less there, even though many people are not exactly eco-friendly. But we understand the importance of ecology. So yes, Oxygène for me was a kind of manifesto [dealing with] the environment.
And I've always been very interested by sequels in literature and movies and TV series. I like to consider the idea that Oxygène 3 is Oxygène: Season Three. It could be the sound, it could be the instruments I'm using, and this puts it in a different context and creates a different scenario.
On your Electronica tour this year, you've meshed your musical presentation with an especially artful assortment of visuals, including elaborate laser displays.
I've always been involved in integrating visuals into my performances. Electronic music is based on instruments which have not been designed for stage. And frankly, at the beginning of my career, I said, "OK, I'm staying for two hours behind a laptop or synthesizer, and it's not the most sexy thing in the world," so by instinct, I would like to express my music also using visual tools….
I conceived a stage design that's like 3-D without glasses. With panels, lasers and light tunnels through which you can see us, the musicians. It is quite powerful. I was not sure it would work, but at the first rehearsal, we were blown away by the results.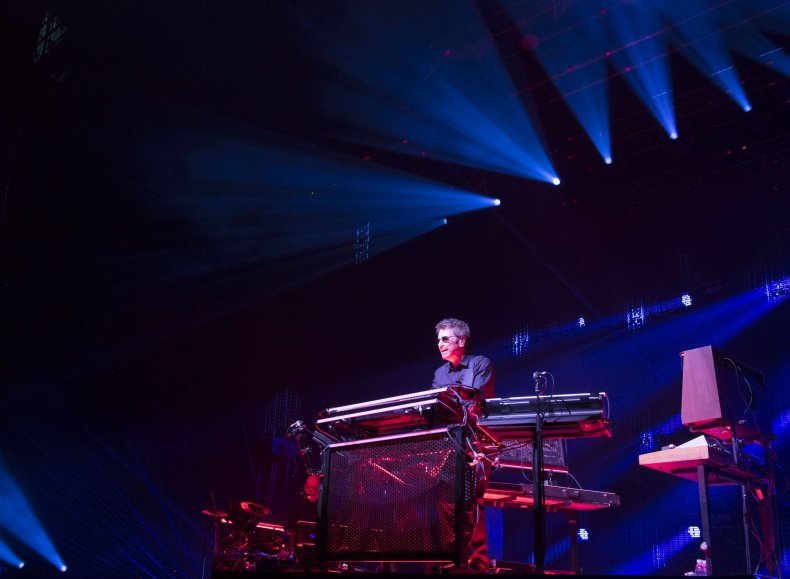 At a number of open-air concerts, you've performed to some of the largest audiences ever.
I've always been quite convinced that electronic music was linked with open air and open spaces…. It's obviously linked with outer space because of the kind of link with science fiction that electronic music has always had, but beyond this, also—in terms of the events, raves and festival—with a kind of community.
Your first giant open-air show, at the Place de la Concorde show in Paris back in '79, must have been thrilling. But was it also somewhat intimidating?
There was not a lot of promotion, but 1 million people came along. It was such a shock that it took me almost a year to recover. And then, because this concert became kind of an event, I was then invited to different countries and regions to stage this same kind of project. So I went to China [in 1981, Jarre became the first Western pop star to perform in China since the Cultural Revolution]; then Houston; my hometown, Lyon, for the visit of the pope; Russia; the pyramids of Egypt…. The concert in Houston is still the largest audience in the history of concerts in this country [the U.S.].
Way bigger than even Woodstock!
Yeah, absolutely.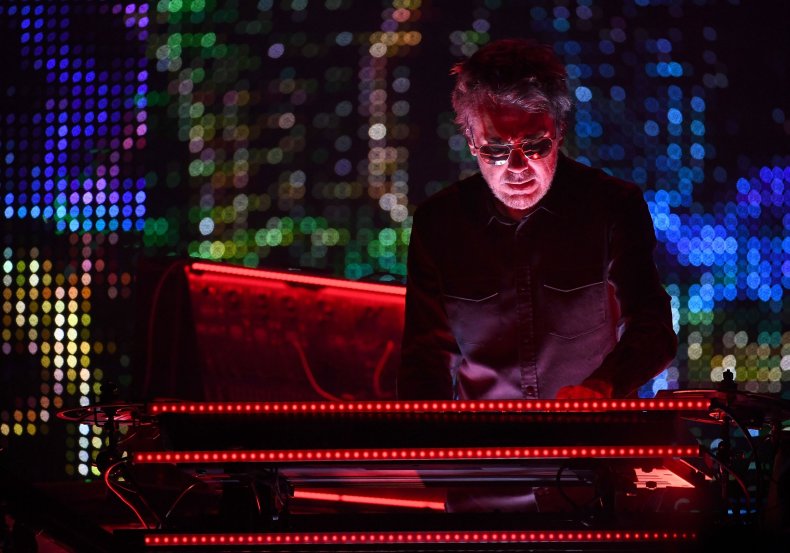 Over the years, you've been an electronic music innovator. But at the same time, analog instruments have made their way into your music.
I would say that the digital era is now able to convey some real warmth and very high quality. But it's like, if you want strings, you use violins. It depends on the music you want to do. So these days you can use analog instruments or digital instruments. In my concerts, I am onstage with two great musicians and around 15 instruments, from classic modular synthesizers to very brand-new digital touch screens, and even an iPad for one track.
It's a mixture of both worlds. And what's interesting is—and we were talking about cooking—is I used to call my set my kitchen. I'm surrounded by my instruments. And we have lots of different techniques onstage, like micro-cameras. I even have a micro-camera on my glasses so people can spy on me in the distance and see what's going on. In lots of electronic music concerts these days, people don't always understand where the sound is coming from. I mean, when you see someone playing the violin, culturally you understand what the sound of the violin is, but electronic sounds, by definition, you sometimes don't know. So it's quite nice to share this experience with the audience, playing electronic music live.
If you don't mind, I would like to go back to what you said about the messages in Oxygène. I think it's an interesting point for me; I think that every musical movement has two sides. People are dancing and having fun, and there [can be] a more, maybe, social or political side of it. It's in folk and rock 'n' roll. Electronic music is the same thing for me, and this is one of the themes of the concert, or the theme of the Electronica albums, is the ambiguous relationship we have with the technology. We know that we have the world in our pockets through our smartphones, but on the other side, we know we are spied on by the outside world. This is the reason I've made this collaboration with Edward Snowden, and that is one of the strong moments of the concert I'm giving in America.
Can you talk about your relationship with Snowden?
I've been really touched by Edward Snowden because, in a very strange way, he made me think about my mother. My mother was with the French Resistance during the Second World War. She went into the Resistance in 1941 at the beginning of the war. And I've been raised with deciding that when the power in place is generating ideals or facts which may harm our community, some of have to stand up against this power in place.
It's exactly what Edward Snowden did. He did what he did to improve this country [the U.S.], to improve the system. And if you think of it, this country, your country, has been founded on the back of resistance. Every social progress, the abolition of slavery, abolition of prohibiting the rights of minorities and women, they all have been done against the law and against the power in place at that moment.
I decided to meet with him [Snowden], and he's a great guy, a great human being and in love with electronic music. This track [they worked on together] is quite strong musically, and he is talking over the middle of song, just saying the reason he did what he did. I went to Moscow to record him and to film him. And in every concert in America and the rest of the world as well, I play this track.
I think it is very important specifically, especially in our days, in America with what is going on politically. I think it's important to remind that people are looking for references, and young people are looking for heroes, and I consider these whistleblowers [like Snowden] as heroes. And it's nice to share convictions. Not to transform your stage and act as a politician—it's not our job as musicians or as artists. But in our music, our art, sharing convictions, sharing messages, is important.
On May 7, in your home country, voters handed independent candidate Emmanuel Macron, who is 39, a victory in the presidential runoff over far-right candidate Marine Le Pen. How do you feel about Macron's big win?
I've been really happy on a personal level, and for my country, that such a young guy is becoming our president. What was very interesting, in France these past few months, was that the traditional parties just collapsed. And what I could say, in just one sentence, is: We got it right. We didn't go extreme right, and that was really important.
Everything is difficult, our world is difficult, but I think having fresh blood in the country is a very good sign. And I think it's the best news we could bring to our country, but also to the rest of the world because it's a very positive signal that France is giving to the world. France has always been quite involved with human rights and with the idea of freedom, and I hope this new president will be able to give us a bit of fresh air, a bit of oxygen in politics worldwide.