Jeanine Pirro Blasts Kamala Harris for Being Silent on Cuomo Accusations: 'Fraud,' 'Phony'
Fox News host Jeanine Pirro criticized Vice President Kamala Harris for declining to speak publicly about the growing number of sexual harassment and misconduct allegations against New York Governor Andrew Cuomo—suggesting the nation's leading female political figure should do more to advocate on behalf of his accusers.
Pirro's remarks concluding Saturday's segment of Justice With Judge Jeanine, her weekly Fox News show, focused on the mounting controversy surrounding Cuomo as he faces calls to resign. Earlier, a seventh woman came forward with allegations of sexual harassment and inappropriate behavior involving the governor, following a series of similar accusations that have come to light over the past several weeks.
Numerous Democratic and Republican figures—including New York state lawmakers and federal officials—have underscored the severity of Cuomo's alleged actions and shown support for a swift end to his office term. Harris has not openly addressed the accusations.
During her recent Fox News segment, the conservative media personality targeted the Democratic vice president, who made history in January as the first woman and first person of color to assume the position.
Pirro described Harris as a "fraud," a "phony" and "a woman without a moral core" on Saturday, referencing the vice president's failure to condemn Cuomo or articulate support for his resignation in light of the misconduct allegations.
"Some supporter of women, huh? A woman paraded around as a champion of women, quick to believe all women unless it doesn't work to her political advantage," Pirro claimed.
Her segment included a clip of Harris leaving a virtual ceremony where she officiated President Joe Biden's new Secretary of the Department for Housing and Urban Development, Marcia Fudge, last Wednesday. A reporter asked Harris to provide a comment regarding Cuomo as she exited a room at the White House Executive Office building where Fudge's virtual ceremony was administered. Harris did not reply.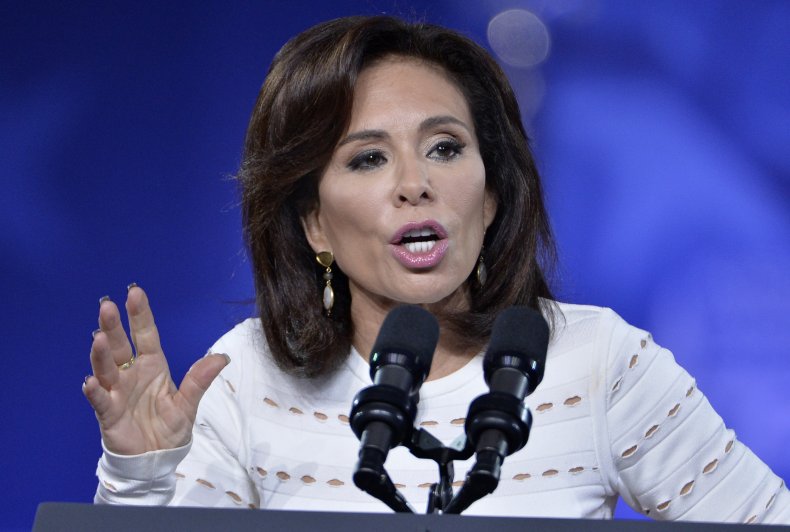 Although neither Biden nor Harris have shared independent remarks about the allegations against Cuomo, White House Press Secretary Jen Psaki discussed the president's position during a briefing on Friday.
"The President believes that every woman who's come forward — there have now been six, I believe, who have come forward — deserves to have her voice heard, should be treated with respect, and should be able to tell her story," Psaki said. "There also is an independent investigation that is ongoing, of course, in the state, with subpoena power overseen by the attorney general, and he certainly supports that moving forward."
Newsweek reached out to the White House for further comment, but did not receive a reply in time for publication.