Fox News viewers were hit with an awkward silence during a discussion between The Five hosts Jeanine Pirro and Jessie Tarlov about the coronavirus vaccine on Tuesday.
Discussing the responsibilities of social media firms' content moderation policies around coronavirus misinformation, the two hosts butted heads when Tarlov said that the COVID-19 vaccine is safe—and that Pirro, who scoffed at the remark, had received one.
Meta, the parent company of Facebook and Instagram, is temporarily blocking searches regarding vaccines on its new platform, Threads. "We're too far into this, for this kind of behavior," Tarlov said, adding that the move is "distressing" given that "a majority of Gen Zs go to social media for their information."
Tarlov cited college basketball player Bronny James, the son of NBA star LeBron James, suffering a recent cardiac arrest that was incorrectly attributed to coronavirus vaccines by social media users.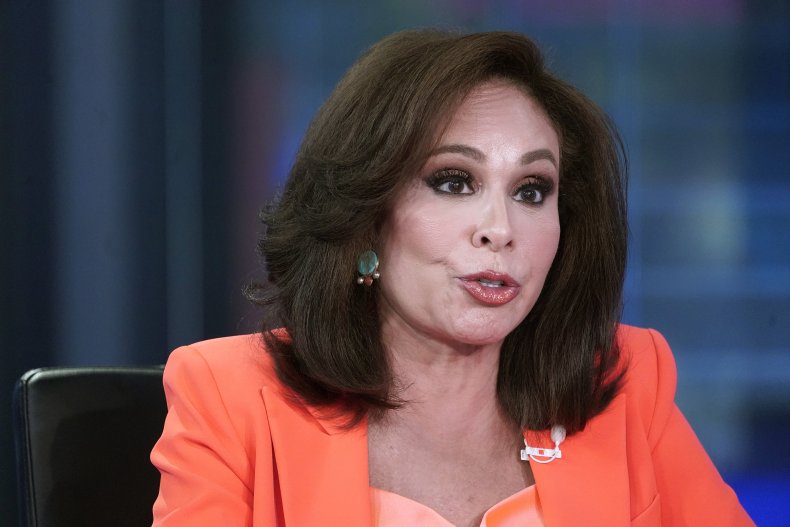 The Centers for Disease Control and Prevention has estimated that between the ages of 18 and 29, myocarditis affects no more than 11.6 vaccinated young men per 100,000. A James family spokesperson confirmed to ESPN the cardiac arrest was caused by a congenital heart defect.
Speaking about information spreading across social media in the wake of James's health incident, Tarlov said: "Immediately, it was 'It was because of the vaccine.' It was not because of the vaccine, but that became the leading story."
As Tarlov continued to say that "people know that the vaccine is safe for you," Pirro let out a sound seemingly indicating she disagreed. Standing her ground, Tarlov retorted: "What do you mean? You're fine. You're vaccinated. What are you 'Oh'ing?"
There was a moment of awkward silence around the table while Pirro looked away, before Tarlov prompted Pirro to respond, saying: "It's your turn."
"It's your segment," Pirro said to her co-host Greg Gutfield, who laughed and responded with: "I'm just here for the fun!"
In December 2021, Fox News' parent company, Fox Corporation, mandated that employees working in New York City be vaccinated against COVID-19. The mandate was dropped in August 2022.
Previously, Pirro had said she would not take the coronavirus vaccine. Speaking on the YouTube show London Real in August 2020, she said: "You know, until you tell me that that vaccine is safe—and only time will tell—until you tell me what the long-term consequences of that vaccine are, I'm not interested in putting it in my body."
Newsweek reached out to Jeanine Pirro via Instagram for comment.