Fox News' Jeanine Pirro Ties Benghazi To Robert Mueller, Hillary Clinton Corruption
Fox News host Jeanine Pirro used the 2012 Benghazi attacks in Libya for her latest criticism of Special Counsel Robert Mueller.
Speaking on Fox News Saturday, Judge Pirro used mafia references to claim Mueller and members of the Democratic Party need a "serial cleaner" to cover-up past government mistakes. Pirro linked a Mueller testimony regarding the Benghazi attacks that killed four Americans in 2012 to Democrats "panicking" in 2018. Pirro claimed Mueller's past is laden with government cover-ups, including for former Secretary of State Hillary Clinton.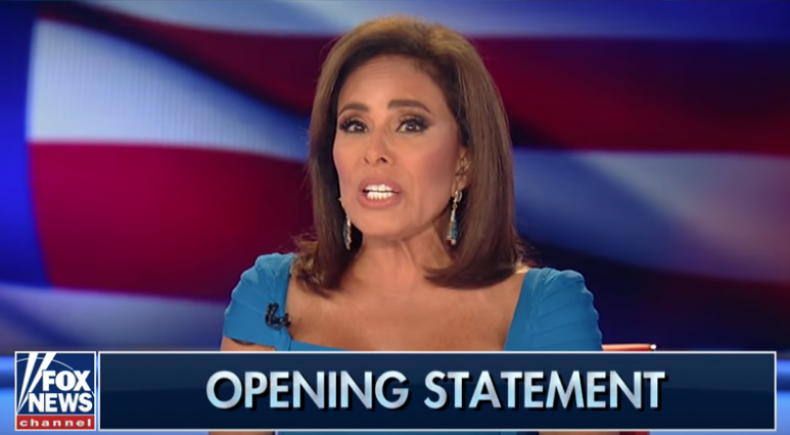 "Your credentials as a government serial cleaner are really good," Pirro said Saturday. "You testified, after four Americans are killed in Benghazi, to cover for Hillary Clinton's incompetence. Bob, why would you say that the FBI couldn't get into Benghazi in time?"
Last week, Pirro asked viewers whether Russian President Vladimir Putin was a bigger threat than Mueller.
"When covert missions go wrong, the government calls in its own cleaner," Pirro said one week after suggesting Mueller himself needs legal defense. "And when things go terribly wrong for the Democrats, they don't just call in a cleaner to get the job done, they call in someone who's been in the clean-up business for a long time, they call in the serial cleaner, former FBI director and now Special Counsel Bob Mueller."
Pirro's criticism of Mueller is only the latest right-wing shot at the Russia election meddling investigation. The Fox News host and ardent Trump defender mocked Mueller for having found "nothing" linking the president to any 2016 election meddling.
"Bob, honestly, you look and sound like a fool. CNN and just about every newspaper in the country, in the world, got there. They made it there, but the FBI couldn't? Hey, I get it, a good cleaner wants a crime scene as trampled as possible. But you know, Bob, we are all getting tired of this and this all comes down to your effort to get Donald Trump indicted and you are panicking. You got nothing."
The Benghazi attack conducted by the Islamic militant group Ansar al-Sharia in September 2012 was a rallying cry against the Obama administration for several years. Last week, Benghazi terror attack survivor Kris "Tanto" Paronto applauded Trump's decision to revoke the security clearance of former CIA DIrector John Brennan.