Fox News Host Jeanine Pirro Chides Republicans for Not Fighting the Way the Democrats Fight
Fox News host Jeanine Pirro chided Republicans for not fighting the way the Democrats fight, suggesting they should push back harder in their defense of President Donald Trump in the face of the fast-moving impeachment inquiry.
Pirro, a staunch Trump defender and former county judge, made the remark during an interview with House Minority Whip Steve Scalise, a Republican from Louisiana, on her show Justice With Judge Jeanine. Scalise tried to downplay the allegations against Trump and argued that the president's controversial actions in Ukraine were not illegal in any way.
"In fact President Trump was carrying out his duty to make sure they are rooting out corruption in Ukraine and he was congratulating President Volodymyr Zelensky on a platform of rooting out corruption," Scalise said, referring to the July 25 call between Trump and Ukraine's president, which is at the center of the impeachment probe. "Zelensky even thanked President Trump for selling them the javelin missiles that allows them to stand up to Russia," he said.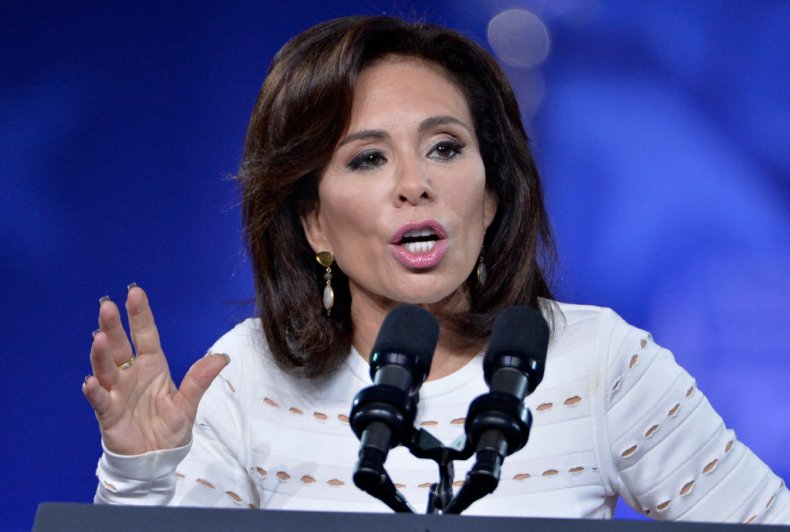 Pirro also argued that Trump had behave appropriately, suggesting that former President Barack Obama had done less for Ukraine than Trump.
"With all due respect congressman, I've got to ask you, you guys don't fight the way the Democrats fight," Pirro said. "You had the goods–when Obama isn't selling what he agreed to sell and Russia and he's defending Russia when they are taking out the defense system over the Ukraine. It's frustrating for Americans to watch this."
Obama has been criticized for not providing lethal military assistance to Ukraine in the wake of Russian-backed separatists launching a civil war with Kiev, and Russia annexing part of the Eastern European nation in 2014. The previous U.S. administration agreed to give non-lethal assistance, such as drones, counter-mortar radars, night vision devices, medical supplies and food rations to support the country. The Trump administration later decided to also provide sniper rifles and Javelin missiles; however, according to The New York Times, the missiles were given with the caveat that they could not actually be used in Ukraine's ongoing conflict.
Earlier this year, Trump is alleged to have temporarily withheld nearly $400 million in military aid to Ukraine as a quid pro quo to pressure Ukrainian officials to open investigations that could damage the Democrats and leading Democratic presidential candidate Joe Biden. Several top diplomats and officials, who were appointed by Trump's administration, have confirmed in closed-door depositions that the aid–which was approved by bipartisan consensus–was withheld to urge the Ukrainian government to investigate the president's political rivals.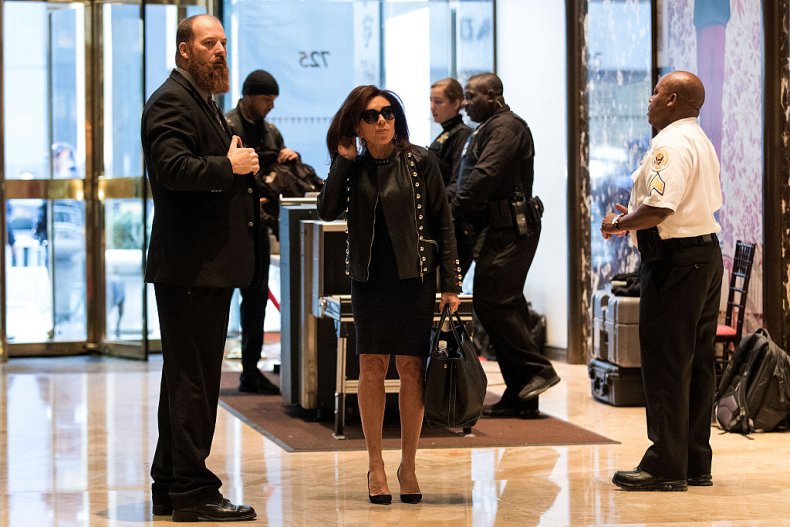 Democrats, and some Republicans, argue that this was a significant abuse of the president's power and broke federal election laws. It is illegal for any candidate to solicit, receive or accept anything of value from a foreign national in conjunction with a U.S. election. But Trump and his supporters continued to insist that the impeachment inquiry is a "partisan" attack and a "witch hunt."
Pirro has long been one of Trump's most vocal supporters. The Fox News host has received over $230,000 to speak to various Republican and Trump-aligned groups and fundraisers since 2017, according to Media Matters for America. She also directly participated in a 2018 rally event for Trump along with Fox News host Sean Hannity.