Fox News' Jeanine Pirro Mocks Biden's Stories About Obama Friendship: 'America Doesn't Need a Best Friend"
Fox News host Jeanine Pirro reveled Saturday night in the "savage" infighting among Democratic 2020 presidential candidates and mocked former Vice President Joe Biden for touting his friendship with someone Pirro claimed doesn't like him — Barack Obama.
Pirro implored her viewers to "sit back, strap in and grab your popcorn" Saturday evening on her Justice with Jeanine program as she gleefully made fun of the Democratic primary candidates: "I don't remember things being this bad 15 months before the Republican primary last time around, do you?"
The Fox News host's opening statement declared the Democrats are in an "all-out, bare knuckle, beat down, clown car show" while "Trump is in a Lamborghini."
"Even Joe's best pal Barack is uncharacteristically silent these days. Joe had to remind him that they are besties with this best friends forever bracelet," Pirro said, referencing a June 8 #BestFriendsDay tweet in which Biden was mocked for appearing desperate.
"Joe, I wouldn't hold my breath waiting for your best pal Barack to endorse you," Pirro said. Maybe though, he's waiting for the perfect day... but in the meantime, Joe, you will probably make a pretty lousy president so stick to making your friendship bracelets and wishing and hoping."
"America doesn't need a best friend," she added.
Pirro ridiculed Biden for "sniffing women's necks" like a dog, flip-flopping on his support of the Hyde Amendment — which blocks the federal government from providing funds for abortions — and she laughed at Democrats calling the long-time politician a "racist" for his claim last week that "civility" was shown by two former segregationists he worked with during his early years in Congress.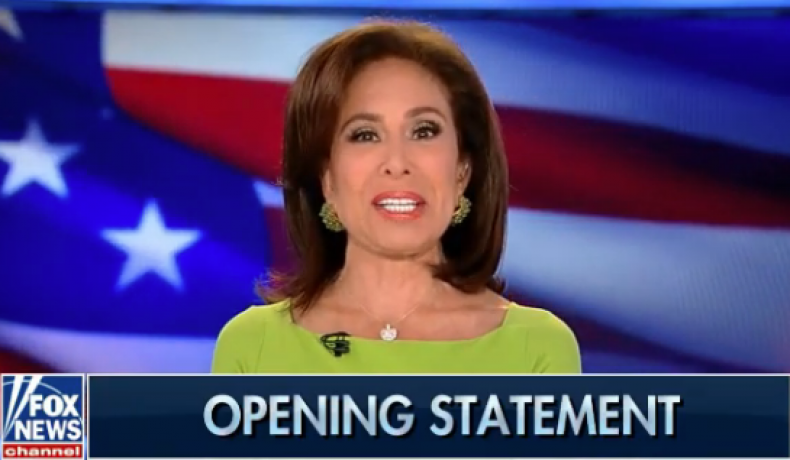 She played a montage of Democratic Senators Bernie Sanders, Kamala Harris and Cory Booker criticizing Biden for the comments.
"The senators that Biden is speaking of with such adoration are individuals who made and built their reputation on segregation," Harris told news outlets earlier this week in the video played on Pirro's show Saturday.
In another clip, Booker told CNN it was "insulting" for Biden to not admit he was in the wrong about the comments applauding his own ability to work with segregationists Jim Eastland and Hermy Talmadge.
Pirro drew a comparison, claiming Trump's Orlando reelection campaign kickoff rally was yet another brilliant marketing move by the president.
"Trump demonstrated clear leadership in his official kickoff announcement for a second term if ever there was a week to turn the spotlight and the focus on himself, of which he is master, this was it"
"This enthusiasm has never been matched in American history and I don't care what poll, what network, what statistical genius tells you whose ahead and who isn't. There is a chord that this man strikes in the American heart, the American dream that the left can't destroy, ravage and obliterate no matter how hard they try."
She again took a last shot at Democrat primary candidates: "Like cannibals, their plan? Not so much as to promote themselves as it is to eat each other alive."