Jeanine Pirro, Once Condemned by Fox for Tirade Against Ilhan Omar, Now Says Lawmaker is 'Weaponizing Hate'
Fox News host Jeanine Pirro once again launched into a tirade against four progressive congresswomen on Saturday night, accusing Representatives Alexandria Ocasio-Cortez, Ilhan Omar, Ayanna Pressley and Rashida Tlaib of presenting a dangerous threat to American values.
"Let me tell you about the 'Squad," Pirro said, lumping the four lawmakers together under what has become a popular nickname. "A benign-sounding high school term that, in reality, presents a dangerous assault on everything we hold dear. These four freshman congresswomen, Alexandria Ocasio-Cortez, Ilhan Omar, Rashida Tlaib and Ayanna Pressley, are radical socialists who want to punish success and destroy capitalism. They know how to weaponize their hate."
Pirro, whose millions of viewers occasionally include President Donald Trump, lashed out against the lawmakers during a sustained cold open without providing evidence to support her claims.
Her tirade rounded out a week in which the U.S. House of Representatives officially condemned racist tweets from the president about the lawmakers, and also followed a Wednesday Trump campaign rally in which his supporters launched into "send her back" chants directed at Omar, the only one of the four Squad members born outside the U.S.
Much of Pirro's monologue stemmed around criticism the freshman representatives have lobbied against Trump. At one point, Pirro claimed the women viewed Venezuela as "their socialist dream country," a charge that isn't supported by public statements from any of the congresswomen.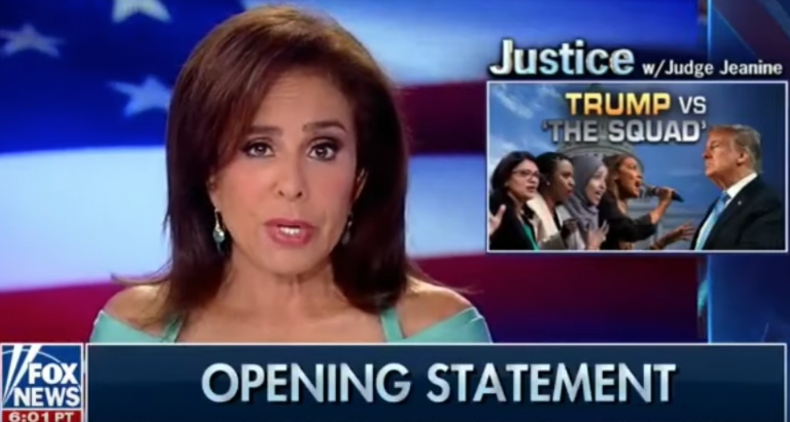 "There is a plot to remake America by those who hate America," Pirro said at another point.
The freshman lawmakers—all of whom are women of color—have been popular targets at Fox News since the 2018 election. The hosts of Fox and Friends and Pirro, in particular, have routinely espoused opinions that paint the women as un-American during evening broadcasts, a viewpoint that Trump has arguably elevated and legitimized through tweeting his favorite tidbits from the shows.
As a result, the symbiotic relationship between Trump's messaging and the content at Fox News has been subject to intense scrutiny. In a Pew Research Center survey published after the 2016 election, researchers polled 4,183 voters and found that 40 percent of those who cast their ballot for Trump counted Fox News as their main source of election news.
Pirro's Saturday comments also raise the specter of whether Fox News will once again distance itself from its pundit's more extreme leanings. Back in March, the network released a statement after Pirro launched a similar—yet more pointed—attack against Omar that questioned her wearing a hijab and insinuated that her faith as a Muslim prevented her from feeling a sense of loyalty to the country's laws.
Despite that condemnation from the network, its pundits have seemingly escalated their attacks against Omar and the other three representatives without public reproach. In fact, many of the network's hosts defended the emergence of the "send her back" chants that erupted at Trump's rally earlier in the week.