Fox News Host Rails Against Abortion 'Infanticide,' Calls Virginia Governor Northam 'Dr. Mengele'
Fox News host Jeanine Pirro railed against Virginia Governor Ralph Northam, even managing to refer to him as the notorious Auschwitz doctor Josef Mengele for his recent comments about late-term abortions.
The "Justice with Jeanine Pirro" host took on her typical vitriolic tone Saturday and demanded the Democratic governor step down from office over his apology and later changed stories about medical school yearbook photos showing a man in blackface and a Ku Klux Klan robe. Northam responded to initial reports of the racist photos by apologizing, but later said it was not him in the photos despite the spread's title showing his name. But Northam again changed his story, saying he does recall darkening his face with makeup in order to portray Michael Jackson.
While Pirro laid out all of her criticisms about Northam's blackface scandal and calls for his resignation, she also took a dig at controversial comments he made about late-term abortions just prior to the yearbook scandal. The Fox News host said the largest issue facing America today is "the legalization of infanticide," a line of rhetoric that has grown popular among the far-right as abortion, like nearly everything else, has been cast in starkly political terms by a divisive President, a social media which profits from extremism and a beleagured media that seeks only clicks. "Or to put it in layman's terms," she added, "absolution...babies born alive, who are then murdered."
"Back to the dingbat governor, Dr. Mengele himself, who tried to justify an unjustifiable infanticide," Pirro said of Northam's abortion comments, primarily for his use of the word "infant" to describe an unborn fetus in a woman's third trimester of pregnancy. Republican operatives immediately began circulating video of his commentary within conservative circles despite the bill already having been tabled in the Virginia House.
Pirro's hyperbolic comparison is to that of German SS physician Josef Mengele. Mengele was a notorious Nazi doctor, whose horrific medical tests -- particularly on twins at concentration camps -- killed countless children and maimed countless more. After World War II, Mengele managed to escape facing any war crime charges and fled to South America, where he hid in relatively plain sight until his death in Brazil in the 1970s.
Pirro joined President Donald Trump and a slew of other Republicans looking to capitalize on Northam's potential racism scandal.
"Are you stupid?" Pirro asked of the Virginia governor's changing stories. "Politics 101. If you apologize for something that everyone considers outrageous — and anyone else, by the way, would lose their job over it -- then you get up the next day and say it wasn't me. You either fire your political consultant or change your meds. Are you schizo too?"
Trump weighed in on the Northam scandal as well, even bringing up his support for Republican Ed Gillespie, who unsuccesfully ran against Northam in the 2017 election. "Democrat Governor Ralph Northam of Virginia just stated, 'I believe that I am not either of the people in that photo.' This was 24 hours after apologizing for appearing in the picture and after making the most horrible statement on 'super' late term abortion. Unforgivable!" tweeted the president.
Trump said if Gillespie's research team had been able to find the yearbook photo before the election, he would have won handily and made the president look better.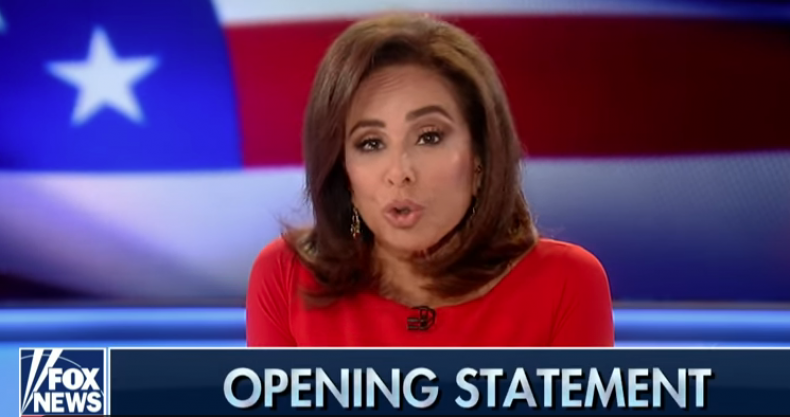 "Ed Gillespie, who ran for Governor of the Great State of Virginia against Ralph Northam, must now be thinking Malpractice and Dereliction of Duty with regard to his Opposition Research Staff. If they find that terrible picture before the election, he wins by 20 points!" Trump tweeted.
Pirro finally addressed Northam's Michael Jackson excuse for the blackface photo, telling the embattled Democratic governor to "moonwalk your butt out of the governor's mansion" or just "beat it."