Jeanine Pirro Says George Floyd Was a 'Real Person With Feelings, Begging to Breathe'
Fox News host Jeanine Pirro has called George Floyd, a Black man killed by a white police officer last spring, a "real person with feelings, begging to breathe."
Pirro made her comment while appearing on Hannity, the nightly Fox News political talk program hosted by Sean Hannity. During the show, Pirro, Hannity and legal commentator Nancy Grace discussed the impact of the guilty verdict against Derek Chauvin, the former policeman convicted of killing Floyd on May 25, 2020.
"Here, this jury saw George Floyd, they saw everything about him," Pirro told Hannity. "He was a real person with feelings and begging to be able to breathe. And so that jury was brought into the exact moment of the crime. It's something that doesn't happen all the time, but it was a positive for the justice system."
Both Pirro and Grace referred to the verdict as justice served. However, Pirro said she believed that the jurors should've been questioned about whether they had heard recent comments on the case made by Democratic California Representative Maxine Waters.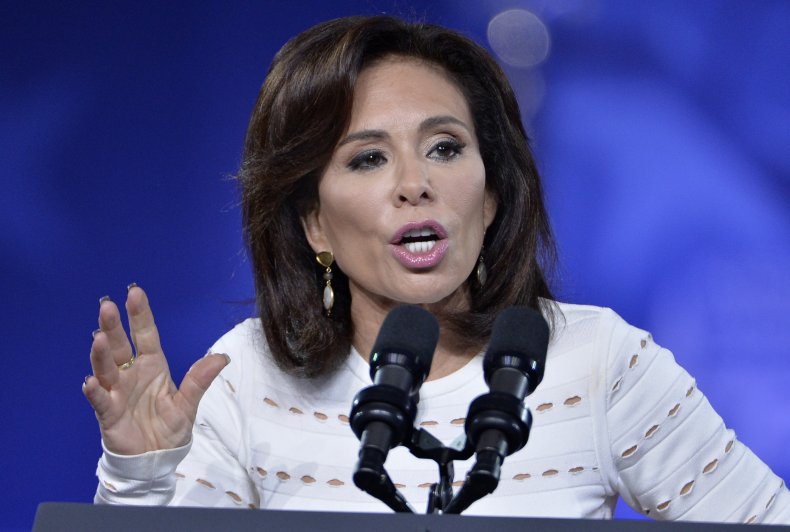 Last Saturday, Waters said that if Chauvin wasn't found guilty, then "We've got to stay on the street and we've got to get more active. We've got to get more confrontational. We've got to make sure that they know that we mean business."
Waters made her comments while standing with Black Lives Matter protesters in Minnesota. The protesters were demonstrating against the police killing of Daunte Wright as well as systemic racism and police brutality.
Conservatives have blasted Waters' comment as a form of jury intimidation, especially since some of the protests against Wright's killing have turned into looting.
Both Pirro and Peter Cahill, the judge overseeing Chauvin, said that Waters' words could help Chauvin's lawyers declare a mistrial when appealing the former police officer's conviction.
"The jury should have been called in and questioned individually to preserve the record to find out if any of those jurors heard what Maxine Waters said," Pirro told Hannity. "That is jury intimidation, Sean. That is something that is certainly can impact the appeal, or the conviction in this case."
On Tuesday, Chauvin was found guilty of second-degree unintentional murder, third-degree murder and second-degree manslaughter in connection to Floyd's killing.
Republican lawmakers mostly offered their praise for the U.S. justice system following the verdict's announcement on Tuesday.
"Derek Chauvin had 17 misconduct investigations before he took the life of George Floyd. It's clear Chauvin's actions were sickening and irrefutable—he was a bad cop. Today's decision is justice for the Floyd family," Republican Representative Mark Green of Tennessee tweeted on Tuesday evening.
Newsweek contacted Fox News for comment.