Fox News Host Jeanine Pirro Says Gordon Sondland's Impeachment Testimony Should Be Disregarded Because of His 'Inappropriate Smirking'
Fox News host Jeanine Pirro has claimed that Gordon Sondland's impeachment testimony should be disregarded because of his "inappropriate smirking."
The U.S. Ambassador to the European Union testified in the House impeachment inquiry this week, stating that there was a "quid pro quo" that linked aid to Ukraine with President Donald Trump's desire for an investigation into his Democratic political rival, former vice president Joe Biden.
But speaking on her show Justice with Judge Jeanine on Saturday, Pirro claimed that Sondland, who was appointed to the ambassador role by President Donald Trump, is a "deep state bureaucrat."
She claimed his testimony should be discounted because his "arrogance" and "inappropriate smirking" indicate that he "is not a fan of the president."
"Everything he said was contradicted by the facts. The aid was delivered. There was no meeting. No call, no announcement of an investigation. No quid pro quo," Pirro claimed.
She added: "His testimony is not only canceled by the facts, but by his demeanor, his arrogance and his inappropriate smirking making it clear he, like many deep state bureaucrats, is not a fan of the president."
But according to USA Today, Sondland was an hotelier who donated at least $1 million to Trump's presidential inaugural committee in 2017—before Trump nominated him as the U.S. ambassador to the European Union last year.
Sondland has described himself as a "lifelong Republican," according to NBC News, and donated to the presidential campaigns of Republican candidates Mitt Romney and Jeb Bush.
Following Sondland's testimony, Trump denied that he knew Sondland well. "I don't know him very well. I have not spoken to him much. This is not a man I know well. He seems like a nice guy, though. But I don't know him well," Trump told reporters. But on Twitter last month, Trump described Sondland as "a really good man and great American."
According to The Associated Press, several officials have revealed that Sondland was frequently in touch with Trump around the time of the president's infamous July phone call with Ukrainian President Volodymyr Zelenskiy.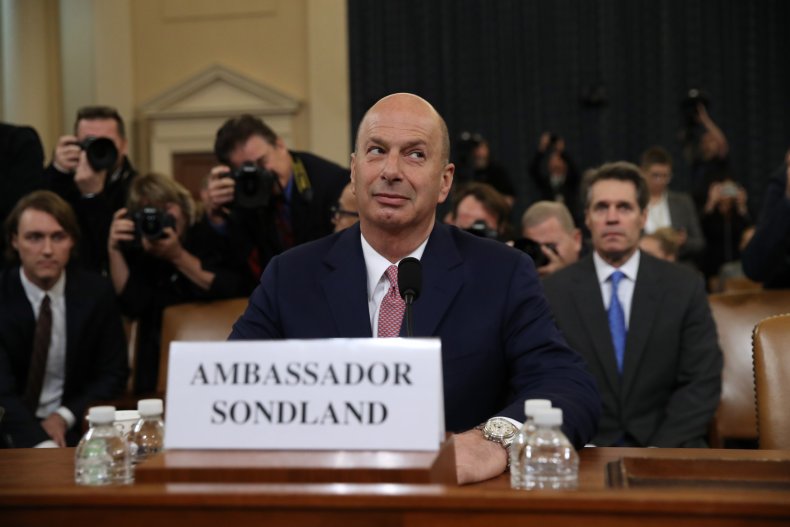 The House impeachment inquiry is based on allegations that Trump sought investigations into Biden and his son Hunter in return for military aid and a visit to the White House.
Sondland testified that Trump and his lawyer, Rudy Guiliani, leveraged a visit to the Oval Office in a bid to urge Zelenskiy into pursuing an investigation into Biden. The Associated Press reported that Sondland also testified that he understood Trump was holding up almost $400 million in aid in return for Ukraine announcing the investigations, but conceded Trump never told him so directly.
But Sondland said he had spoken directly with the president about the investigations Trump wanted, including during a phone call the day after Trump's July 25 call with Zelenskiy that he took while in a restaurant in Kiev.
"Was there a 'quid pro quo?'" Sondland said. "With regard to the requested White House call and White House meeting, the answer is yes."