Despite Donald Trump's Support, 'Justice with Judge Jeanine' Pirro Won't Return to Fox News this Weekend
Even though President Donald Trump used some of his Sunday Twitter time to call on Fox News to put Jeanine Pirro back on the air, it appears that Justice with Judge Jeanine will remain off the network's prime-time lineup for a second week in a row.
According to the official Fox News lineup on the network's website, Pirro's usual 9 p.m. ET slot has been given over to a special on the rape trial of William Kennedy Smith.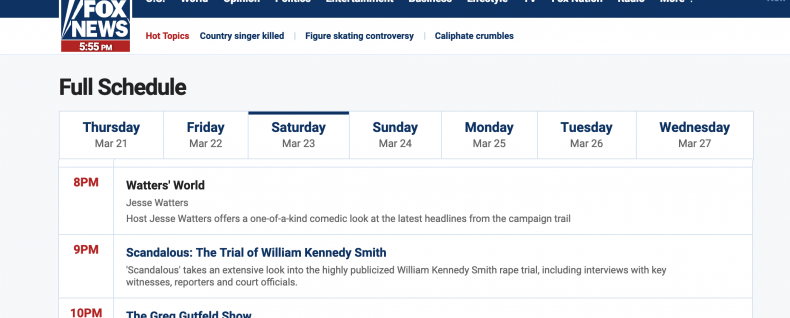 A representative for the network once again told Newsweek that Fox News does not comment on scheduling matters and did not indicate when, or if, Pirro would return to the air. The L.A. Times, however, reported that the show is slated to return on March 30.
Pirro's show — or the lack thereof — made headlines last week when it did not air as scheduled on Saturday night. Fox News did not comment on the reason behind the change, but it occurred a week after Pirro received significant criticism for her comments about Democratic Representative Ilhan Omar, a practicing Muslim.
On March 9, Pirro linked Omar's attire with sharia law.
"Omar wears a hijab, which according to the Quran 33:59, tells women to cover so they won't get molested," Pirro said during the broadcast. "Is her adherence to this Islamic doctrine indicative of her adherence to Sharia law, which in itself is antithetical to the United States Constitution?"
Pirro then added, "this is Sharia-adherent behavior, and it is somewhat disturbing if she is someone who is Sharia-compliant."
The Fox News mainstay's comments drew harsh rebuke from critics, including Omar's fellow freshman representative Alexandria Ocasio-Cortez, and even her network condemned the sentiments she expressed in the piece. Perhaps more importantly to her future on TV, advertisers — including NerdWallet, Letgo, and Novo Nordis — reportedly dropped their support of the show.
Pirro's absense was noted by President Trump, who — in a rare critique of Fox News — went public with his demand for the show's return.
"Bring back @JudgeJeanine Pirro," tweeted the president. "The Radical Left Democrats, working closely with their beloved partner, the Fake News Media, is using every trick in the book to SILENCE a majority of our Country. They have all out campaigns against @FoxNews hosts who are doing too well."