Jeb Bush Says He Received QAnon Conspiracies 4 Times as Election Unfolds: 'Scary'
As the 2020 presidential race continues to unfold, Jeb Bush tweeted on Friday that he received a QAnon conspiracy theory multiple times that falsely alleged voter fraud, calling it "very scary."
The former governor of Florida and 2016 Republican presidential candidate shared a photo of a QAnon conspiracy post taken from Facebook, and said it was sent to him multiple times on Thursday evening.
"I got this four times last evening. Very scary that this is spreading as though it is true."
The conspiracy theory—spread by QAnon supporters who believe Trump is waging a secret war against the "deep state" and elite Satan-worshipping pedophiles within government—falsely purports that Democrats issued unofficial ballots during the election.
At least two versions of that theory have circulated across social media, claiming that "official ballots" in the 2020 election were given a watermark, and that Trump has set up an operation to catch Democrats using unofficial ballots.
"Consider: Dept of Homeland Security controlled 'official ballots' production. Dems print extras, not knowing about non-radioactive isotope watermarks on 'official ballots'. Military sting operation. After weeding out all counterfeit ballots, Trump landslide confirmed," said one post.
In the post shared by Bush, QAnon tells its followers to "watch the water," meaning, to look out for ballots that haven't been watermarked.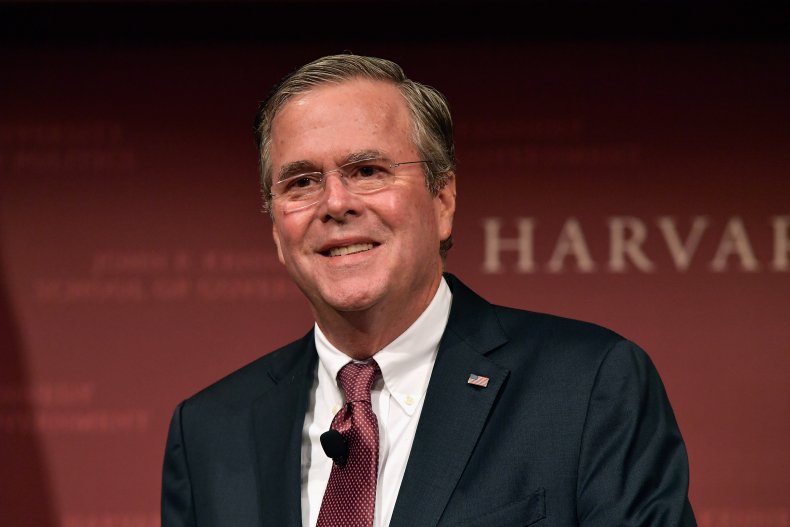 The conspiracy then goes on to explain that Trump has set up a "sting operation" to trap Democrats using unofficial ballots with the help of Supreme Court Justices Amy Coney Barrett and Brett Kavanaugh.
"The DEMS fell right into the trap of this sting operation and TRUMP has it all!!! Fraud will be exposed for the world to see," it says.
"And isn't it fancy how the amazing Justice Amy was confirmed right before the election so that she can rightfully take care of the business of election fraud," it added.
Both of these conspiracy posts are entirely unsubstantiated, but have been shared widely on social media.
Bush retweeted the journalist David French, who wrote: "If you thought prime-time Fox was out of control last night, it's PBS NewsHour compared to what's circulating in Q-adjacent quarters of social media. A friend's very sweet, very Christian mom sent him this."
The conspiracy theory comes in wake of the Trump campaign alleging voter fraud without evidence, and filing lawsuits against states as ballots continue being counted in key battleground states.
As of Friday evening, the presidential race was increasingly leaning toward a Biden victory. According to the Associated Press, the Democratic nominee has collected 264 electoral votes, and is currently leading by narrow margins in Pennsylvania and Georgia.
Newsweek has attempted to reach out to Bush for additional comment.