Jeb Bush Taps Usual Suspects for Foreign Policy Advice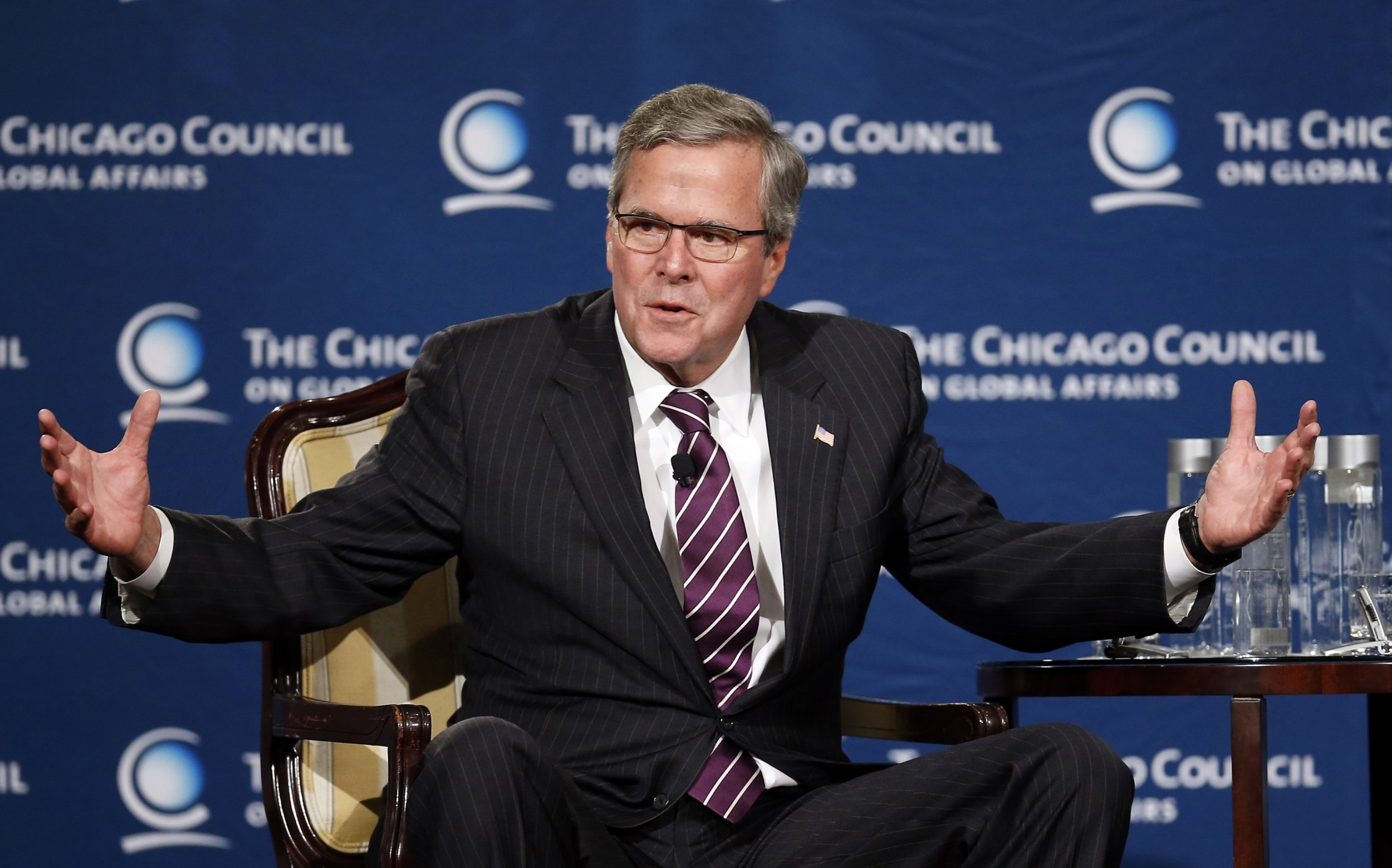 "I am my own man, and my views are shaped by my own thinking and own experiences," former Florida governor Jeb Bush said in a speech before the Chicago Council on Global Affairs on Wednesday. Bush's strategy, to distance himself from the foreign policy blunders of his brother, former president George W. Bush, was clear.
But before he delivered his remarks, Bush, currently the top contender for the 2016 GOP presidential nod, released a list of informal foreign policy advisers. And that list tells us that, while Jeb may be "his own man," he is still a man of the Republican establishment. A Bush, in other words.
As The Washington Post noted, all but one of the 21 names Bush listed are alumni of the previous three Republican administrations. Thirteen of them served under George W. Bush; six under his father, George H.W. Bush; and five under Ronald Reagan. It's hard to imagine any of them serving under a libertarian-oriented Rand Paul administration.
Some representative examples of Bush staying the course: Michael Chertoff, former secretary of homeland security under George W. Bush and co-author of the Patriot Act; Paul Wolfowitz, "a major architect of President Bush's Iraq policy and, within the Administration, its most passionate and compelling advocate," wrote Peter J. Boyer (formerly of Newsweek) in The New Yorker; and John Hannah, a confidant of Dick Cheney's who argued for military intervention in Syria as early as May 2011 and, as early as January of this year, called for a military invasion of Iran.
If Bush becomes president in 2016, the names on his list will likely follow titles like secretary of state, secretary of defense, CIA director, etc. Even if they don't nab those prestigious offices, they'll have a large role in shaping Bush's foreign policy. He doesn't have an extensive track record in foreign affairs from his time as Florida's governor and will have to rely on expert advisers.
But what people aren't saying (yet, anyway) is that Bush's advisers are his only if he wins the nomination. Failing that, these same advisers will migrate to whoever gets the party's nod. Many, if not all, of them acted as advisers to Mitt Romney in 2012 and to John McCain in 2008. Robert Zoellick, now on Team Bush, was on Team Romney in 2012. Paula Dobriansky, too. Tom Ridge first endorsed Jon Huntsman in 2012, later shifting to Romney.
Aside from Senator Rand Paul of Kentucky, whose libertarian streak probably won't jibe with the neocons and hawks on Bush's list, the rest of the Republican candidates are very same-same on foreign policy. They'll all be drawing from this same pool of advisers. The Bush Rolodex is the Republican Rolodex.