Jeb and George Bush Stay Silent on Biden Endorsement While Speaking Out Against Trump
Although Jeb and George W. Bush have criticized President Donald Trump throughout his term in office and reportedly decided months ago not to vote for him, the siblings and politicians have not formally endorsed Joe Biden's campaign.
Their failure to do so has brought a wave of disapproving comments on social media over the past several days, with some pointing out that an endorsement from George, the only living former Republican president, could help the Democratic nominee.
"After the way Trump treated the Bush family and the way he's destroying America, you would think a Biden endorsement would be a no-brainer," one Twitter user wrote on Wednesday.
"I'd welcome [George W. Bush's] endorsement," another user tweeted Monday. "It would show a unified stand for democracy and give people a sense of how abnormal this era is. It would also be hard for Trump to call Biden a socialist with Bush's endorsement. I mean, Bush is no liberal."
Unlike hundreds of well-known Republicans who have announced that they're backing Biden, neither Jeb nor George has come out in support of the Democrat's presidential campaign. Freddy Ford, a spokesperson for the elder Bush brother, said that "it is not in the cards" for George to give Biden a formal endorsement, according to The Hill.
"We've been quite clear and consistent—President Bush is retired from presidential politics and will not be weighing in," Ford told the publication.
Newsweek reached out to George W. Bush's office for further comment but did not receive a reply in time for publication.
Trump's relationship with the Bush family has been largely contentious, with the president taking aim at both Jeb's and George's leadership capabilities. For their part, the brothers have intermittently rebuked Trump for his policy decisions and public statements.
"Bullying and prejudice in our public life sets a national tone, provides permission for cruelty and bigotry, and compromises the moral education of children.... The only way to pass along civic values is to first live up to them," George said while delivering remarks at a policy seminar in October 2017. Although the former president did not refer to Trump outright, the subject of his criticisms seemed clear.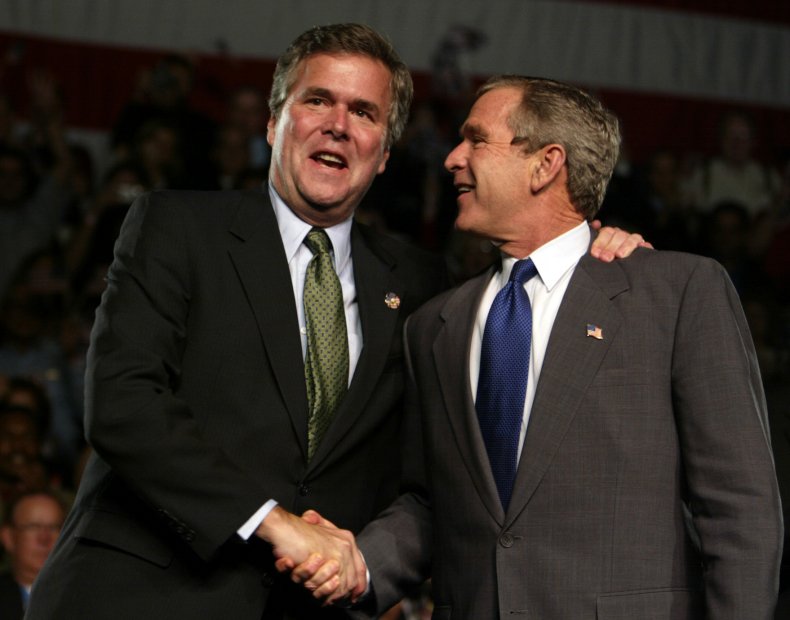 "We have seen our discourse degraded by casual cruelty," he said at the time. "We've seen nationalism distorted into nativism. Forgotten the dynamism that immigration has always brought to America."
George clashed with Trump again this past May, when the former president issued a statement urging leaders to put partisan differences aside amid the coronavirus outbreak. Trump quickly responded on Twitter, saying that Bush "was nowhere to be found" during his impeachment trial.
Jeb, a former Florida governor and 2016 Republican presidential candidate, has criticized the president's actions more directly. After Trump failed to denounce supporters of QAnon, a fringe, far-right conspiracy theory, during a press conference in August, Jeb reacted on Twitter.
"Why in the world would the President not kick Q'Anon supporters' butts? Nut jobs, racists, haters have no place in either Party," he wrote.
More recently, the former governor participated in a virtual discussion, hosted by the University of Pennsylvania, that highlighted the ways the nation has become "less civil" under Trump's administration.