Is Jed Wyatt's Music Good? Singer On 'Bachelorette' Is Losing Fans by the Episode
Jed Wyatt signed on to the Bachelorette in order to promote his music career, but it seems that plan may be backfiring immensely. The contestant, once a fan favorite, is losing fans each episode because of spoilers and rumors claiming he had a girlfriend until the day he began filming.
Wyatt was open with Bachelorette Hannah Brown about his decision to sign up for the reality dating show to advance his name in the music industry. He confessed this truth to her during a one-on-one date, explaining that personal motives drove him to the show, but he was beginning to develop strong romantic feelings for her. Brown applauded Wyatt for his honesty, and even now after hometown dates, Wyatt is still on the show.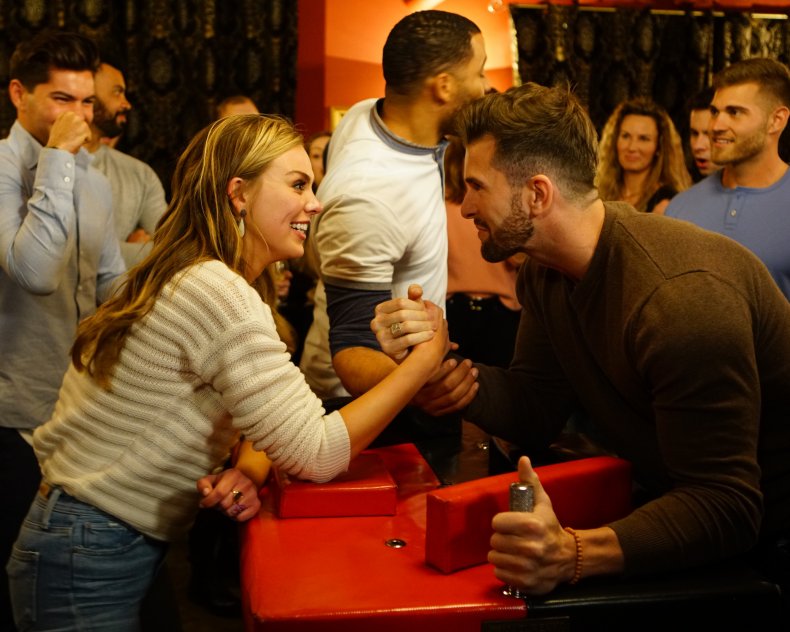 Whether or not Wyatt's music is a specific person's cup of tea is a matter of personal taste, and there are plenty of opportunities for listeners to consume and form their own ideas about his artistic endeavors.
Wyatt has performed a variety of songs on the show both in romantic moments to Brown and on group dates. Bachelorette fans, or Wyatt haters, can listen to three of his own songs on Spotify right now, along with an additional track, "Strangers," that belongs to another musician named Joe Denny. Wyatt has also worked with "Alternative Americana Sister Duo," according to their Instagram, Reverie Rosie. There's a video of the three singing a track called "When We Get To The Alter" on Wyatt's Instagram. The track is not available on Spotify.
The tracks are found under Wyatt's name. His latest song is called "Vacation", a track that mixes a singer/songwriter lyricism with a pop-like, upbeat and slightly tropical feel. The track was preceded by singles "Misery" and "Let Me Dream."
Wyatt does not have a full album available to stream, and it's unclear if he has one in the works. He currently has around 31,000 monthly listeners, the majority of whom live in Chicago, Illinois.
According to his website, Wyatt may tour later this year. He wrote a message directly to his fans about his mission to spread music this year. "I'll be playing and spreading my love for music throughout Nashville and globally in 2019 along with several other amazing artists!" the message reads. "I hope to see you at a show soon." No shows have been officially announced on his website or Instagram.
Twitter users seem certain that after his stint on the Bachelorette, Wyatt's career will be stalled for some time.