Jeez That's Big: New Christ Statue is One of Tallest in World
A breathtaking new statue of Jesus even bigger than Rio de Janeiro's iconic Christ the Redeemer has been completed in Brazil.
Work on 'Christ the Protector' was completed in the municipality of Encantado in Brazil's southernmost state of Rio Grande do Sul on April 22.
With its pedestal, the new statue stands 43 meters (141 feet) high, five meters taller than the Rio monument.
However, it is still, though, only the world's third-tallest Christ statue after Jesus Buntu Burake in Indonesia and Christ the King in Poland.
Christ the Protector was sculpted by artist Markus Moura from Brazil's Ceara State who completed the finishing touches last week.
He told local media: "I got very emotional. It's a feeling I can't quite explain."
Work on the statue began in 2019 and has been mostly funded by local businesses in the region.
It was the idea of local mayor Adroaldo Conzatti who died of COVID-19 in March 2021.
Although the statue has been completed, the inauguration will take place later this year when the complex's surroundings are completed.
Following nearly three years of solid work, Markus said he feels exhausted but "fulfilled" by the experience after making the final touches to Christ's feet and completing the main structure.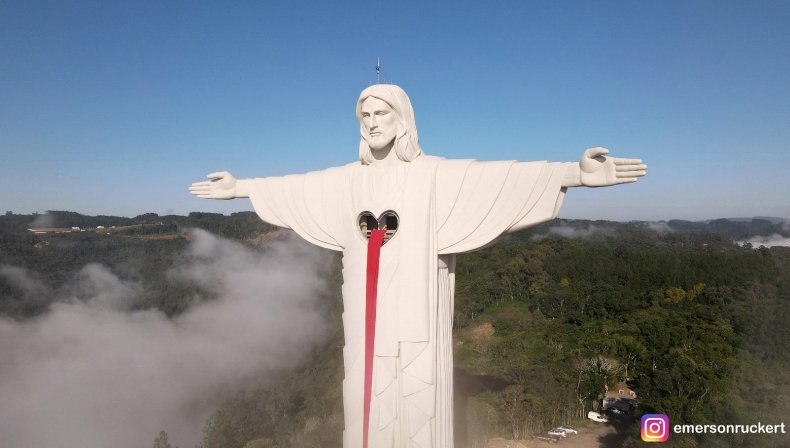 He added: "Everything is good, everything is wonderful."
According to site managers, more than 50,000 people, including tourists from 21 different countries, have already visited the monument.
This work is part of one of several stages in building a tourist complex, which is still under construction.
The park is being built without public money with the help of donations from the local community from all over Brazil and abroad.
The final park will have shops, restaurants, viewpoints and a central area to better welcome visitors.
Robison Gonzatti, Deputy - President of the Friends of Christ Association, said: "We did the work of Christ based on three words: faith, devotion and gratitude. But the work took on a very large proportion. In a time of the pandemic, Christ came to add to people's faith."
The Christ monument can be visited by tourists on Saturdays, Sundays, and holidays.
The visitation currently includes access to the construction complex, with the accompaniment of local conductors, where it is possible to observe the artistic work already completed. At this stage of construction the internal access is not available.
The schedule of visits to the park will be announced later, once the official opening takes place. The statue of Christ the Protector will be the main attraction of the complex.
This story was provided to Newsweek by Zenger News.