Jeff Bezos Criticized on Twitter for Photo with Lizzo at Super Bowl LIV
Twitter users were quick to criticize Jeff Bezos after he tweeted a picture of himself with singer Lizzo at Super Bowl LIV with the caption "I just took a DNA test, turns out I'm 100 percent Lizzo's biggest fan."
The Amazon founder's caption refers to Lizzo's lyric "I just took a DNA test, turns out I'm 100 percent that b****" in her song "Truth Hurts." The lyric has been turned into a meme and the second half of the sentence is typically changed to make a joke.
But Twitter users turned Bezos' joke against him and called the Amazon CEO out on the company not paying taxes and the allegedly poor working conditions of Amazon employees.
Nat Puff, known by her stage name Left at London, said: "Bezos be like I just took a DNA test turns out I'm the 1 percent."
Twitter user @frodeci said: "I just took a DNA test, turns out I kept 100 percent of my profits while my poor workers paid taxes."
Singer Jack Remmington said: "Turns out 'Lizzo's biggest fan' is Cockney rhyming slang for 'a tax-avoiding man.'"
Twitter user @IndieWasHere said: "I just took a DNA test turns out you could end world hunger but you don't want to."
Writer and journalist Zing Tsjeng shared the photo and tweeted: "I just took a DNA test turns out I owe $129 million in federal taxes."
Writer Dan Ozzi referred to another lyric from Lizzo's "Truth Hurts", which goes "Why men great 'til they gotta be great?" in a tweet that said: "Why men great 'til they gotta pay taxes?"
Others avoided making the joke and instead responded to the tweet criticizing Bezos. Comedian Robert Schultz said: "Me: Jeff Bezos likes Lizzo? Maybe he's not so bad after all! / Amazon Factory Worker: *coughs up dust and blood*."
Cameron Kasky said: "Hahahahaha I bet all of the Amazon employees being physically abused every second of every day 100 percent love this tweet hahahahahahahahf***youhahahahaa," while actress and author Mara Wilson simply said: "Pay your taxes."
Joshua Collins said: "There are 23k homeless people in our state & you could singlehandedly house them all without seeing any decline in your quality of life. F***. You."
User @BethLynch2020 asked: "Jeff, why are your employees pissing in bottles and dying on the job?"
Meanwhile, Twitter user @bobby tested their luck and said: "glad you're having fun sir can I have one million dollars."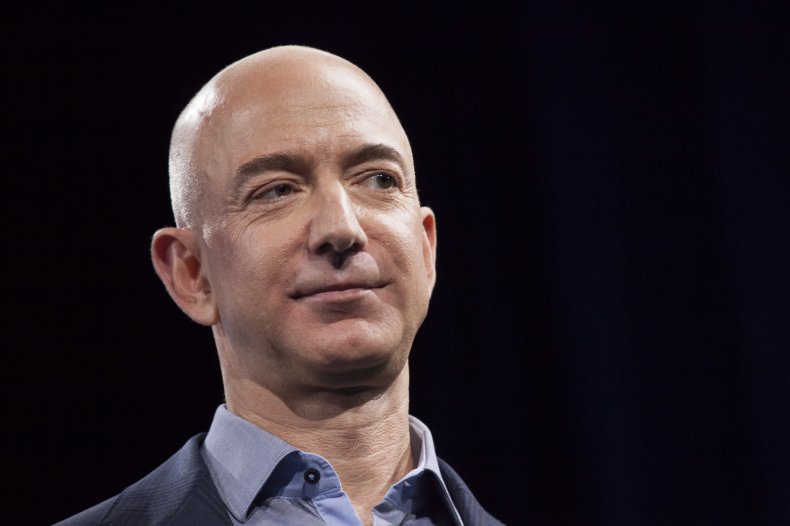 On the same day as the Super Bowl, it was revealed that the Amazon CEO is being sued by his girlfriend's brother. Michael Sanchez, the brother of Bezos' current partner Lauren Sanchez, has filed a lawsuit accusing Bezos and his security consultant of defaming him by spreading false rumors to journalists that he had leaked "graphic, nude photographs" of the Amazon CEO to the National Enquirer in 2019, according to The New York Times.
William Isaacson, a lawyer for Bezos, said the Amazon CEO would respond to the accusations in court, according to the South China Morning Post.