Jeff Bezos Blasts Professor Who Hoped Queen Elizabeth II Died in 'Agony'
One of the richest men in the world blasted a Pennsylvania liberal arts professor on Twitter who said she hoped Queen Elizabeth II died in "agony" for numerous atrocities her government committed around the world during her reign.
Amazon executive chairman Jeff Bezos, who is worth $131 billion, criticized a series of tweets by Carnegie Mellon linguistics professor Uju Anya in which she described the late Queen of England as the monarch of a "thieving raping genocidal empire" in a series of tweets on her death.
"This is someone supposedly working to make the world better? I don't think so. Wow," Bezos tweeted in response.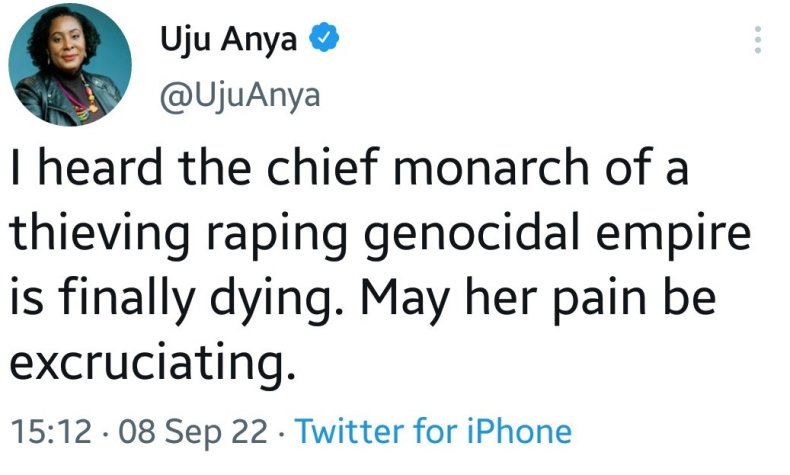 While the tweet to which Bezos responded was removed by the social media giant for violating its community policies, one survived, in which Anya appeared to respond to her critics. The tweet hinted at the British empire's violent conquest of her native Nigeria and its military occupation of South Africa in the late 19th century, as well as more recent conquests that occurred during Elizabeth's reign. They included the killing and torture of thousands of Kenyans in the country's occupation by British forces from 1952 to 1960.
More recent, however, was the Nigerian Civil War, which was spurred by ethnic divisions within the country at the close of British colonial rule in 1960. Britain supplied significant munitions to the Nigerian government in an effort to maintain the flow of oil from the country, and was reportedly involved in the hiring of mercenaries to fight on the side of the government.
"If anyone expects me to express anything but disdain for the monarch who supervised a government that sponsored the genocide that massacred and displaced half my family and the consequences of which those alive today are still trying to overcome, you can keep wishing upon a star," Anya wrote.
Twitter also removed the following tweet from Anya: "That wretched woman and her bloodthirsty throne have f***** generations of my ancestors on both sides of the family, and she supervised a government that sponsored the genocide my parents and siblings survived. May she die in agony."
While scores criticized Anya's tweets as distasteful or "evil," others said they only served to whitewash the roles the country's prime ministers and political leaders actually played in inciting the conflicts.
Others, however, turned their criticism to Bezos, whose efforts to fight climate change and other charitable initiatives have been overshadowed by his company's pollution and anti-labor tactics, as well as his symbolic significance as the face of an out-of-touch, global elite.
"Cheer up, you've got 30, maybe 40 years to shed your wealth and bend public memory such that children are not celebrating in the streets when the news comes that you've passed," writer Kelsey Atherton tweeted in response.