Trump Wishes Jeff Bezos Luck With Divorce: 'Going to Be a Beauty'
President Donald Trump responded to a question about Amazon founder Jeff Bezos and his wife filing for divorce this week.
Trump wished Bezos good luck with the divorce from Mackenzie Bezos and quipped to reporters outside the White House Thursday morning in typical Trumpian fashion: "I wish him luck, it's going to be a beauty." Fellow billionaire Bezos and his wife are filing divorce documents in Washington this week, with the couple having been married since 1993. The split stands to see Bezos splitting his $140 billion fortune 50/50 with Mackenzie Bezos.
The president has frequently criticized the Amazon founder and world's richest man by incorrectly claiming his company "scams" the United States Postal Service. Trump has also targeted Bezos for his role as the owner of "The Fake News Washington Post."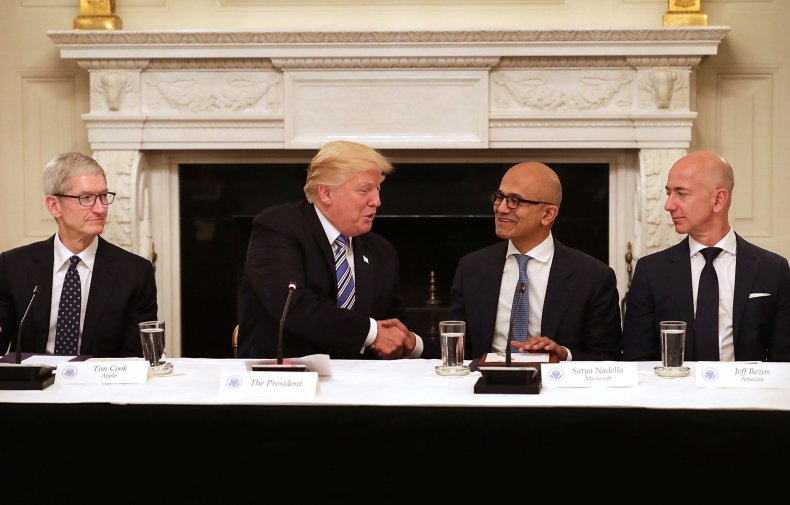 "I have stated my concerns with Amazon long before the Election. Unlike others, they pay little or no taxes to state & local governments, use our Postal System as their Delivery Boy (causing tremendous loss to the U.S.), and are putting many thousands of retailers out of business!" Trump tweeted last March.
Trump himself is no stranger to divorce, having split from his first wife Ivana in 1992 after getting married in 1977. Ivana gave birth to children Donald Trump Jr., Ivanka and Eric. Trump then remarried in 1993 to actress Marla Ann Maples, who gave birth to Tiffany Trump in October 1993. Finally, Trump married his third and current wife, first lady Melania Trump, born Melanija Knavs, in New York City in 1996. Their son, Barron, was born in 2006.
"Amazon is just not on an even playing field. They have a tremendous lobbying effort, in addition to having the Washington Post … What they have is a very uneven playing field," Trump tweeted last April.