Video of Jeff Bezos' Girlfriend Thirsting Over Leonardo DiCaprio Viewed 8M Times
A video of Jeff Bezos' girlfriend Lauren Sanchez thirsting over Leonardo DiCaprio has gone viral.
News anchor Lauren Sanchez and the Amazon founder have been dating since 2019, after Bezos split from his wife of 25 years, Mackenzie Scott.
But DiCaprio has proven he is still one of Hollywood's biggest heartthrobs, with Sanchez visibly enamored after they met briefly at an event over the weekend.
Sanchez, 51, was attending 10th Annual Los Angeles County Museum of Art (LACMA) Art and Film Gala Presented By Gucci with her boyfriend—one of the richest men in the world—when they bumped into the Once Upon A Time in Hollywood actor on the red carpet.
The news anchor's reaction to meeting DiCaprio has been a hit online and a clip posted to Twitter by @2cooI2blog has been viewed more than 8 million times at the time of publishing.
The bizarre and somewhat awkward moment has prompted a wave of memes as people joke about Sanchez thirsting over the actor while her partner is standing right beside her.
"Sis walked in with the richest man on the planet and risked it all when she got next to Leonardo," reads one viral tweet.
While another added: "find somebody who looks at you the way jeff bezos' gf looks at leonardo dicaprio."
Actor Daniel Newman joked: "Jeff Bezos girl literally just forgot she's holding hands with the richest man in the world as soon as DiCaprio hugged her."
DiCaprio, 46 is currently dating model and actress, Camila Morrone, 24 and the pair have been dating for the past three years.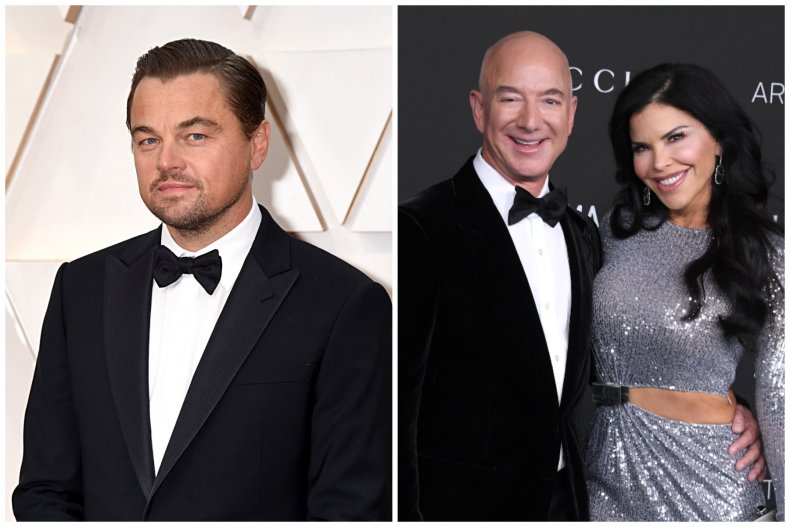 The viral moment comes days after the billionaire spoke at COP26, where he said that his trip to space persuaded him to do more to save the planet from impending climate change catastrophes.
"I was told that seeing the Earth from space changes the lens from which you view the world. But I was not prepared for just how much that would be true," Bezos said.
"Looking back at Earth from up there, the atmosphere seems so thin, the world so finite and so fragile. Now, in this critical year and what we all know is the decisive decade, we must all stand together to protect our world."
He added in his speech: "We must conserve what we still have, we must restore what we've lost and we must grow what we need to live without degrading the planet for future generations to come. Restoration can improve soil fertility, raise yields and improve food security, make water more reliable, create jobs and boost economic growth, while also sequestering carbon."