Jeff Bezos, Now an Astronaut, Calls for Moving 'All Polluting Industry' Into Space
Jeff Bezos suggested moving "all heavy, all polluting industry" into space to protect the Earth's atmosphere following his first voyage into space.
The Amazon founder took a successful 10-minute trip onboard his aerospace company Blue Origin's spacecraft, New Shepard, on Tuesday. He was accompanied by his brother Mark, as well as 18-year-old Oliver Daemen and 82-year-old Wally Funk. Daemen and Funk became the youngest and oldest individuals to travel into space after launching from Van Horn, Texas.
After landing, Bezos marveled at the Earth's fragile atmosphere during an interview with MSNBC.
"You can't imagine how thin the atmosphere is when you see it from space," Bezos said. "We live in it, and it looks so big—it feels like this atmosphere is huge and we can disregard it and treat it poorly."
But once one travels into space and views the atmosphere from a new perspective, "you see how tiny it is and how fragile it is," he added.
"We need to take all heavy industry, all polluting industry, and move it into space. And keep Earth as this beautiful gem of a planet that it is," Bezos said.
Bezos said it would take "decades and decades" to achieve the kind of transition he was suggesting.
"But you have to start," he said. "Big things start with small steps.'
During a brief reflection on the trip, Bezos described it as "amazing" and difficult to put words, while his brother said it was "pretty special" and a "lifelong dream come true."
"It was a perfect mission," Bezos said.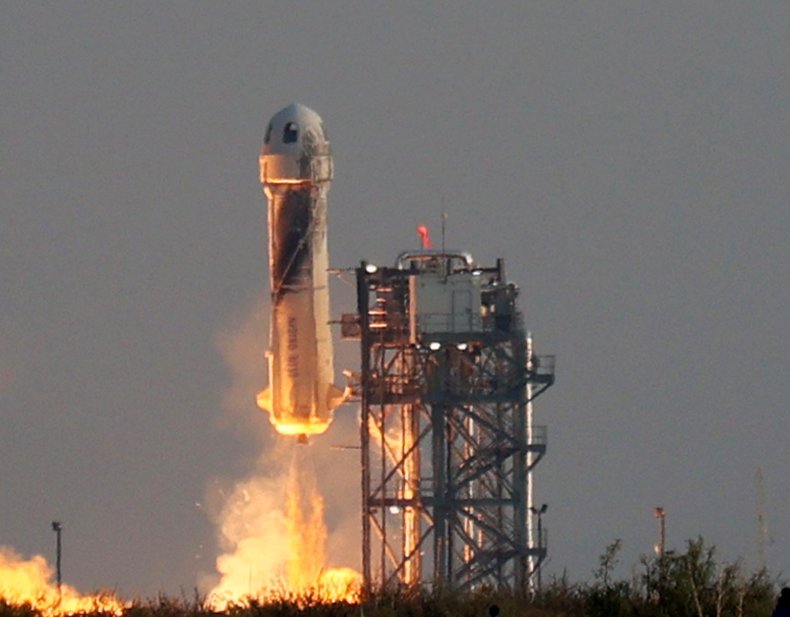 Bezos and his brother announced last month they would participate in New Shepard's voyage. In a June 7 Instagram post, Bezos said the trip has been a dream of his since age 5.
The spacecraft was named to commemorate Alan Shepard, the first American in space, according to Blue Origin. The date of New Shepard's launch also overlaps with the anniversary of the 1969 Apollo 11 moon landing.
Earlier this month, businessman Richard Branson became the first person to travel into space on his own self-funded spacecraft. Though the weeks leading up to the trips orchestrated by Branson and Bezos generated public discussions about a new "space race," both billionaires congratulated each other upon their successful landings.
In an Instagram post on July 11, Bezos acknowledged Branson's trip and said he "can't wait to join the club."
Shortly after Bezos landed on Tuesday, Branson offered his own congratulations on Twitter.
"Well done @blueorigin, @jeffbezos, Mark, Wally and Oliver. Impressive! Very best to all the crew from me and all the team at @virgingalactic."
Newsweek reached out to Bezos and Blue Origin for comment and will update this article with any response.