Jeff Bezos Raises Questions About Elon Musk's Twitter Takeover
Jeff Bezos—the second richest person in the world after Elon Musk—has questioned whether the takeover of Twitter by Tesla's CEO will give the Chinese government more leverage over the social media platform.
Responding to a tweet by New York Times' reporter Mike Forsythe listing the way Tesla is deeply linked and dependent on the Chinese market and Chinese raw material supply and production, the Amazon founder said that the question "Did the Chinese government just gain a bit of leverage over the town square?" was an interesting one.
Forsythe wrote that Tesla's second-biggest market last year, after the U.S., was China. He also described how dependent the company is on China for the supply of batteries for Tesla's electric vehicles.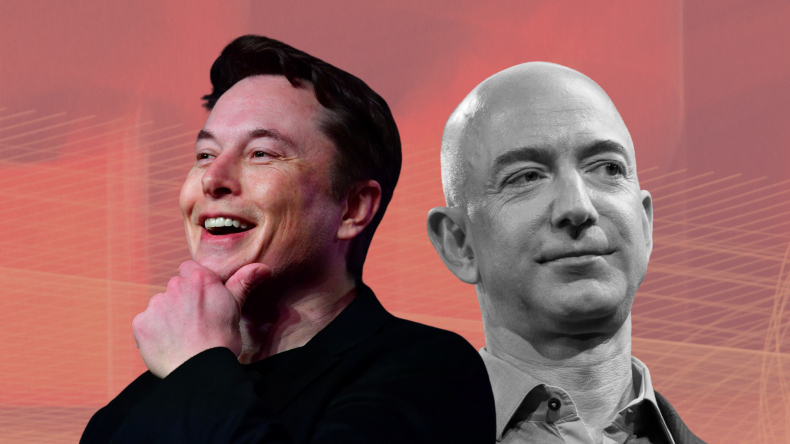 Tesla's first-ever factory outside of the U.S., the Shanghai Gigafactory, was opened in China in 2019, a clear sign of the importance of the country for the company's success.
Forsythe mentioned how after 2009, when China banned Twitter from use in the country, the Chinese government had "almost no leverage over the platform."
"That may have just changed," concluded the New York Times reporter.
But Bezos, after some pondering, decided to side with his fellow billionaire Musk.
"My own answer to this question is probably not. The more likely outcome in this regard is complexity in China for Tesla, rather than censorship at Twitter," Bezos tweeted.
"But we'll see. Musk is extremely good at navigating this kind of complexity," he added.
Bezos' concerns about China gaining influence over Twitter were mocked by some, who pointed to a 2021 Reuters' investigation which found that Amazon had worked with the Chinese government to restrict negative reviews on texts written by China's President and Communist Party leader Xi Jinping, in order to expand its business in the country.
The Reuters' investigation found that in 2019 Amazon agreed to a request by the Chinese government to turn off ratings and delete reviews on Amazon.cn of books written by the country's leader. Amazon.cn then showed only five star reviews of these books, reported The Times.
China's "Great Firewall" currently blocks Chinese users in the country from accessing Twitter.
The platform has been blocked in China since 2009, after the Chinese government claimed Twitter was being used to foment and organize protests among ethnic Uyghurs rioting in Urumqi, the capital of the autonomous region of Xinjiang.
But despite its ban at home, the Chinese government has been found to still use Twitter to influence its reputation in the world and spread propaganda.
In 2019, Pinboard—an independently-run bookmarking site—found that Xinhua, China's official state press agency, was promoting its articles portraying Hong Kong's protesters as a violent "band of thugs."
As a response to these reports, Twitter started labeling state-affiliated accounts, mentioning China directly as one of the reasons it had introduced this new policy.
In 2021, The Guardian reported that Twitter had shut down thousands of state-linked accounts on its platform that had been spreading Chinese Communist Party (CCP) propaganda denying that any human rights abuses had been committed in Xinjiang.
The Chinese government has repeatedly been accused of persecuting Uyghurs but strongly denies that there have been any human rights violations in Xinjiang.
This month, the Institute for Strategic Dialogue published the findings of research that found a network of 33 Twitter accounts—including the verified accounts of two European politicians—which had been seemingly hijacked to spread CCP propaganda in Europe.
It's still unclear how Musk will transform Twitter into a "platform for free speech around the globe," as he has pledged.
But if there are fewer restrictions and less monitoring of content published on the platform, as well as any roll-back of policies like labeling state-affiliated accounts, the Chinese government could gain leverage from Musk's $44bn takeover.
The graphic below, provided by Statista, shows that the bid to buy Twitter was one of the largest buyouts in history.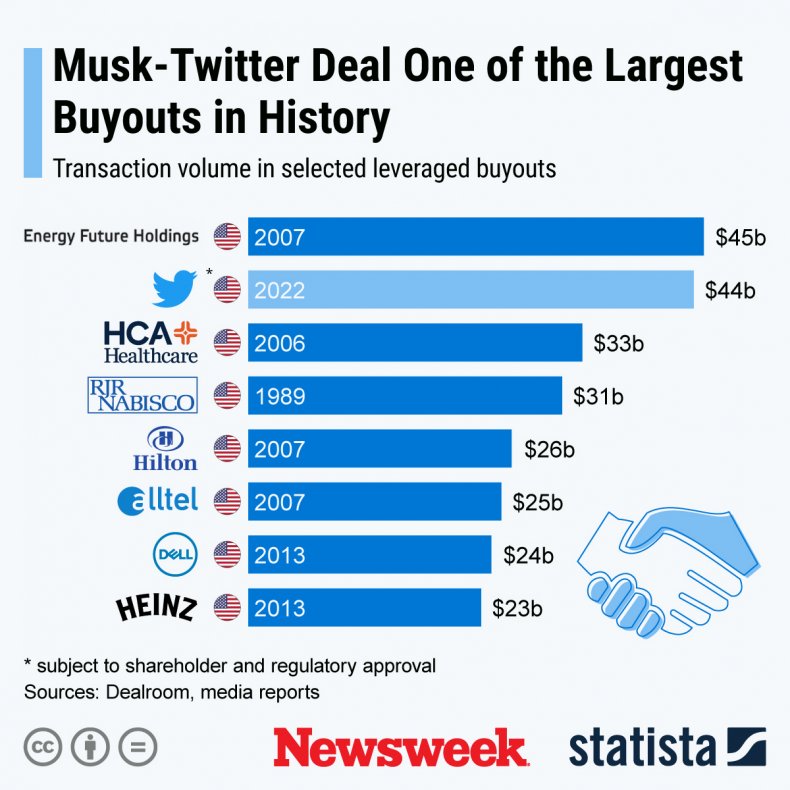 Update 4/26/22, 9:46 a.m. EDT: This article has been updated to include a graph from Statista.