Jeff Bezos Thanks Amazon Workers, Customers After Space Trip: 'You Guys Paid for All This'
Billionaire Jeff Bezos thanked his Amazon base for essentially paying for his trip to space on Tuesday.
Bezos is the second billionaire in just over a week to launch his own aircraft into space. The Amazon founder and his fellow astronauts—including his brother Mark Bezos, 82-year-old pilot Wally Funk and 18-year-old Oliver Daemon—flew in Blue Origin's New Shepard rocket to an altitude of 351,210 feet.
Bezos called it the "best day ever" after touching down in the desert in West Texas after the successful 10-minute flight. The New Shepard soared past the Kármán Line, which is commonly known as the altitude at which outer space begins, to a height of 66.52 miles.
At a press conference later in the day, the Amazon founder thanked his employees and customers for supporting the mission.
"I want to thank every Amazon employee and every Amazon customer because you guys paid for all this," Bezos said, prompting laughter from the crowd.
"So seriously, for every Amazon customer out there and every Amazon employee, thank you from the bottom of my heart very much. It's very appreciated," he added.
The Amazon founder also thanked the engineers, trainers and those who built the aircraft, as well as residents in Van Horn, Texas—where Blue Origin is headquartered.
Bezos stepped down as CEO of Amazon in July, handing over the reins of the $1.7 trillion company to Andy Jassy. In a blog post announcing the change in leadership, Bezos said he planned to devote more time to side projects, including space exploration and overseeing The Washington Post.
Last week, Bezos donated $200 million to renovate the National Air and Space Museum. The donation is the biggest gift in the Smithsonian's history.
Bezos has also remained Amazon's biggest shareholder with a stake worth about $180 billion and took over the role of executive chair.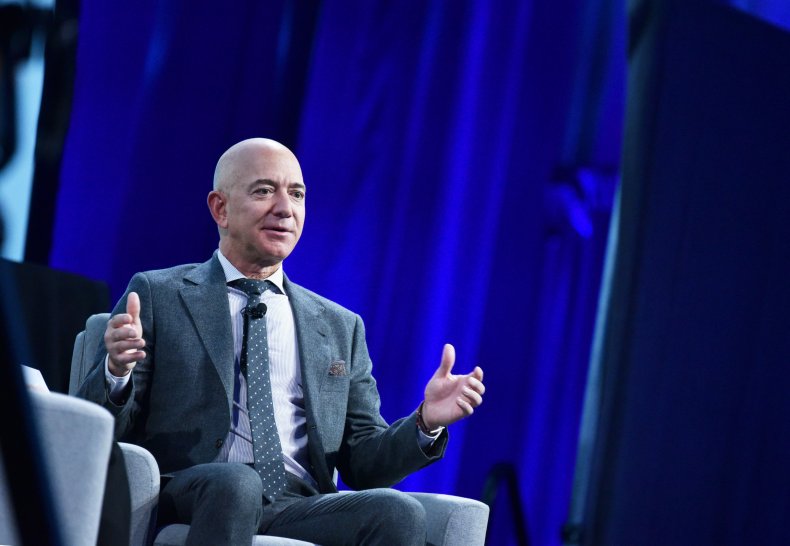 Bezos said during the press conference Tuesday his expectations for the space trip were "high and they were dramatically exceeded."
Bezos was joined on stage by his fellow astronauts. Funk, the oldest person to ever fly to space, was the youngest graduate of the Woman in Space program in 1961. The women underwent the same tests as NASA's Mercury 7 male astronauts but were never given the opportunity to go into space.
Funk said she's been "waiting a long time" to finally get up into space.
"I loved it, and I love being here with all of you and your family and the four of us—we had a great time," she said. "It was wonderful. I want to go again, fast."