Jeff Bezos Tweets Response to Viral Video of Interaction Between Partner, Leo DiCaprio
Jeff Bezos responded Monday morning to a video circulating on social media showing his partner chatting with actor Leonardo DiCaprio during an event in Los Angeles over the weekend.
In the video, Bezos and his partner, Lauren Sanchez, were seen talking to DiCaprio at the Los Angeles County Museum of Art's Art+Film Gala. As the three chatted, Sanchez could be seen with her arm briefly around DiCaprio, one of the event's co-chairs.
The video was viewed more than 8 million times by early Monday, prompting a joking response from the Amazon founder on Twitter.
Barstool Sports shared a clip of the interaction on Twitter accompanied by the caption, "Leo is Mr. Steal Yo Girl." Barstool Sports' tweet alone had nearly 4,000 retweets and more than 20,000 likes by Monday morning.
Bezos appeared to respond in jest to the video, posting a photo in which he stood outside behind a "Danger!" sign that warned of a "steep cliff" with a "fatal drop." Dressed in red shorts and wearing a hat and sunglasses, Bezos had his arms crossed along the top of the sign.
"Leo, come over here, I want to show you something..." read his tweet, which tagged the Oscar winner's Twitter account.
Bezos' relationship with Sanchez was made public in early 2019, shortly after news broke that the billionaire and his wife of 25 years, MacKenzie Scott, were getting divorced.
DiCaprio has never been married but is currently dating actress Camila Morrone.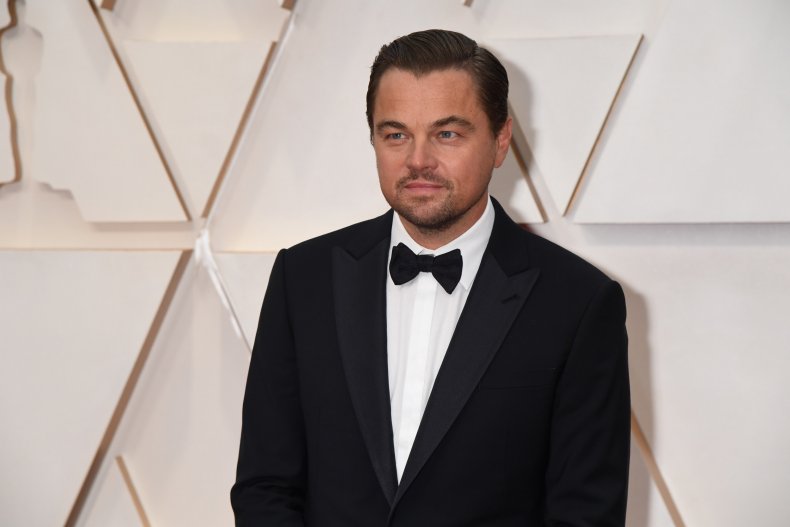 Bezos, Sanchez and DiCaprio were at the Saturday event along with almost 700 other attendees, according to The Los Angeles Times. The 10th annual event, which raised a reported $5 million this year for the Los Angeles County Museum of Art, honored filmmaker Steven Spielberg, as well as American painters Amy Sherald and Kehinde Wiley.
Eva Chow, a trustee with the museum, co-hosted this year's event alongside DiCaprio. Several other celebrities were also in attendance, including Lil Nas X, Miley Cyrus, Jared Leto, Paris Hilton and actors from the hit Netflix show Squid Game, according to event photos shared by the Times.
The money raised by the event will be put toward the museum's goals of making "film more central to the museum's curatorial programming, while also funding LACMA's broader mission," according to their website.
"This includes exhibitions, acquisitions, and educational programming, in addition to screenings that explore the intersection of art and film," the event website says.
Updated 11/8/21, 1:33 p.m. ET: This article and headline have been updated with references to Lauren Sanchez as Bezos' "partner," rather than as his "girlfriend."