Jeff Bridges Joins the Campaign to Stamp Out Childhood Hunger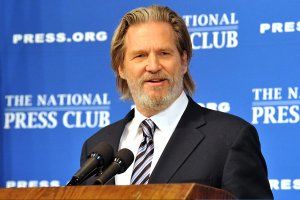 It's all the rage in Washington, the search for common ground, and if there's one thing everybody agrees with, it's that children shouldn't go hungry in America. Back in the day when senators of opposing parties thought it was their job to work together, Republican Bob Dole and Democrat George McGovern, no shrinking violets when it came to partisan politics, paired up to expand the school lunch program and establish the federal feeding program for women, infants, and children—known as WIC—that is rightfully enshrined as a sacrosanct program whatever administration is in power.
The reforms they put in place in the 1970s have been heralded, but the work they started is far from over. There are nearly 17 million children living in "food-insecure homes," actor Jeff Bridges told the National Press Club on Thursday, in his new role as national spokesman for the No Kid Hungry Campaign, which is dedicated to stamping out childhood hunger by 2015. Bridges had met that morning with two Obama cabinet officials, Agriculture's Tom Vilsack and Education's Arne Duncan, but he has never met President Obama, and says he tries to steer clear of partisan alliances.
"Poverty is a very complex issue, but feeding children isn't," he said, unveiling an initiative that suits today's political and economic climate because it requires no new money, or program. Federally funded programs are in place but only half the kids eligible for a government-funded breakfast receive it, and only 15 percent of kids eligible for assistance during the summer get it. Bridges has signed on with Share Our Strength, a nationally recognized nonprofit, in what he says is "like a public-relations assignment," to publicize the gap and get governors to commit to closing it.
In his prepared remarks, the ruggedly handsome and silver-haired Bridges seemed a bit uncomfortable at first, putting on and removing his glasses and reaching for water. Losing his place at one point, he quipped, "Let me back up—in movies, you can say 'Take 2.'" When he was asked his biggest challenge as a famous person, he paused for what seemed like an eternity and then, visibly choked up, said, "This is the most significant thing I have ever done." My first reaction was, this guy's a very good actor. But hearing him out and talking with him after the speech, I found him to be a very real, no B.S. kind of guy. "My profession is getting into other people's shoes," he said, explaining his empathy for parents who can't provide for their children, and adding, "I have another kind of hunger, a hunger to contribute."
His late father, Lloyd Bridges, star of the "Sea Hunt" television series, remains an important touchstone in his life. He learned from him the value of establishing good habits, which Bridges recalls as he recounts his visit to a D.C. public charter school just blocks from the White House where the kids are eating salad from the garden they created. If kids grow up eating pizza pockets, that's what they'll have a taste for as adults, he says, pointing out that hunger and obesity are "two sides of the same coin." The campaign to end childhood hunger is more about the availability of food than its quality, but Bridges is clearly taken with what he saw at the Elsie Stokes public school, where they hired a chef to shop and prepare food, and found that they saved money. "Let's make a documentary and share it with other schools," he exclaims.
Bridges has been involved in the hunger issue for a long time, and in 1983 helped found the End Hunger Network, which among other things staged the Live Aid concerts in 1985 and produced the movie "Hidden in America," about a father who can't provide for his children, starring his brother, Beau Bridges. Asked to be more specific about what triggered his interest in the issue, Bridges revealed that it goes back to "est" and the controversial human-potential movement headed by Werner Erhard, who challenged his followers that once they knew the facts—that widespread hunger could be overcome—they shouldn't look to others to solve the problem but should take action themselves.
Erhard has kept a low profile since his heyday in the 1980s, last appearing on "Larry King Live" in a 1993 program titled "Whatever Happened to Werner Erhard?" One of the tenets of est (which is Latin for "it is," and stands for Erhard Seminar Training) is to ban the word "try" from your vocabulary, so there's no escape hatch when you make a commitment. In my interview with Bridges following his speech, he showed me photos of his wife when he first met her on a shoot in Montana when she was 20 years old and making beds and serving food at a dude ranch. She had two black eyes and a broken nose, and he figured he could rescue her from a violent boyfriend. She said no when he first asked her out, and it turned out there wasn't a boyfriend, it was a car accident, but Bridges was persistent, and they've been married for 33 years.
He seemed puzzled when challenged about "celebrity fatigue"—too many Hollywood types touting worthy causes. "Celebrities shouldn't get involved?" he mused. "I don't have a set sound bite for that one." Nor should he. With his history of involvement, he's no newcomer to the decades-old problem of children going hungry in America.
Eleanor Clift is also the author of Two Weeks of Life: A Memoir of Love, Death, and Politics and Founding Sisters and the Nineteenth Amendment.