Jeff Brohm Staying at Purdue, Spurns Alma Mater Louisville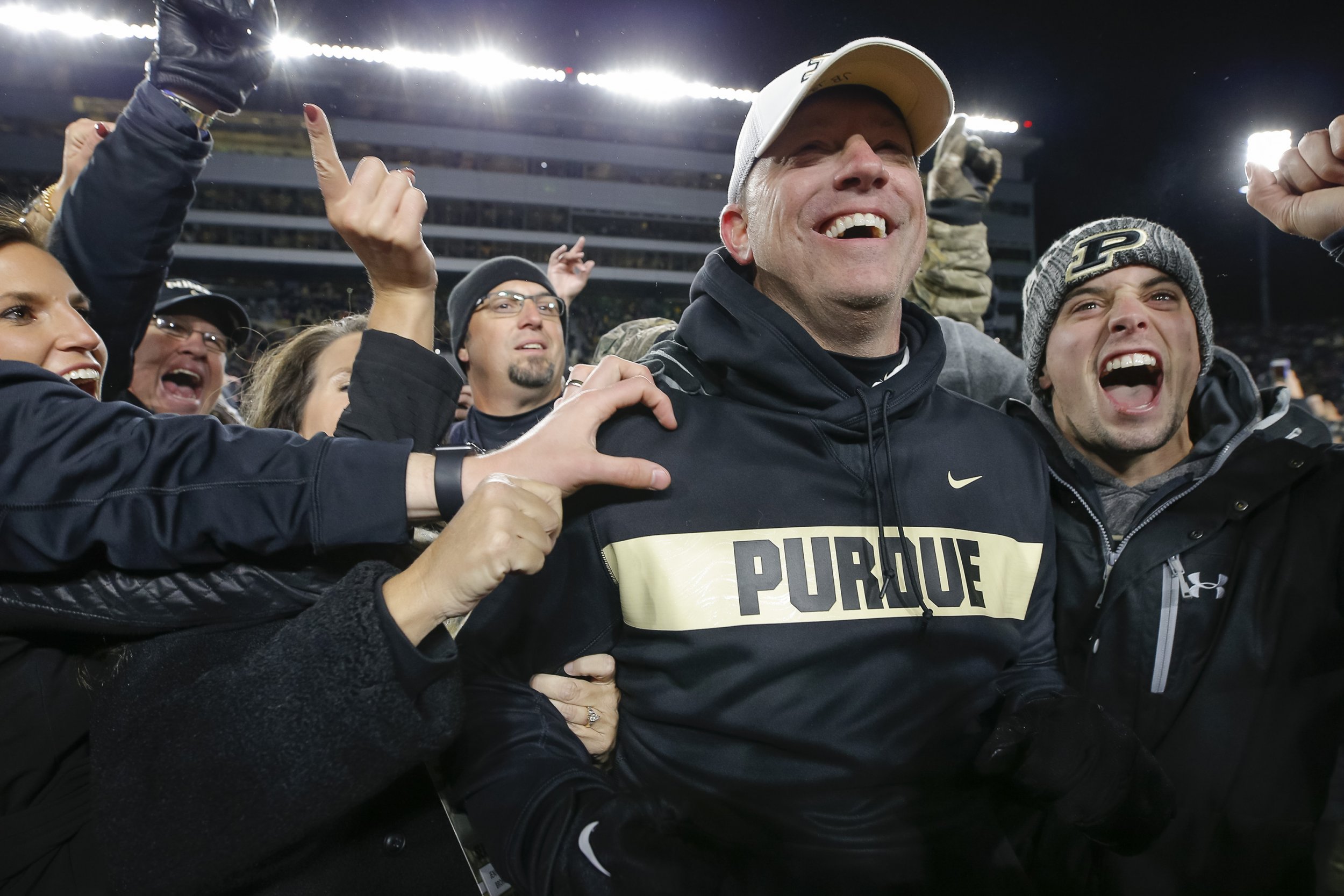 Purdue coach Jeff Brohm is staying with Boilermakers after turning down an offer from his alma mater, Louisville, on Wednesday.
Brohm is expected to get a raise from his $4 million annual salary to $6 million, as well as additional incentives, according to Yahoo Sports. Louisville reportedly offered the former quarterback a seven-year, $35 million deal this week.
Brohm provided an official statement to Yahoo Sports on Wednesday, explaining that he was happy at Purdue and committed to the university.
"This has been a very difficult and emotional decision for me and my family. We are extremely happy at Purdue and thankful for the opportunity to lead this program. After intense and thorough discussion, I believe it is important to finish the building process we have begun and honor the commitment I made to our football program, players, and recruits. While going home was very appealing and meaningful to me, the timing was not ideal. I believe that remaining at Purdue is the right thing to do, and I am excited for the challenges ahead.
"I want to thank the University of Louisville and Vince Tyra for reaching out and expressing their interest in me. As a former Cardinal player and coach, I want nothing but the best for the University of Louisville. Under the leadership of President Neeli Bendapudi and Vince Tyra, the future of the university is in great hands. I also want to thank all Cardinal fans for their support over the years."
Louisville fired head coach Bobby Petrino earlier this month just prior to what would be a 2-10 finish in 2018. Many expected Brohm, who played quarterback for the Cardinals from 1989-93 and grew up in the area, to be a top candidate for the position.
Dan Dakich of 1070 The Fan in Indianapolis tweeted that Brohm would be "announced as The University of Louisville Head Football Coach on Monday November 26th" earlier this month based on information from sources.
According to Yahoo, Brohm met with Tyra, the UL athletic director, on Tuesday and was believed to have been leaning toward accepting the position as of late Tuesday night. He also missed a scheduled recruiting trip for the Boilermakers on Wednesday, leading to more speculation that he was leaving the program.
However, after spending hours at the Purdue football offices and not making a declaration, the coach announced his decision to stay in West Lafayette on Wednesday afternoon.
"While Jeff and I had a terrific conversation about the future of the University of Louisville football program and how he could play a role in our success, it was clear that his heart and mind were still with fulfilling his commitment to Purdue," Tyra said in an official statement later Wednesday.
Brohm has a 13-12 coaching record during his first two seasons at Purdue, but inherited a program that previously had a 3-9 (1-8 Big Ten) record in 2016. He also led the Boilermakers to a 49-20 upset of then-No. 2 Ohio State last month and also lead Western Kentucky to a 30-10 overall record during his first stint as a head coach from 2014-16.