Jeff Flake, Cindy McCain and Arizona's Governor Could Be Censured by State GOP for Supporting Biden
The Arizona Republican Party is set to vote on whether three prominent Republicans from the state will be censured.
Former Arizona Senator Jeff Flake, Cindy McCain and Governor Doug Ducey are targeted by the resolution, which will be brought to vote during the party's annual meeting on January 23.
The censure resolution condemns Flake's and McCain's endorsement of President-elect Joe Biden in the presidential race, as well as Ducey's response to the state's coronavirus outbreak. A censure is a formal statement of disapproval by the party.
The state GOP is voting to "dissolve any connections" to Flake and McCain, and to demand that Ducey "immediately rescind all executive orders and directives issued under this faux state of emergency," according to KPNX.
Ducey has also been criticized by the state party's chair for not pushing claims of widespread election fraud in the state.
The resolution to censure Cindy McCain comes more than five years after her late husband, former GOP Senator John McCain, was censured by the state party in 2014. He went on to win reelection by defeating Kelli Ward, the current chair of the Arizona Republican Party.
The news comes despite Republican National Committee Chairwoman Ronna McDaniel's opposition to censuring McCain.
In a Sunday statement to The Washington Post, McDaniel said, "Obviously, we are upset that a prominent Republican would support Joe Biden, whose beliefs are the opposite of what our party stands for, but the language in this resolution is abhorrent."
She added, "My hope is that the Arizona Republican Party will not entertain it. This does nothing to grow our party or put us in a better position to win in 2022."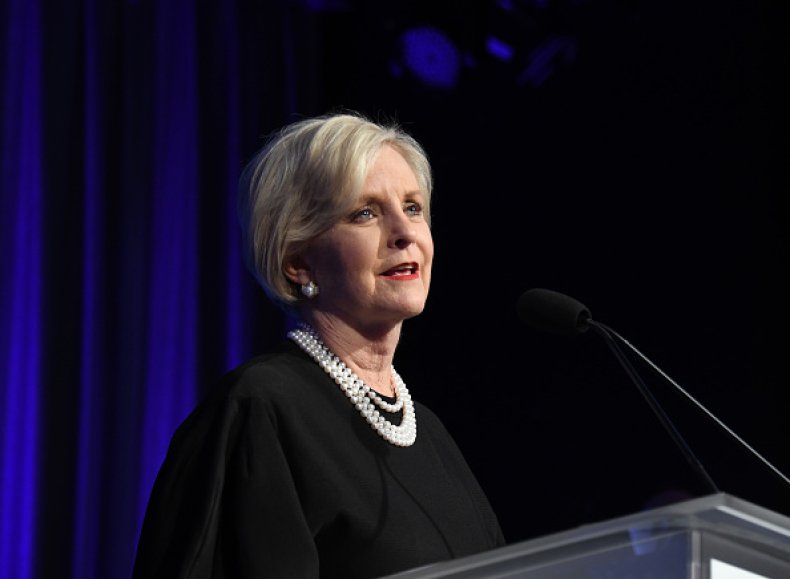 Tensions between the state GOP and big names in Arizona's Republican politics grew after Biden flipped the state by a slim margin and became the first Democrat to win Arizona in a presidential election since 1996.
The Democratic wins in Arizona's Senate races also show that the state is becoming increasingly purple. In November, Democrat Mark Kelly defeated incumbent Republican Martha McSally, giving the Democrats both Senate seats for the first time since the 1950s.
McCain said she was not surprised by the efforts to censure her, Flake and Ducey. She shifted the blame to Ward for the GOP losses in the past two election cycles.
In a statement to Newsweek, McCain said, "I'm not surprised by the continuous insults and personal attacks from Arizona GOP Chairman Kelli Ward. She's shown how attacking Republicans like me can impact elections—her involvement in both Senate elections to replace Jeff Flake and my husband John McCain, two regular targets of her personal attacks, resulted in Democrat wins."
McCain went on, "As chairman of the AZGOP, she managed to turn Arizona blue in November for the first time since 1996. Maybe she should be reminded that my husband never lost an Arizona election since his first win in 1982. He and Governor Ducey are the last two Republicans to win statewide races in Arizona."
Flake also responded to the resolution, tweeting that he's "just fine being on the outs" if staying in good favor with the Arizona Republican Party would require condoning Trump's actions.
Newsweek reached out to Ducey for comment but did not hear back before publication.
This story was updated at 1:40 p.m. with comments from Cindy McCain.