Can Jeff Flake Defeat Donald Trump? 'Things Can Unravel Pretty Fast' for President, Says Republican Senator
Updated | Republican senator and frequent Donald Trump critic Jeff Flake has refused to rule out challenging his party's leader in the 2020 election. Flake, who announced he would not seek reelection for his Arizona seat in the 2018 midterms, is one of a select few Republicans in Congress willing to challenge the president's controversial rhetoric and policies.
Related: Will Trump Run in 2020? Kasich May Challenge President for Republican Nomination
"It's not in my plan to run for president, but I am not ruling it out," Flake told the Associated Press Thursday in New Hampshire, the location of the first Republican primary in less than two years. "Somebody needs to stand up for traditional Republicanism. Somebody needs to raise that, for nothing else than to give people hope that that decent party will be back. We'll get through this."
Flake has put his rejection of what Trump stands for in print, writing Conscience of a Conservative: A Rejection of Destructive Politics and a Return to Principle last year. When announcing his retirement last October, the 55-year-old delivered a fiery rejection of Trump and what the senator called his "casual undermining of our democratic norms."
Trump's continual low approval ratings and struggles to pass major legislation provide hope to anyone looking to challenge Trump for reelection. However, the window of opportunity is far smaller on the right. For all the turmoil of the Trump administration, the president has maintained high approval ratings among Republicans.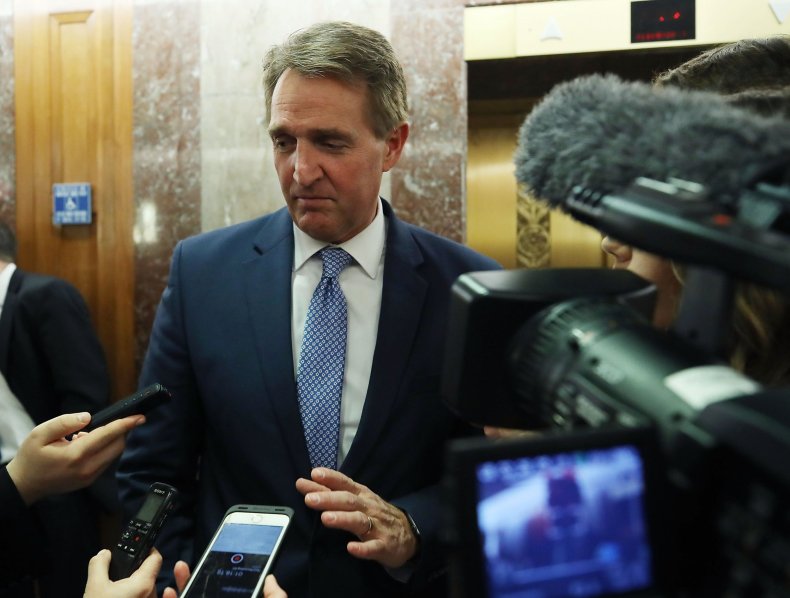 Yet Flake, who did not rule out running as an independent, suggested the landscape could change dramatically by the time primary season rolls around.
"Not today, but two years from now, possibly," Flake said of the possibility of Trump losing a Republican primary. "Things can unravel pretty fast. As soon as he's viewed as one who loses majorities in the House and the Senate, and there's no chance that someone in the 30s can win reelection, people might move on."
Flake continued his criticism of Trump during a speech in New Hampshire Friday.
"What does it say that we have instead succumbed to what can only be described as a propaganda-fueled dystopian view of conservatism," he said during his remarks at Saint Anselm College. "And what does it say in turn about the stewardship of America and its institutions. What it says is that we are as capable as anyone of forgetting our principals and our priorities and putting politics before party."
Whether Flake would be the person to take Trump down is another matter. Prior to his retirement announcement, Flake's approval rating in Arizona had fallen to just 18 percent, and even he conceded that he would not win a primary in his state. And while he has gained some of the spotlight for his attacks on Trump, he arguably lacks crucial nationwide name recognition.
Flake may also have to deal with a crowded field in 2020. He is not the only Republican posing a possible challenge to Trump, with Ohio Governor John Kasich also reported to be eyeing a run, either as a Republican or an independent.
And then there is the possibility of a celebrity, in the mold of Trump, jumping into the race. One of the potential candidates in that category, Mark Cuban, told the Associated Press that he was a "Jeff Flake fan."
On the Democratic side, the candidates will be even more numerous in what is expected to be the party's largest primary field in history.
This story has been updated to include a quote from Jeff Flake's speech in New Hampshire.