Ex-GOP Senator Says Most Republicans Know Trump Lost, Don't Want to 'Run Afoul' of His Base
The former GOP senator for Arizona has said that the majority of the Republican Party has accepted that President-elect Joe Biden had won the U.S. election but some were not prepared to admit it yet as they did not want to "run afoul" of President Donald Trump's base.
Jeff Flake served as senator in the Grand Canyon state between 2013 and 2019 and has been a vocal critic of Trump. In October, he filmed an ad in which he urged GOP voters to back Biden, saying that he had never before voted for a Democrat for president.
Regarding Trump's defeat in the election, he told the BBC's Newsnight program: "Most of the Republican Party has accepted it. Whether they want to admit it or not.
"A lot of them are still playing to that audience of one, not knowing where the Trump base will go."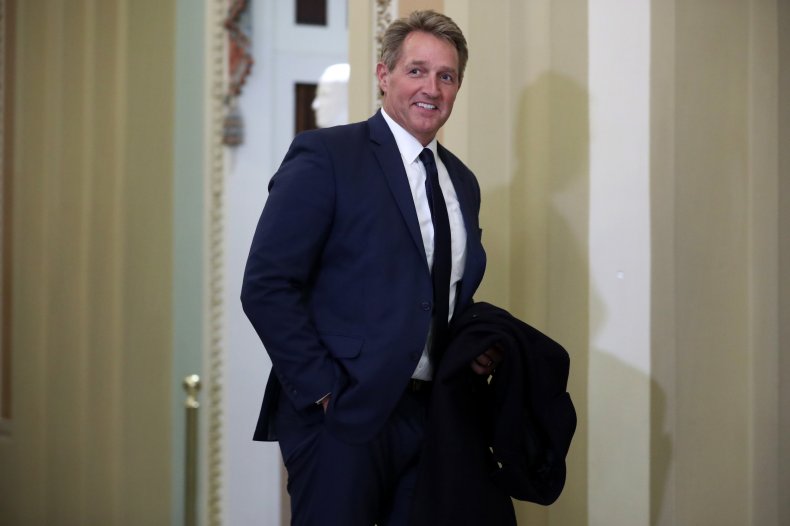 Trump continues to refuse to accept Biden's projected victory and has made unsubstantiated fraud claims. The Trump campaign has filed lawsuits in battleground states asking judges to either invalidate or stop counting mail-in ballots.
Some Republicans have backed Trump's claims of voter fraud or his right to challenge the count, while others have accepted the projected result and congratulated Biden.
When asked whether it was a dangerous prospect if the Republican establishment might know that Trump's fraud claims were bogus but were not saying so, Flake replied: "Yeah, it is. I think it's terrible for the system.
"It's not a good thing for democracy, but it will run its course and it will say more about the president than it will about our democracy."
Flake was also asked whether the "genie can be put back in the bottle" once this tactic has been used in a presidential contest. Flake said: "I think it can, it's not that easy, he still commands a lot of support and dedication on behalf of the base.
"You can see that by how many are still sticking with him, people that know better. I mean Lindsey Graham, he knows better. Ted Cruz, those guys, they know better," referring to the senators for South Carolina and Texas who support further probes to mail-in voting.
"They look at the base he controls, and they don't want to run afoul of that base," he said.
Newsweek has contacted Graham's office for comment. In a statement to Newsweek, a spokesperson for Cruz said: "We live in a great country where any private citizen can voice their opinion."
Meanwhile, justice department official Richard Pilger has quit after Attorney General William Barr allowed federal prosecutors to investigate the alleged irregularities in the ballot, according to The New York Times.
Republican congressional leaders have not commented on Barr's approval for the probe, although he has faced stern criticism from key Democratic figures such as Massachusetts Senator Elizabeth Warren, Hawaiian Senator Mazie Hiron and Massachusetts Representative Joe Kennedy III.
This story has been updated to include a statement to Newsweek by Sen. Cruz's office.