Former Republican Senator Jeff Flake Says GOP May Be 'Doomed Long-Term' If Donald Trump is Re-Elected
Former Republican Senator Jeff Flake warned that the Republican Party may be "doomed long-term" if President Donald Trump is re-elected in 2020, saying he plans to vote for a "responsible Democrat" instead.
Flake retired from Congress in late 2018, citing what he called the "undermining of our democratic norms" in the Trump era. In an exclusive interview with Deseret News, he said there was no longer a place for him in the GOP, which he described as going through "spasms of a dying party."
"I don't think the president will be re-elected," the Arizona lawmaker said. "Many of us thought, I certainly did, that he wouldn't be elected the first time. So it could happen. But if it does, I think that spells doom long-term for the Republican Party."
Trump officially launched his re-election campaign in June. He's said several times that he is not worried about any of the 24 Democrats currently vying for the opportunity to run against him. During a rally in Florida, Trump vowed to "keep on fighting" and "keep on winning, winning, winning."
But early polling shows Trump may be in danger of losing the general election to a number of Democratic candidates, including former Vice President Joe Biden and Senator Bernie Sanders. A recent poll by SurveyUSA showed both Biden and Sanders ahead of Trump by 8 points in head-to-head matchups.
Plus, the president's team is reportedly worried about polling data from key battleground states like Michigan, Pennsylvania and Wisconsin. Data also shows that suburban women, a key demographic for Trump's success in 2016, has been leaving the GOP in droves.
When asked about his affiliation to the Republican Party, Flake told the new outlet that "we all know, friends, extended family members of family members who just can't do this anymore." But he added that he doesn't believe the GOP is irredeemable and he won't be leaving the party anytime soon.
Still, he says he'll either be voting for a Democrat in the 2020 election or a third-party candidate. Michael Bennet, Amy Klobuchar, Cory Booker and Joe Biden are some of the top candidates on his radar.
"It's been nice to hear him say, "I can work with the other side,'" Flake said of Biden. "That's not what primary voters want to hear. But it's what the country needs to hear because it's true. I wish we had a Republican candidate who would say the same."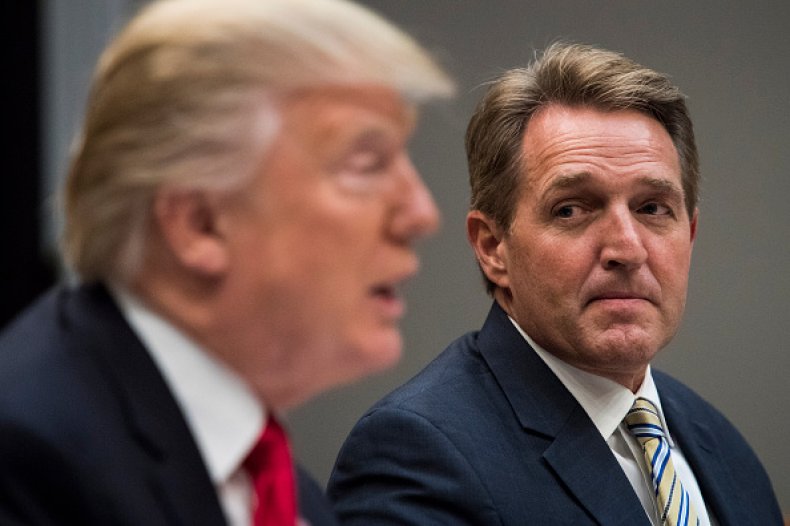 While Flake remains highly critical of Trump, he would not go so far as to call him a racist.
"I never have and never will call the president a racist. But to try to deny that that was a racist statement, 'Go back where you came from?'" Flake said, referencing Trump's attack on Rep. Ilhan Omar and other progressive lawmakers.
Trump told the "Squad" to "go back" to their "crime infested" countries even though three of the four women were born in the United States and the other is a naturalized citizen. At the height of their feud, Trump criticized the women during a rally in North Carolina, prompting the crowd to cheer "Send her back!"
"That's an awful statement to make," Flake said of Trump's "go back" comment. "And there's no other way to characterize it. But that doesn't give me or anybody license to say, 'Well, because of that statement, the president is a racist.' I think you go too far."