Jeff Flake Says He Was 'Very Troubled' by Brett Kavanaugh's 'Partisan' Remarks: 'We Just Can't Have That on the Court'
Jeff Flake said he was concerned about Brett Kavanaugh after hearing the judge address members of the Senate Judiciary Committee in a "sharp and partisan" manner during his testimony last week.
"I was very troubled by the tone of the remarks," Flake said Tuesday in a panel discussion along with Democratic Senator Chris Coons at the Atlantic Festival in Washington, D.C.
"The initial defense that Judge Kavanaugh gave was something like I told my wife: 'I hope that I sound that indignant if I was unjustly maligned,'" Flake added. "But then it went on, and the interaction with the members was sharp and partisan, and that concerns me."
The senator added that he wanted to give Kavanaugh "a little leeway because of what he has been through."
Kavanaugh noted during his testimony Thursday that he and his family have been the subject of death threats and constant harassment since the allegations came to light. As a result of the ongoing controversy, he will not be teaching law at Harvard this winter.
"In these 10 long days, as was predictable, and as I predicted, my family and my name have been totally and permanently destroyed by vicious and false additional accusations," Kavanaugh said in his opening statement.
But later on, he switched gears and raged against the Democrats for seizing on the allegations to postpone his ascension to the Supreme Court.
"This whole two-week effort has been a calculated and orchestrated political hit, fueled with apparent pent-up anger about President Trump and the 2016 election, fear that has been unfairly stoked about judicial record, revenge on behalf of the Clintons," Kavanaugh said.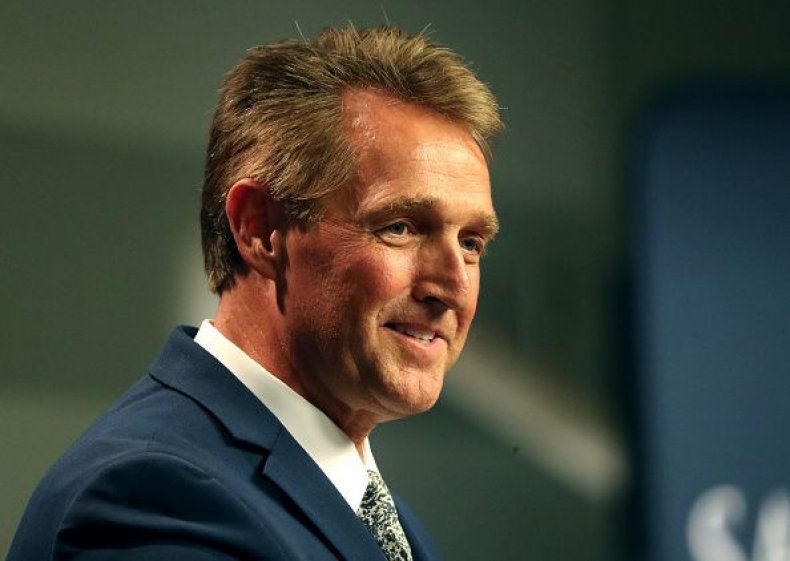 He went on to call Democratic members of the committee an "embarrassment." In one exchange, when asked if he ever drank alcohol to the point of blacking out, Kavanaugh responded: "I don't know. Have you?"
"We just can't have that on the court," Flake said about Kavanaugh's attacks on the senators. "We simply can't."
Flake persuaded the Republicans to agree to delay Kavanaugh's confirmation and ask the White House to initiate the FBI investigation. During Friday's pivotal vote on whether to move Kavanaugh's confirmation forward, Flake supported the nominee but demanded a probe be done before he votes on the Senate floor.
"We simply have to elevate people to leadership positions and elect people who see it differently and understand the value and purpose of the Supreme Court," Flake said on Tuesday.