Jeff Flake Says He'll Vote 'Yes' on Kavanaugh: What Happens Next and Can the Nomination Still Be Stopped?
Senator Jeff Flake said he will vote "yes" on confirming Donald Trump's Supreme Court nominee Brett Kavanaugh during the Senate Judiciary Committee's vote on Friday.
The Republican senator from Arizona was considered to be one of the likeliest contenders to offer a swing vote to the Democrats. He had told reporters he was still undecided on his position after Thursday's testimonies by Christine Blasey Ford and Kavanaugh.
But minutes before the Committee gathered to give closing remarks and vote on Friday, Flake's office released a statement saying that he will support Kavanaugh and help move his confirmation forward.
"After hearing more than 30 hours of testimony from Judge Kavanaugh earlier this month, I was prepared to support his nomination based on his view of the law and his record as a judge," Flake wrote in the statement.
"Our system of justice affords a presumption of innocence to the accused, absent corroborating evidence. That is what binds us to the rule of law," he added.
Flake was then confronted on his way to the hearing by two women who said they had been sexually assaulted and raped. One asked him through tears: "Don't look away from me. Look at me and tell me that it doesn't matter what happens to me."
With Flake's vote, Kavanaugh will likely be pushed through the committee despite the protests from Democrats.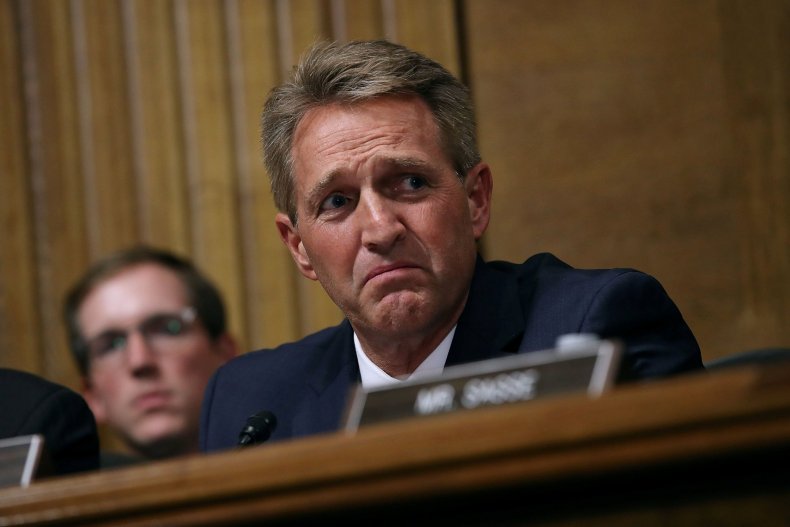 Even though the 10 Democrats on the Committee will likely vote no on Kavanaugh's confirmation, if all of the Republican senators vote yes, Kavanaugh will move forward onto the next step of the process.
The Committee's vote on Kavanaugh will take place on Friday at 1:30 p.m.
If Kavanaugh is approved, the current plan is to hold a procedural vote on the Senate floor on Saturday afternoon. A final vote on whether or not Kavanaugh will be placed on the Supreme Court is expected to be held early next week.
Republicans can advance Kavanaugh's confirmation even if they do not get any support from Democrats in the Senate, as they currently hold a majority of 51 to 49 in the chamber. But some conservative lawmakers remain a toss-up.
Lisa Murkowski and Susan Collins, two moderate Republicans who have not yet declared how they will be voting on the judge, are two lawmakers who could potentially stop Kavanaugh's confirmation from moving forward.
If the Committee votes against Kavanaugh's confirmation on Friday, Senate Majority Leader Mitch McConnell could force a vote on the Senate floor regardless. Or it could be back to the drawing board for President Trump. He will be tasked with nominating another judge to replace retiring Justice Anthony Kennedy. Other candidates who were on the same shortlist as Kavanaugh include Amy Coney Barrett, Raymond Kethledge and Thomas Hardiman.
Trump has doubled down on his support for Kavanaugh since the judge's testimony against Ford's allegations on Thursday. The president tweeted: "Judge Kavanaugh showed America exactly why I nominated him. His testimony was powerful, honest, and riveting. Democrats' search and destroy strategy is disgraceful and this process has been a total sham and effort to delay, obstruct, and resist. The Senate must vote!"