Jeff Flake: I'll Block Trump Judicial Nominations Until Tariff Vote, 'Number' of Senators Will Join Me
Senator Jeff Flake of Arizona said Sunday he thought himself "and a number of senators" will stop judicial nominations until there's a vote on tariffs and other issues.
"I do think that unless we can actually exercise something other than just approving the President's executive calendar, his nominees, judges, that we have no reason to be there," Flake told ABC News. "So I think myself and a number of senators, at least a few of us, will stand up and say 'let's not move any more judges until we get a vote, for example, on tariffs.'"
He added, "We're in the nascent stages of a full-scale trade war, and the President simply seems to want to escalate, and it all stems to the steel and aluminum tariffs."
Trump has repeatedly touted tariffs as a way to ignite American industries. In March, Trump ordered a 25 percent tariff on steel imports and a 10 percent tariff on aluminum imports, but exempted Canada and Mexico.
During the G-7 Summit earlier this month, Trump withdrew U.S. support from a joint statement with U.S. allies and threatened additional tariffs.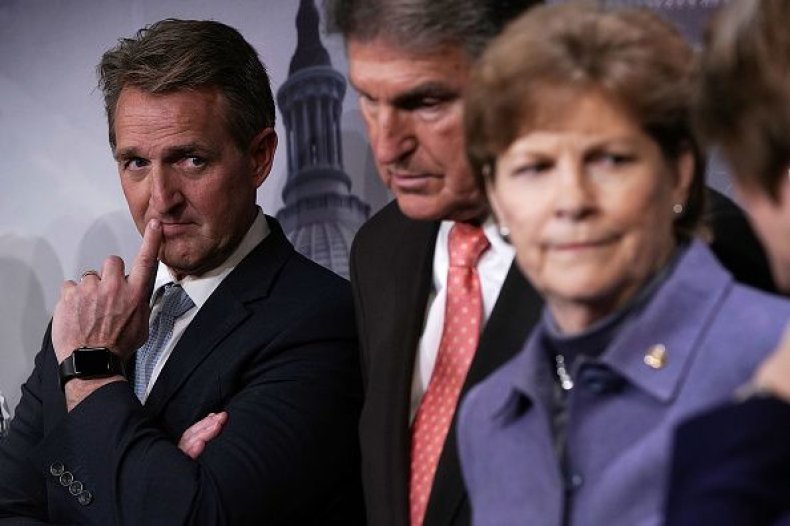 "Why isn't the European Union and Canada informing the public that for years they have used massive trade Tariffs and non-monetary Trade Barriers against the U.S. Totally unfair to our farmers, workers & companies," Trump tweeted earlier this month. "Take down your tariffs & barriers or we will more than match you!"
"Canada charges the U.S. a 270% tariff on Dairy Products! They didn't tell you that, did they? Not fair to our farmers!" he tweeted the next day.
Flake announced last year that he would retire from the Senate at the end of his term in January 2019. As a long-time critic of Trump, he has repeatedly pleaded with the Republican party to distance themselves the president, but has voted for Trump policies and nominations a majority of the time. "An American president who cannot take criticism, who must constantly deflect and distort and distract, who must find someone else to blame, is charting a very dangerous path," he said in a speech in January. "And a Congress that fails to act as a check on the president adds to the danger."
Flake donated to Democratic Senate candidate Doug Jones in December 2017 after the Washington Post reported that his opponent, Alabama Judge Roy Moore, had a history of alleged child molestation. Trump continued to support Moore after the allegations were reported.
"[If we] become the party of Roy Moore and Donald Trump, we're toast," Flake said in November.