Jeff Garlin Exits 'The Goldbergs' After Investigation Into On-Set Conduct
Jeff Garlin has exited his role in long-running sitcom The Goldbergs, following allegations of misconduct and a subsequent HR investigation.
It was announced to the cast and crew that the actor, who portrays patriarch Murray Goldberg on the ABC show, departed via a mutual agreement with Sony Pictures Television, according to The Hollywood Reporter and Deadline.
It has yet to be revealed how his departure will be explained on the show.
The Goldbergs is currently in the midst of its ninth season, which started airing in September.
The news comes less than two weeks after Vanity Fair published an investigation into Garlin's alleged verbal and physical conduct on the set of the show, reported to have made staffers uncomfortable.
Addressing the allegations in the article, Garlin told Vanity Fair's Maureen Ryan: "There has been an HR investigation on me the past three years. HR has come to me three years in a row for my behavior on set."
According to the article, some staffers on The Goldbergs had stated that they found his language and physical behavior demeaning and disrespectful.
Answering to those allegations, Garlin said: "[A]s a comedian, if somebody is offended by what I say I, all I can say is, I'm sorry. Okay? I have never physically come at anyone, for any reason, so that I find terribly confusing and untrue."
Dismissing allegations that he was verbally offensive on the set, Garlin told the publication that he was just being "silly," though he did admit to often using the world "vagina" on the set.
He also shared that he was reluctant to return to the show for a ninth season, because he was "bored, and I was frustrated with the parameters that were being put on me by Sony, which they have every right to [enact].
"And I have every right when I'm not under contract to decide not to come back. That's all it was. But I love the people I work with and I didn't want the work to end for them. So I did my part in keeping the show going, even though I would have been happy not doing the show."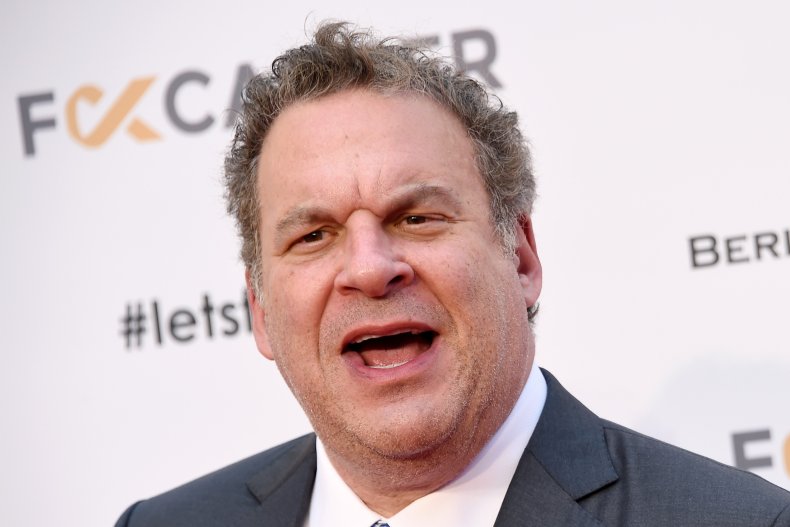 At the time of the interview, Garlin—who revealed that he was working a lighter schedule after the allegations—denied that he had been fired from the show, adding that he also didn't expect to be in the show in the future.
"We're trying to come to a place where we come to an agreement," he explained. "Either I can behave the way [they want] or not. We'll see, but I'm not being fired and I've not been fired.
"We're in the middle of talking about what we're going to do, but there will not be a firing. I will work more on The Goldbergs, just to let you know, I'm in contact with Sony. I will be shooting more days on the show.
"When I do shoot more days, just to make it go smooth, I will not be doing any of my silly stuff or anything, out of respect. I'm just going to keep it on the QT, because you know why? They're my bosses. And they have every right to have the set be the way they want."
As his interview concluded, Garlin conceded that he is in a position of power when discussing how his alleged behavior may have affected others.
"Maybe I'm not as good as I think, but I try [showing] everyone kindness and respect," he said. "I also feel free to joke around with them, and clearly some of my jokes are missing, and I have hurt people. And that makes me sad."
At the time the interview was published, a Sony Pictures Television spokesperson told People: "The well-being of our cast and crew is of utmost importance to us. This is an employment matter and it is being addressed by HR and production."
Newsweek has contacted representatives of Garlin and Sony Pictures Television for comment.
The Goldbergs, a semi-autobiographical comedy based on the childhood of series creator Adam F. Goldberg, lost beloved cast member George Segal earlier this year, after his passing in March.