Jeff Monson: Why I Became a Russian Citizen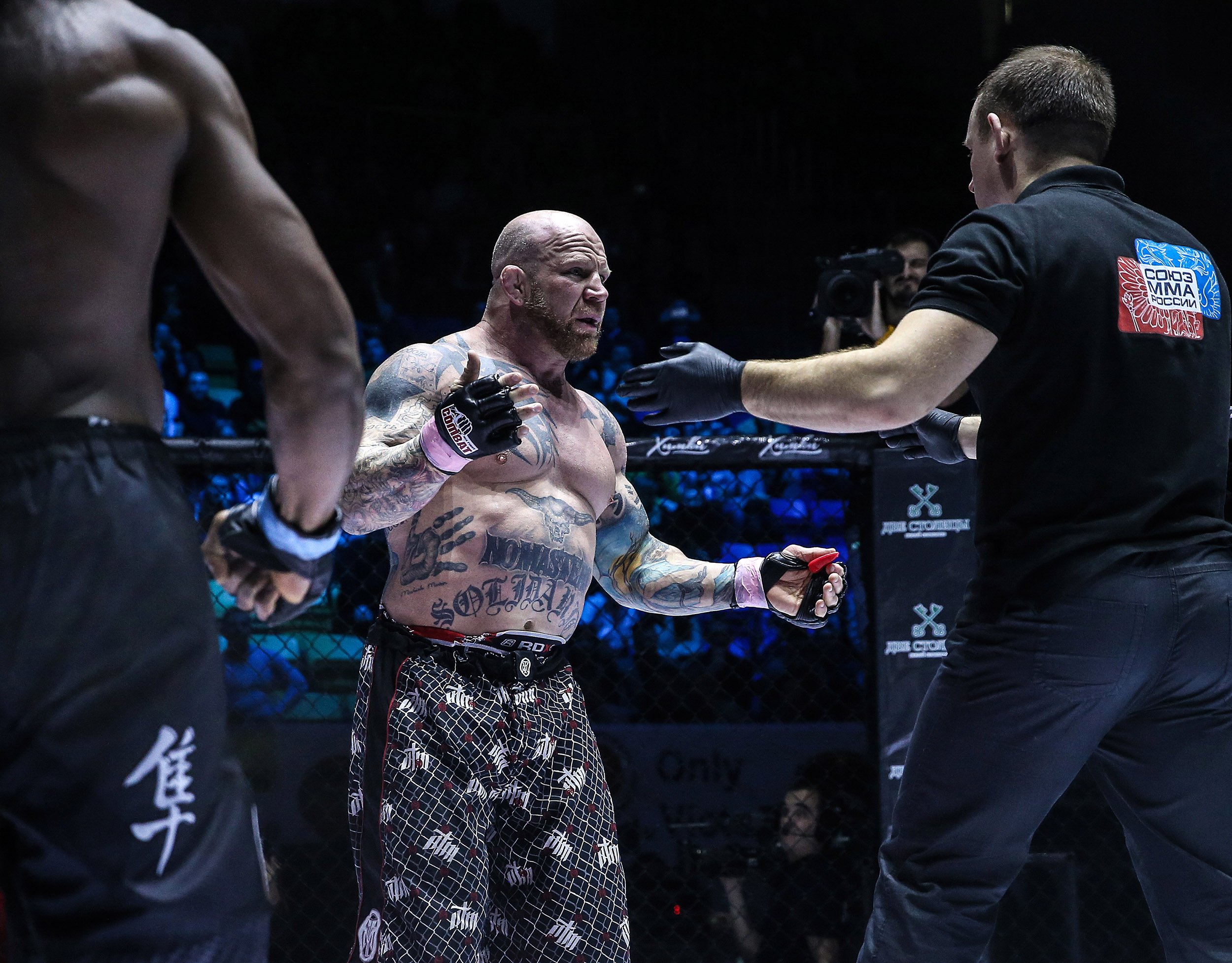 Just two weeks ago, I turned in my citizenship papers at a crowded migration office in Moscow.
Days later, on December 25, I climbed into the ring for the first time to fight under the Russian flag.
Ever since, there's been a lot of noise on social media and in the news about my decision to seek Russian citizenship. So I thought I'd take a moment to put it to rest for my fans.
Those who know me know that I never hold back when it comes to things I care about. I sure as hell don't plan to start now. But my critics will be sad to hear that my decision wasn't the result of my longtime dislike of America's aggressive foreign policy or imperialistic capitalist ambitions.
Rather, it was due to my solidarity with the Russian people, something I felt when I first visited Russia in 2011. I felt deep down right away that this is my home—the one place I feel at peace with myself and my surroundings. And it was as unexpected for me as it would be for nearly any American.
I grew up in Washington state in a middle-class family like most American kids'. My dad was a military man and my mom a nurse who pretty much raised me on her own. I started wrestling at age 15 and caught on fast, later competing at Oregon State University and the University of Illinois.
My childhood and young adulthood passed in the 1970s and '80s, when Russia was for many Americans something dangerous and unknown—an evil country buried in a swathe of red that covered classroom maps of Europe. I was a patriot who believed the news, that America was a land of opportunity and that our way of life was destined to become the way of life of the world.
Things changed when I joined the Ultimate Fighting Championship (UFC) in 1997 after working as a child psychologist. When my career kicked off in the early 2000s, I started traveling extensively for international fights and for the first time questioned my perspective on the world.
Between airports, I compared global news coverage and soon realized that media everywhere is biased and the truth lies somewhere in between. At the same time, I saw the poverty kids are still forced to endure in places like Brazil; to me, this was unjustifiable given the huge military budgets of superpowers like America, which should lead by example, give more and defend less.
These awakenings became a cornerstone of my belief in communism and that the world must do away with class hierarchy and institutions that promote inequality. In short, when I first visited Russia in 2011, it was with a very open mind.
As an American used to negative narratives of Russia, I was surprised by the graciousness of the people when I arrived in Moscow in 2011 to attend a news conference before my fight with Fedor Emelianenko.
Widely viewed as the best mixed martial artist to have ever lived, Fedor is a larger-than-life figure and in Russia a national treasure. But instead of the heckling one might expect before opposing a folk hero of epic proportion, I was greeted by cheers.
After my loss, in which I broke my leg mid-fight, I wasn't shunned for my defeat but praised for my persistence. I later came to realize that this is a defining trait of the Russian people, and was regularly invited back to Russia for grappling matches and fights and to do charity work for underprivileged kids.
Now off on my 25th (or so) trip to Russia, I can confidently say I've seen a sizable part of the country, from Moscow and St. Petersburg to Ingushetia, Chechnya, Irkutsk and Tomsk. Whenever I'm in Russia, I try to spend time visiting orphanages and promoting youth sports. And I'm always surprised to see how obligated Russians feel to help those in need.
During my trip to Nizhniy Novgorod in December, I attended a free amateur Mixed Martial Arts (MMA) event where I had the chance to meet the city's famous quadriplegic hockey team. They're 100 percent community-sponsored, and the city takes pride in what they've achieved. There's no money changing hands during their events, no ticket sales. The community just comes out to show them their support in an altruistic way.
As a communist, I can't help but be fascinated by the 1917 Revolution, the world's first social revolution to topple a monarchy and install a communist government. Russia's experience with communism was—mildly put—in no way unambiguous. But it did create a certain rift between the lifestyle there and the materialism of other developed nations.
This is manifest in its culture of social responsibility, which I've seen time and again, and in the values of its people, a good and decent people who aren't caught up in the rat race that eats up so much time in the West.
For me, their humanness is something I relate to on a very intrinsic level, and is a big part of the "Russian soul" that has drawn so many historical admirers. There is a depth to their spirit, and this has resulted in some of the world's best art and tomes of literature that never lose relevance.
I know some readers are shaking their heads right now. That's to be expected.
Amid Russia's clash with America on Ukraine and Syria, the country's taken a real pummeling in the media. But after spending a lot of time there, which I recommend anyone do, it's clear to me that Russia isn't consumed with expanding threads of power or capitalism. It's concerned with the well-being of its people. And I respect its ability to focus on itself, to address its own issues.
So when people ask me why I sought Russian citizenship, it's hard to give a concise answer. I guess it's because I just feel Russian.
It's become a bit of a cliché these days to bend U.S. President John F. Kennedy's famous line "Ich bin ein Berliner" to any situation, when speaking of any newsworthy issue on any scale. Maybe today—for once—I'll hop on the bandwagon.
Why did I accept Russian citizenship? It's because "Ya russkiy."
Jeff Monson is an MMA fighter and political activist.