For Jeff Samardzija, Being One of the Five Best Pitchers in Baseball Is a No-Win Situation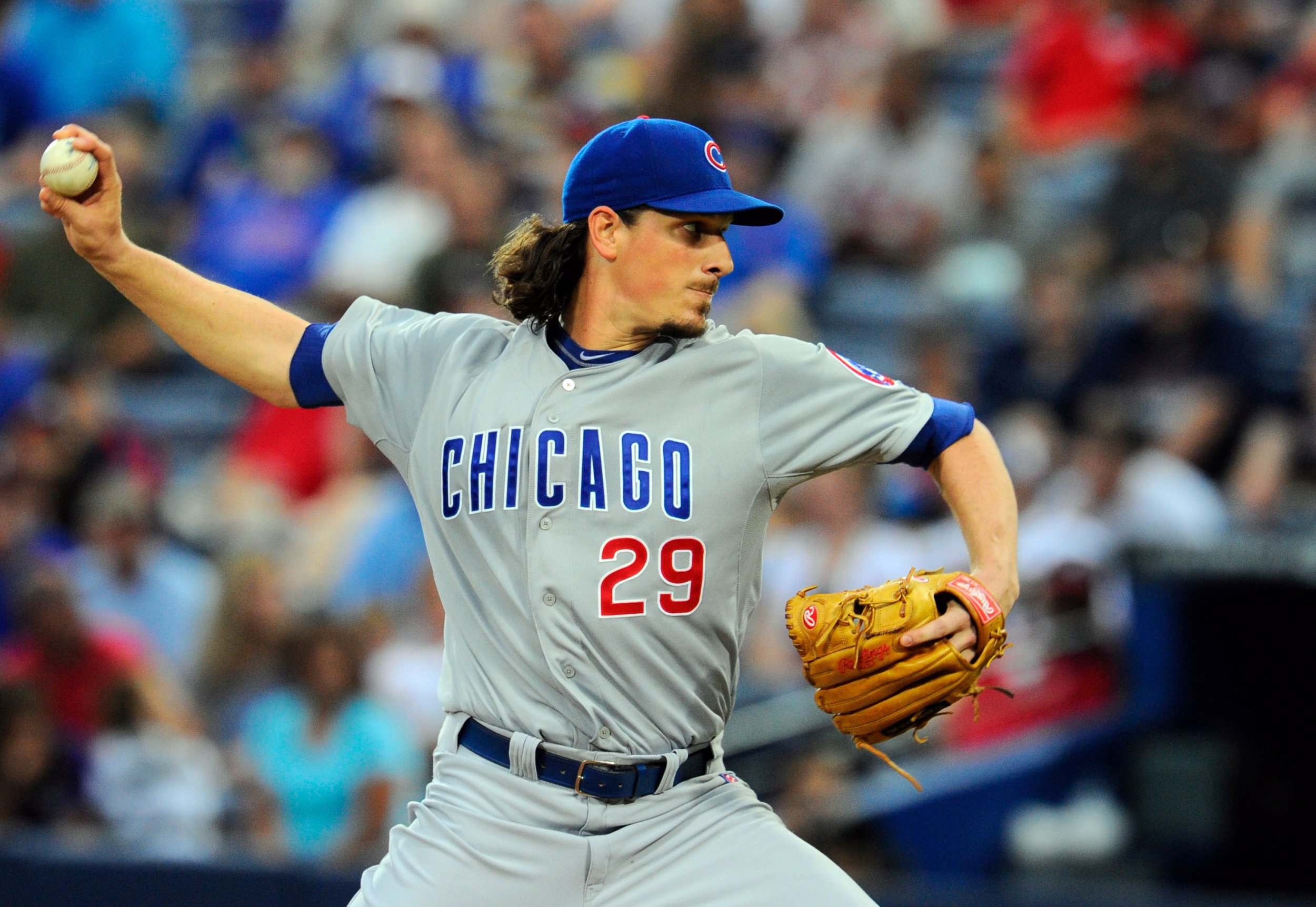 Kevin Chapman of the Houston Astros, who has pitched 3.2 innings all season and has an ERA of 12.27, has one. Evan Marshall of the Arizona Diamondbacks, who made his major league debut a week ago Tuesday, has one. Even John Lannan of the New York Mets, who has pitched just four innings this season and has a U.S. debt-ceiling level ERA of 15.75 ERA, has one.
As of this writing, 278 major league pitchers all have one. All have something that Jeff Samardzija does not yet have this season: a victory.
Like the Chicago Cubs team for whom he pitches, Samardzija seems cursed this spring. Like fellow Chicago icon Oprah, he is win-free. One of the five best hurlers in the game this spring, he is 0–3.
Samardzija, the Cubs' opening day pitcher, has pitched at least seven innings in six of his eight starts. He has never allowed more than three runs in any start. His teammates have responded by being shut out in three of his starts and scoring one run in two others. William Wallace received more support in the battle of Falkirk.
Brandon McCarthy of the Diamondbacks, who has lost a major league–worst six games, has one. Jeremy Guthrie of the Kansas City Royals, who has surrendered more home runs than any pitcher in the game this season (11), has two. Franklin Morales of the Colorado Rockies, against whom opposing hitters have a league-best (or, from Morales's perspective, worst) on-base percentage of .370, has three. R.A. Dickey of the Toronto Blue Jays, who has walked more batters, 27, than anyone else, has four.
Wins.
Samardzija, who in his three losses has received a sum of three runs of support, has zero.
At age 29, Samardzija, a former All-American wide receiver at Notre Dame, is having the best season of his career. Entering Wednesday night's contests, only Johnny Cueto of the Cincinnati Reds had a lower ERA (1.43) in either the National or American League than Samardzija's 1.45. Opposing hitters are batting .215 against him, and his WHIP is 1.05. Both stats put him among the top 15 in baseball.
Samardzija is doing everything a pitcher can possibly do to win a game—including scoring the occasional run—except record a victory. He is in fact the only Cubs pitcher to have scored a run this season. Wasn't enough that day.
On Monday, the Cubs scored 17 runs, more than any team has in any game all season, in a 17–5 win at St. Louis. Immediately afterward, the winning pitcher, Travis Wood, sought out his hard-luck teammate in the locker room. "I instantly came in here and gave him a hug and said, 'Sorry,'" said Wood.
And why not? The Cubs scored more runs for Wood on Monday night, 17, than they have in all eight of Samardzija's starts, 15.
If the Cubs are notorious for being the sport's most cursed professional franchise, then Samardzija, who grew up less than an hour away in Valparaiso, Indiana, has become their unwitting mascot. On opening day in Pittsburgh, he threw seven scoreless innings of five-hit ball, but the Cubs lost 1–0 in the 10th inning. A week ago Monday at Wrigley Field, the 6-foot-5 right-hander tossed nine innings, allowing only an unearned run in the first on an infielder's throwing error. The Cubs lost 3–1 in 12 innings.
Most Cubs-like, however, was the no decision with which his teammates saddled him on April 23. Chicago was hosting the Diamondbacks, losers of 10 of their previous 11 games, on the 100th birthday of Wrigley Field. Samardzija left the game with one out in the eighth inning and the Cubs ahead 5–2. Then, as if by fate, Chicago committed two errors in the ninth inning as Arizona scored five runs to win.
"Big day out there," Samardzija said afterward. "You want to show up, have a good turnout for the fans and former players in the crowd."
Samardzija, who is still No. 2 at Notre Dame in career receptions (179), behind only Michael Floyd of the Arizona Cardinals, has remained sanguine throughout this fallow period. In fact, he last won a game on August 24 of last season.
"On the back of baseball card terminology, is it tough?" Samardzija was asked earlier this week. "Yeah, absolutely, but I don't look at that. That's not how I judge my season.
"For me, what I've learned, run support or no run support, you do your job," he told ESPN.com. "You stick to your routine, which ultimately keeps you in that [bubble] with blinders on. Your comfort is your routine."
Samardzija, who takes the hill against the Cardinals in St. Louis on Thursday afternoon, is the first pitcher since 1900 to give up three or fewer runs in his first eight starts without recording a win. While a victory might be nice, it would also rob him of a perhaps more memorable season. He's Roy McAvoy in Tin Cup right now.
What did Dr. Molly Griswold (Rene Russo) tell Roy (Kevin Costner) after he forsook prudence on the final shot of the U.S. Open? "It was the greatest 12 of all time! No one's going to remember the Open 10 years from now, who won...but they'll remember your 12! My, God, Roy, it was...well, it's immortal! I am so proud of you!"
Of course, whether Samardzija wins a game this season, as he knows better than anyone, is less in his control than shooting par was for McAvoy. Still, anyone can win a baseball game. As noted above, 278 major leaguers already have. But how many guys can make the All-Star team, perhaps even start, without recording a victory? How many could put themselves in a position to win the Cy Young Award. Who would ever forget Jeff Samardzija's Cy Young Award-worthy winless season?
Besides being memorable and immortal, a winless Samardzija season in which he led baseball in ERA would, once and for all, one hopes, alter the paradigm. It would be pitching's equivalent to the conversion from geocentrism to heliocentrism.
For example, take Cy Young. Pitching's most prestigious honor is named in memory of Young, who won an all-time record 516 games. Everyone knows the name Cy Young (if not his actual name: Denton True Young) some 103 years after he threw his final big-league pitch. But do you know Eddie Walsh? A contemporary of Young's, Walsh pitched 14 big-league seasons and still has the lowest ERA in the history of the game, 1.82.
Is there an Ed Walsh Award? No, but there should be.
Baseball treats 300-game winners as the British Empire does knights. Three hundred victories is a virtual hall pass, literally, into Cooperstown. A far more elite group would be pitchers whose career ERA is below 2.00. There are 24 pitchers who have won 300 games, yet only three who have a career ERA below 2.00. In fact, Young has the 60th-best ERA in baseball history, while a thrower by the name of Babe Ruth, who appeared in 163 games at the position, has the 17th best (2.27).
Babe Ruth really was all that.
To measure pitchers by wins, as all sabermetricians know, is to allow outside variables that have no bearing on a pitcher's performance occlude your judgment. Pitchers are better measured by ERA, or even WHIP (Walks + Hits/Innings Pitched). It's worth noting that the only two pitchers with career ERAs lower than 2.50, since the game's integration in 1947, are recently retired New York Yankee reliever Mariano Rivera (2.209, 13th all-time) and current Dodger ace Clayton Kershaw (2.586, 52nd all-time).
If Samardzija continues to pitch gems while not picking up victories, more people may learn who Ed Walsh was. Certainly, Samardzija's own legend will grow. Imagine: a player who only grows in stature the longer he doesn't win. Is there anything more perfectly Chicago Cubs-like than that?