Jeff Sessions Agrees With Kanye West's 'Dragon Energy' Description of Trump, Says He's 'Driven to Succeed'
A recent change in his White House employment status didn't stop former Attorney General Jeff Sessions from praising President Donald Trump's tenacity, pointing to rapper Kanye West's description of the president.
During a speech before the Montgomery Area Chamber of Commerce in Alabama, Sessions acknowledged that he's attempting to "chill out" a bit and admitted he doesn't follow Trump's tweets as much as he used to. However, he said the "public adventure" of working for Trump's administration exceeded his expectations.
Despite no longer being part of the administration, he told attendees that he's proud of Trump's policy agenda and the role he played in carrying it out. Sessions credited Trump with being driven to succeed and blamed the president's frustration largely on bureaucracy slowing down his progress.
To sum up the president's will to succeed, Sessions turned to the words of one of Trump's unlikely supporters.
"As Kanye West said, 'He has dragon energy,'" Sessions said. "I think that's a good description of it, really."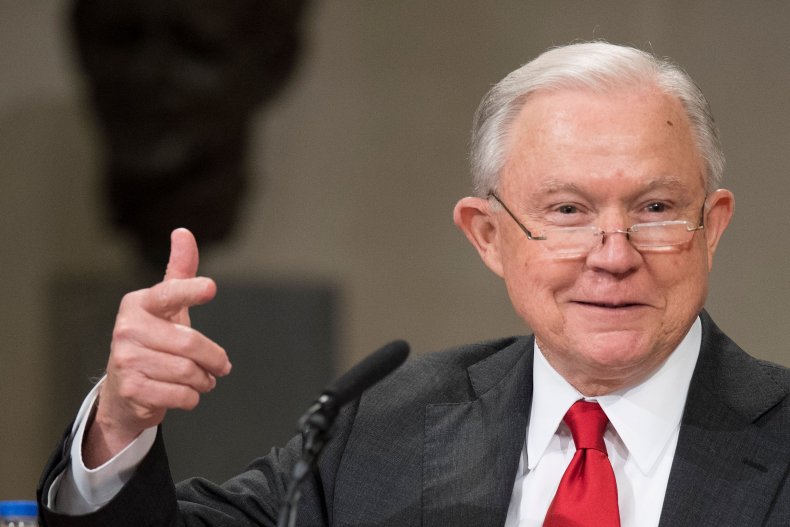 In April, West posted a series of tweets about his support for Trump, saying that the mob can't make the rapper love Trump any less. Then, he drew a comparison between himself and the president that some found puzzling.
"We are both dragon energy," West wrote. "He is my brother. I love everyone. I don't agree with everything anyone does. That's what makes us individuals. And we have the right to independent thought."
Months later, West told The New York Times that when he vocalized his support for Trump on Twitter, he was doing it for all the people that wouldn't. West said that he knew celebrities who voted for Trump but were scared to say they liked him.
"But they told me, and I liked him, and I'm not scared to say what I like," he explained. "Let me come over here and get in this fight with you."
West visited the White House in October and said wearing a "Make America Great Again" hat made him feel like Superman. However, he later posted on Twitter that he was distancing himself from politics after he felt he was used to spread messages he disagreed with.
After Sessions said he agreed that "dragon energy" accurately described the president, the former general went on to express his gratitude at having had the opportunity to advance the president's, and his own, policies through his work at the Department of Justice. He pointed to a reduction in crime and overdose deaths, which he said was achieved while he was in office.
Sessions submitted his resignation from his position as attorney general at the president's request, which Trump accepted on November 7.