Lindsey Graham Praises Sessions After Alabama Loss, Trump Attacks
Sen. Lindsey Graham (R-SC) praised former Attorney General and senator Jeff Sessions after his defeat in Alabama's GOP primary, while President Donald Trump praised his victorious rival Tommy Tuberville.
Graham thanked Sessions for his service to the state and the nation after he lost the runoff contest on Tuesday.
"I appreciate all the service Jeff Sessions has provided the people of Alabama and our nation. I know Jeff has much more to contribute in the years to come," he said on Twitter, after congratulating Tuberville for a "decisive victory."
"As to the general election, we have a great candidate in Tommy Tuberville."
Trump, long critical of Sessions after he recused himself from the FBI's probe into Russian interference in the 2016 election, focused on the Tuberville win and Sen. Doug Jones, the Democrat he will take on in November.
"Tommy Tuberville WON big against Jeff Sessions. Will be a GREAT Senator for the incredible people of Alabama," he wrote.
"@DougJones is a terrible Senator who is just a Super Liberal puppet for Schumer & Pelosi. Represents Alabama poorly. On to November 3rd."
Trump strongly criticized Sessions throughout the run-up to the vote. He previously called for Sessions to drop out of the race, later branding him "a disaster who has let us all down."
Alongside that barb, Trump said: "We don't want him back in Washington!"
Sessions responded, branding the president's attacks "juvenile insults."
"I've taken the road less traveled. Not sought fame or fortune. My honor and integrity are far more important than these juvenile insults," Sessions said.
Following his defeat, Sessions said: "We fought a good fight and the people of Alabama have spoken. So many people have helped me in this campaign and over the years, they love this state and I love them."
After congratulating Tuberville, in another post on Twitter Sessions added: "Although this chapter is closed, we all must continue to stand up for what's right – in the right way.
"Alabama IS worth fighting for, and America IS worth fighting for."
Sessions previously served in the Senate, having been elected there to represent Alabama in 1996 and then re-elected three straight times.
Samantha Zager, deputy national press secretary for the Trump campaign, said prior to the primary that voters want to elect people who can work with the president.
"Time and time again primary voters have made clear that they want representatives in Washington who will work with the President rather than obstruct him at every turn," she told Newsweek.
While the president's words may have helped Tuberville in his victory, the win is also a boost for Trump and indicates he maintains influence over Republican voters amid a broader decline in his popularity.
In a call with the president following the win, Tuberville said: "I appreciate your support because this is as much about you as it is me."
Tuberville, who won by 25 points, now goes forward to take on Jones in November. The Alabama Democrat is rated as one of the most vulnerable senators at the election.
Jones, responding to Tuberville's victory, said: "The choice before the voters is an unprepared hyper partisan that will add to the divide in Washington, or my proven track record to find common ground and get things done.
"We can choose One Alabama and continue to move Alabama forward together and work for better health care, support our veterans, and bring back jobs from overseas."
He said that Washington "already has plenty of people who fight along partisan lines and nothing much seems to get done."
Newsweek has contacted Sessions, Tuberville, and the White House for comment.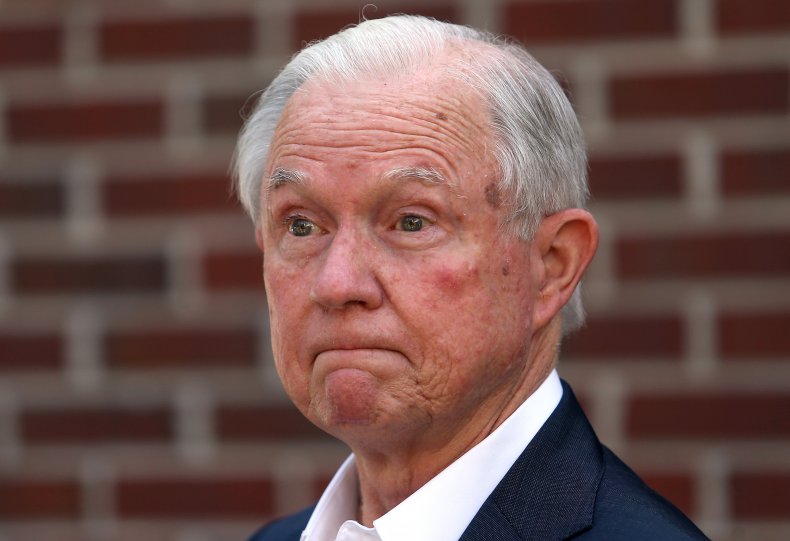 This page has been updated with comment from Sen. Doug Jones.