Amherst Students Protest Jeff Sessions Speech, College Republicans President Defends Guest Speaker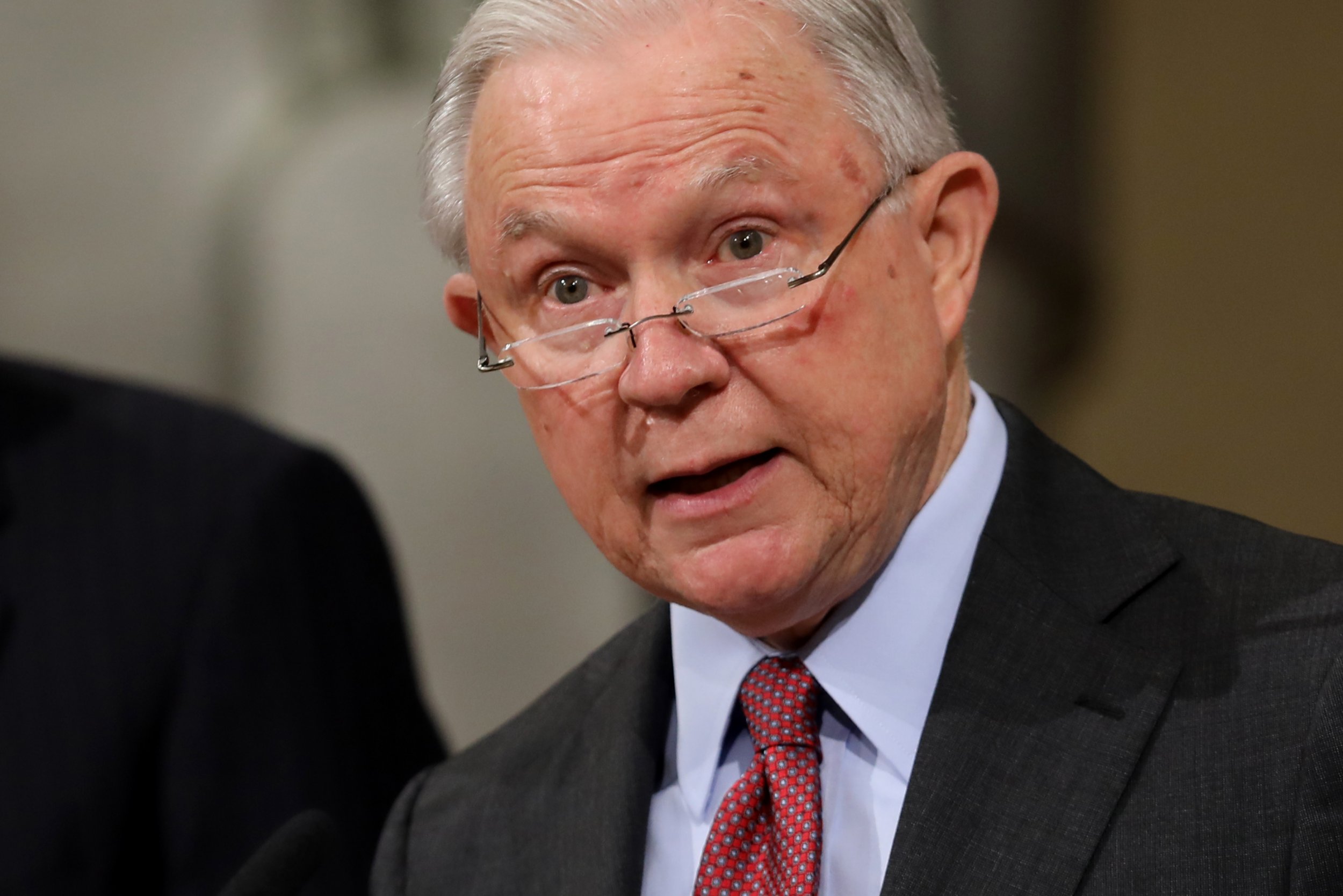 Students at Amherst College, a private liberal arts school in Massachusetts, planned to protest former Attorney General Jeff Sessions' on-campus speech on Wednesday.
Since Sessions resigned from his position as attorney general in November, he has spoken at multiple venues, including Montana State University. The Amherst College Republicans invited Sessions to campus, where he will focus on President Donald Trump's appeal to voters and how the issues that shaped the 2016 election will play a role in 2020. As Sessions addresses attendees at the Johnson Chapel, protesters will gather at First Year Quad to stand up against what they see as Sessions' racist and bigoted policies in the Senate and Department of Justice.
The event, hosted by the Amherst College Direct Action Coordinating Committee (ACDACC), will include education opportunities, networking with local activists and "hundreds of tamales," according to the event page.
"Together, we will learn about how to oppose the racist, xenophobic, heterosexist, and otherwise cruel, oppressive policies that Sessions enacted as a senator and U.S. attorney general," the event page said.
Kaelan McCone, an Amherst student, told Newsweek he was "shocked" when he found out Sessions was speaking on campus.
"Amherst has a tradition of making sure that speakers from both sides of the political spectrum come [to] speak at the college, but an extremist such as Sessions was surprising," McCone said. "That being said, the college isn't the one who organized or paid for the event, so their hands were tied in that regard."
Rob Barasch, president of the Amherst College Republicans, told Newsweek Sessions' visit had been in the works since February. He said Sessions' opinion could be beneficial even to those who disagree with him, because he can speak to issues affecting all Americans.
"I feel like we go to such a liberal school, even myself, I was shocked when President Trump won the election in 2016," Barasch said. "So, to have somebody come in and say, 'What was it about all these states that voted for Donald Trump to be the president of the United States?' I think would offer great insight and a diverse political viewpoint, which isn't really present on this campus at this moment."
McCone described himself as a southerner, having been born and raised in North Carolina, a deeply religious Catholic, the son of an immigrant and openly gay. His opposition to Sessions was both identity and policy related and McCone specifically criticized the "zero-tolerance" immigrant policy.
"Sessions uses our shared Christian religious identity as an attack platform, both to queer people as well as, occasionally in defenses of his discriminatory immigration policies," McCone told Newsweek.
McCone won't be on campus at the time of his speech so cannot attend the protest. However, he credited peaceful protesting as being a way to expose students to multiple opinions at one time.
"It's the one way to be respectful of Sessions as a person, as difficult as that may be, while also actively protesting and making clear our stances against his policies," the student said.
Given that the College Republicans are the "most hated group" on campus, according to the club's president, and that people were unhappy when former Ohio Governor John Kasich spoke at Amherst, Barasch said he expected some pushback toward Sessions. However, he didn't think it would be to the extent it reached.
"For people to be buying tickets … and they're not gonna come, so [fewer] people can actually hear him talk. I was not expecting that," Barasch said.
One student, Dalen Akker, posted on Facebook that while he disagreed with many comments Sessions made regarding immigration, he nevertheless respected the former attorney general's perspective.
"I'm interested to see what Sessions has to say about the [special counsel Robert] Mueller probe because it's pretty difficult to understand the nuances from an outside-in perspective," Akker wrote. "If you don't want to go to his talk, that's your prerogative. But don't assume those interested in his talk share his xenophobic tendencies."
Sessions denied claims he was racist during his Senate confirmation hearing, saying he "abhors" the Klan and its "hateful ideology."
"I hope my tenure in this body has shown you that the caricature that was created of me was not accurate," Sessions said of racist accusations that arose during his 1986 U.S. attorney confirmation hearing. "It wasn't accurate then and it's not accurate now."