Jeff Sessions Blames Gun Deaths Increase on Antifa, Black Lives Matter and ACLU—But Not Guns
Attorney General Jeff Sessions blamed increases in shootings and gun-related deaths on groups like Black Lives Matter, the American Civil Liberties Union and Antifa at a gathering of law officials on Wednesday.
"If you want more shootings, more death, then listen to the ACLU, Antifa, Black Lives Matter and groups who do not know the reality of policing," he said to state and local law enforcement officials in Illinois while discussing increased violent crime in Chicago. "If you want public safety, then listen to the police professionals who have been intensely studying this for decades."
Sessions was referencing the 2015 agreement between Chicago and the American Civil Liberties Union of Illinois, which made reforms to and increased review of the city's stop-and-frisk policy.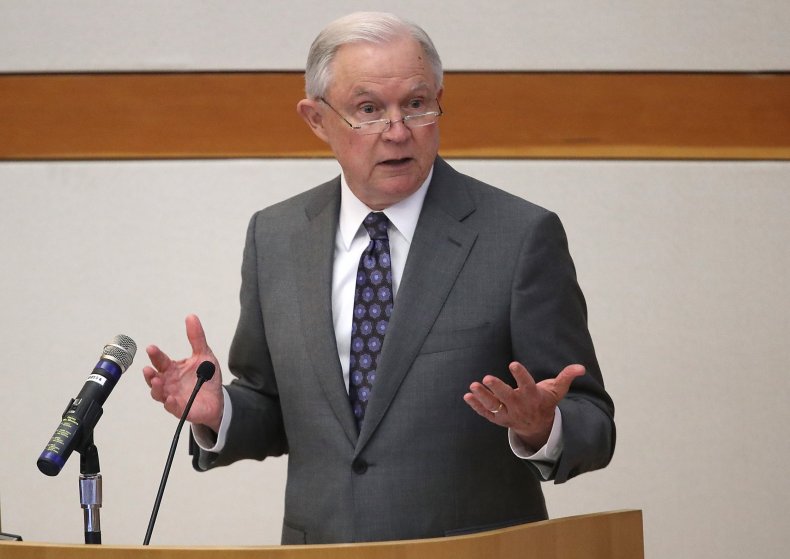 Later in the day, Sessions acknowledged that murder rates in Chicago are down nearly 24 percent since the beginning of last year but continued to blame the ACLU. "Police here are doing everything in their power to reverse these trends," said Sessions. But, he added, "their hands still remain tied" by the ACLU agreement. He called the agreement to review stop-and-frisk a "colossal mistake."
The agreement came after an ACLU study found that the Chicago Police Department was stopping and searching African Americans at a much higher rate than Hispanic or white populations, especially in white neighborhoods.
Sessions repeatedly referenced a study by two University of Utah researchers that concluded Chicago experienced a 60 percent increase in homicides in 2016 because of limits placed on the stop-and-frisk program. The methods of the study, however, have been questioned. A Washington Post fact check rewarded their claims three Pinocchios.
Karen Sheley, the ACLU of Illinois' director of the police practices project, told the Chicago Tribune that Sessions's comments were "revisionist history" and ignored the local problems contributing to high crime rates.
"Yet again, this administration encourages unlawful behavior and strong-arm tactics, instead of supporting commitments by local police to do the hard work of building respect and relationships with the communities they serve," Sheley said. "Black and Latino Chicagoans have lived through the decades of excessive force, unconstitutional and harassing stops, and coercive interrogations leading to false confessions."
In a statement, Chicago mayor Rahm Emanuel's office poked fun at President Donald Trump's latest hit on the attorney general. "I know Jeff Sessions is having a tough day with his boss, but it's no excuse for lashing out at others and making up alternative facts," Adam Collins, spokesman for the mayor's office, said.
Trump slammed Sessions in an interview with The Hill Wednesday. "I don't have an attorney general," he said. In a previous interview with Bloomberg, Trump said that he would consider firing Sessions after midterm elections this November.