Jeff Sessions Calls Continued Attacks on Journalists 'Unacceptable Trend'
Attorney General Jeff Sessions told reporters on Tuesday that attacks on journalists are part of an "unacceptable trend," with the world not reacting "sufficiently" to killings of journalists, according to CBS News.
The attorney general's comments come in the wake of the disappearance of Saudi journalist and Washington Post columnist Jamal Khashoggi. The citizen of Saudi Arabia has been missing since October 2 after he was seen entering the Saudi Arabia Consulate in Istanbul to obtain divorce papers so he could marry his fiancée, who is from Turkey.
Turkish officials speaking anonymously have claimed via numerous news outlets, including the Post, that Khashoggi was executed by a kill squad after entering the consulate. Saudi officials have publicly denied those allegations.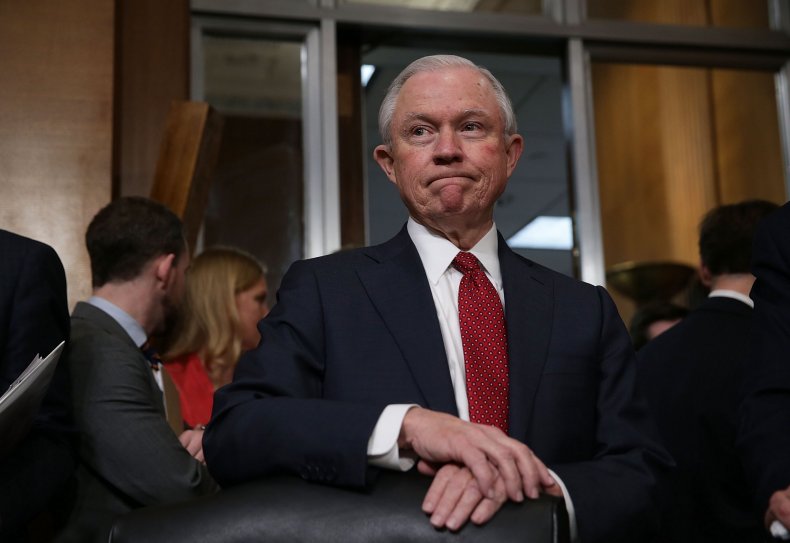 While Sessions said the journalist's disappearance was being given a "serious evaluation," he said it would be "inappropriate" for him to comment further. The attorney general did emphasize that any killing of a journalist is a "big deal," pointing specifically to high murder rates of reporters in Mexico.
Watchdog group Reporters Without Borders identifies Mexico as the second-deadliest country in the world for journalists, with at least 47 having been killed there since 1992, according to the Committee to Protect Journalists.
"The world will be diminished if journalists aren't able to go and travel and to report honestly conditions in differing countries, or people in their own country can't report on corruption or crime or misconduct in their countries. So I think it can even separate countries from a civilized community," Sessions said.
He said that President Donald Trump also feels "strongly" about journalists' rights around the world, despite the U.S. leader's frequent attacks on the media.
The attorney general said that the Department of Justice would "do what it can" and "maybe give new attention to this issue."
After a visit to Riyadh to meet with Saudi Arabia's king and crown prince, Secretary of State Mike Pompeo stated on Wednesday that he was not prepared to discuss the facts behind Khashoggi's disappearance and alleged murder.
Speaking with reporters before boarding a plane to Turkey to meet with Turkish President Recep Tayyip Erdogan, the secretary of state was asked if Saudi officials had made clear whether Khashoggi is dead or alive.
"I don't want to talk about any of the facts," Pompeo responded, adding that the Saudis "didn't want to either." Pompeo expressed faith in Saudi Arabia's promise to conduct "thorough" and "transparent" investigation into the journalist's disappearance.
"They told me they were going to conduct a thorough, complete, transparent investigation. They made a commitment, too, to hold anyone connected to any wrongdoing that may be found accountable for that, whether they are a senior officer or official," the secretary of state said.