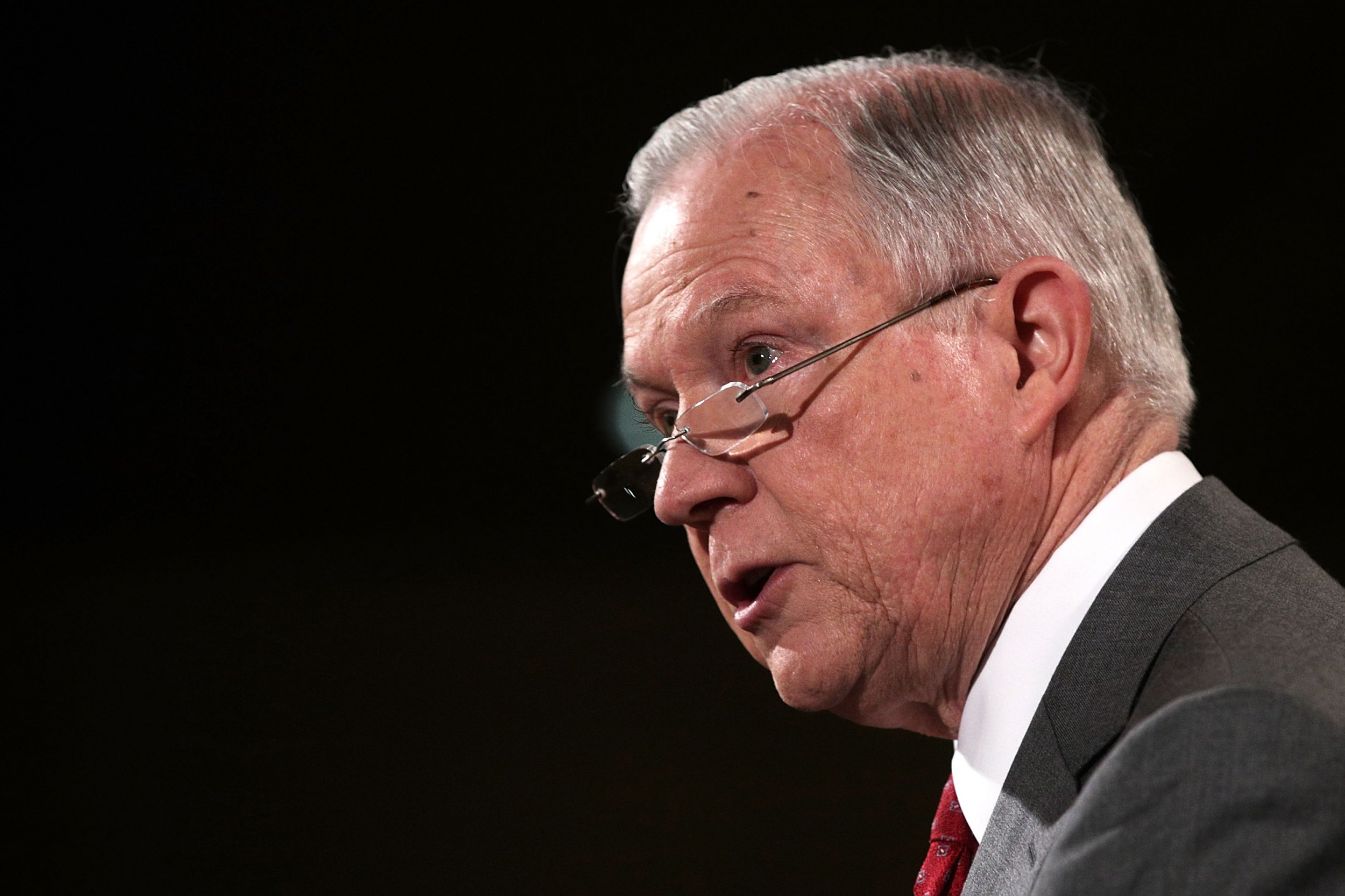 Updated | The Department of Justice could prosecute the car attack on counterprotesters in Charlottesville, Virginia, as a hate crime, Attorney General Jeff Sessions said Wednesday.
Speaking on Wednesday with NBC News, Sessions said, "It very well could be a civil rights violation or a hate crime, and there might be other charges that could be brought." He continued, "So we are working it intensely on the assumption we may well might want to prosecute him. We're also working with the state and local authorities that clearly have jurisdiction too. And often they're the ones that have the best charges."
Related: These states have made attacking police a hate crime
On August 12, white nationalists, neo-Nazis, the Ku Klux Klan and members of the "alt-right" gathered in Charlottesville for what they called the Unite the Right rally, in part to oppose the moving of a Confederate statue. Those protesters clashed with counterprotesters, and an alleged white supremacist is suspected of driving a car into a crowd of counterprotesters, killing a woman named Heather Heyer.
Sessions also told NBC News, "We'll work with the state and locals and then decide, in a collaborative way, to see what the best charges will be. One of the worst things you can do is get into some sort of fight over jurisdiction and try to snatch a case from another jurisdiction. The right and professional thing to do is work together and to make an honest and objective decision about whether the right place is to bring the case."
The attorney general had previously said the incident "does meet the definition of domestic terrorism." Those comments on Monday had gone farther at the time than those of President Donald Trump, who in initial remarks blamed "many sides" for the violence. The president later made a more forceful condemnation of the white supremacist groups in Charlottesville, before blaming "both sides" again, on Tuesday.
The federal hate crime law protects people from crimes committed based on a victim's actual or perceived race, color, religion, national origin, gender, sexual orientation, gender identity and disability.
Even though the group that the Charlottesville suspect is alleged to have attacked seems to have included people from various demographic groups, federal prosecutors could argue that the suspect believed those people belonged to one group and targeted them because of that perception, according to Jack McDevitt, director of Northeastern University's Institute on Race and Justice and the co-author of several books on hate crimes."You don't have to be a member of a particular group to be subject to a hate crime, if you're perceived to be [from that group]," he says. The fact that the suspect appears to have been open about his white-supremacist beliefs could help with a hate-crime prosecution, McDevitt adds.
Federal authorities could also decide to let state prosecutors handle the case based on the local hate crime or civil rights laws. McDevitt points out that some states cover political affiliation in those laws, such as West Virginia. That does not appear to be the case in Virginia, but the hate crime law there does cover acts "committed for the purpose of restraining that person from exercising his rights under the Constitution or laws of this commonwealth or of the United States." The U.S. constitution grants the right to assembly, as the counter-protesters in Charlottesville were doing at the time of the incident.
In Virginia, commonwealth's attorneys independent of the state attorney general are responsible for prosecuting crimes. Warner "Dave" Chapman, the commonwealth's attorney for the city of Charlottesville, was not immediately available to comment on Wednesday. That attorney, with local law enforcement, is leading the investigation into the Charlottesville case, according to a spokesman for the state attorney general.
Trump and Sessions met on Monday following a period of tension between the pair. In July, the president on several occasions said he would not have appointed Sessions attorney general if he knew Sessions would recuse himself from investigations regarding the Trump campaign. Trump referred to Sessions as "beleaguered" and, when asked about the future of Sessions in his administration, said, "We'll see what happens." New FBI Director Christopher Wray also attended the meeting on Monday.
Sessions, a former senator from Alabama, has come under scrutiny from civil rights advocates. But the attorney general said in a speech in June, "The Trump administration and the Department of Justice are committed to reducing violent crime and making America safe. As you know, hate crimes are violent crimes. No person should have to fear being violently attacked because of who they are, what they believe or how they worship." In February, he established a task force with a subcommittee focused on hate crimes.
This article has been updated to reflect that a commonwealth's​ attorney, not the state attorney general, is leading the Charlottesville investigation.