Children Will Be Separated From Parents at Border If Crossing Illegally, Jeff Sessions Says in Immigration Crackdown
President Donald Trump's Department of Justice announced plans Monday to begin separating parents and children at the border, a change from a long-time immigration policy which, generally, allowed them to stay together while their cases are processed.
"If you are smuggling a child, then we will prosecute you and that child will be separated from you as required by law," Attorney General Jeff Sessions said in a Monday address at the Association of State Criminal Investigative Agencies' 2018 spring conference. "If you don't like that, then don't smuggle children over our border."
That means parents will likely face prosecution while their children remain in detention at a "separate refugee facility," according to the Los Angeles Times.
As Jennifer Quigley, an advocacy strategist at Human Rights First, explained to Newsweek last week, mothers with children seeking asylum previously would have been released from Immigration and Customs Enforcement (ICE) detention after their "credible fear" interviews. Flores v. Reno, a 1985 class action lawsuit, dictated that children and minors must be kept in the "least restrictive setting" available, which typically meant they would be released from custody along with their mother. Together, they would wait for months, or sometimes years, for their day in court to plead their case for asylum before an immigration judge, due to an extensive asylum backlog.
Many of the Central American migrants who traveled together to the southern border via caravan over the last month expected to face a similar process. But Sessions's latest announcement—in addition to plans he announced on Wednesday to address the roughly 150 migrants seeking asylum at the border—has dramatically altered expectations.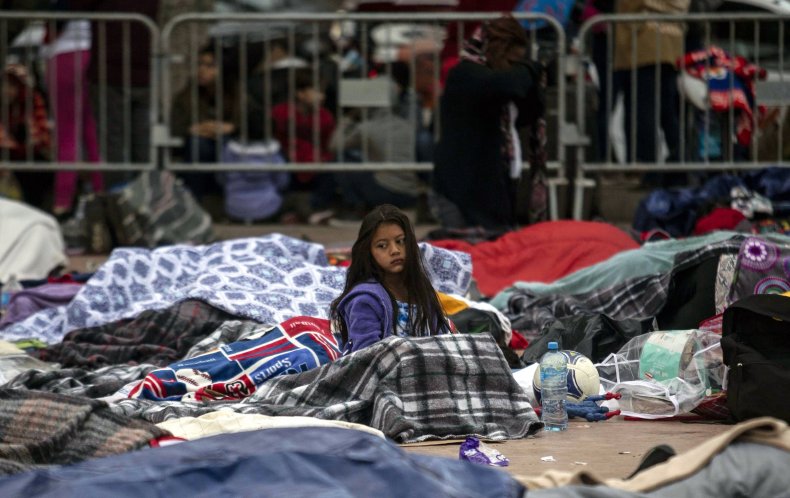 On Wednesday, Sessions said he would send 35 United States attorneys as well as 18 immigration judges to the border, to work full time on the asylum cases from caravan migrants he said sought to "overwhelm" and "stampede" it.
Sessions made clear his intention isn't to help caravan migrants navigate the labyrinthine process of asylum-seeking with greater ease—his Department of Justice has already filed criminal charges for illegal entry against 11 asylum seekers believed to be members of the caravan.
"The question is if you don't want to have to go through this problem, don't come unlawfully," Sessions said Wednesday, stating that it was his intention to "send a message" to immigrants seeking refuge in the U.S. "It's not my problem, it's not the U.S. border control's problem when people try to force their way into the country unlawfully."
The attorney general said he hoped Monday's decision broadcasts a similar message about the Trump administration's aim to crack down on illegal immigration.
"In this administration, we know whose side we are on," Sessions said Monday. "We're on the side of law and order. We understand the risks you take and the tools you need to be effective.
"This is not business as usual," he continued. "This is the Trump era."