Donald Trump Left Jeff Sessions Off Invite List to Camp David for a Working Weekend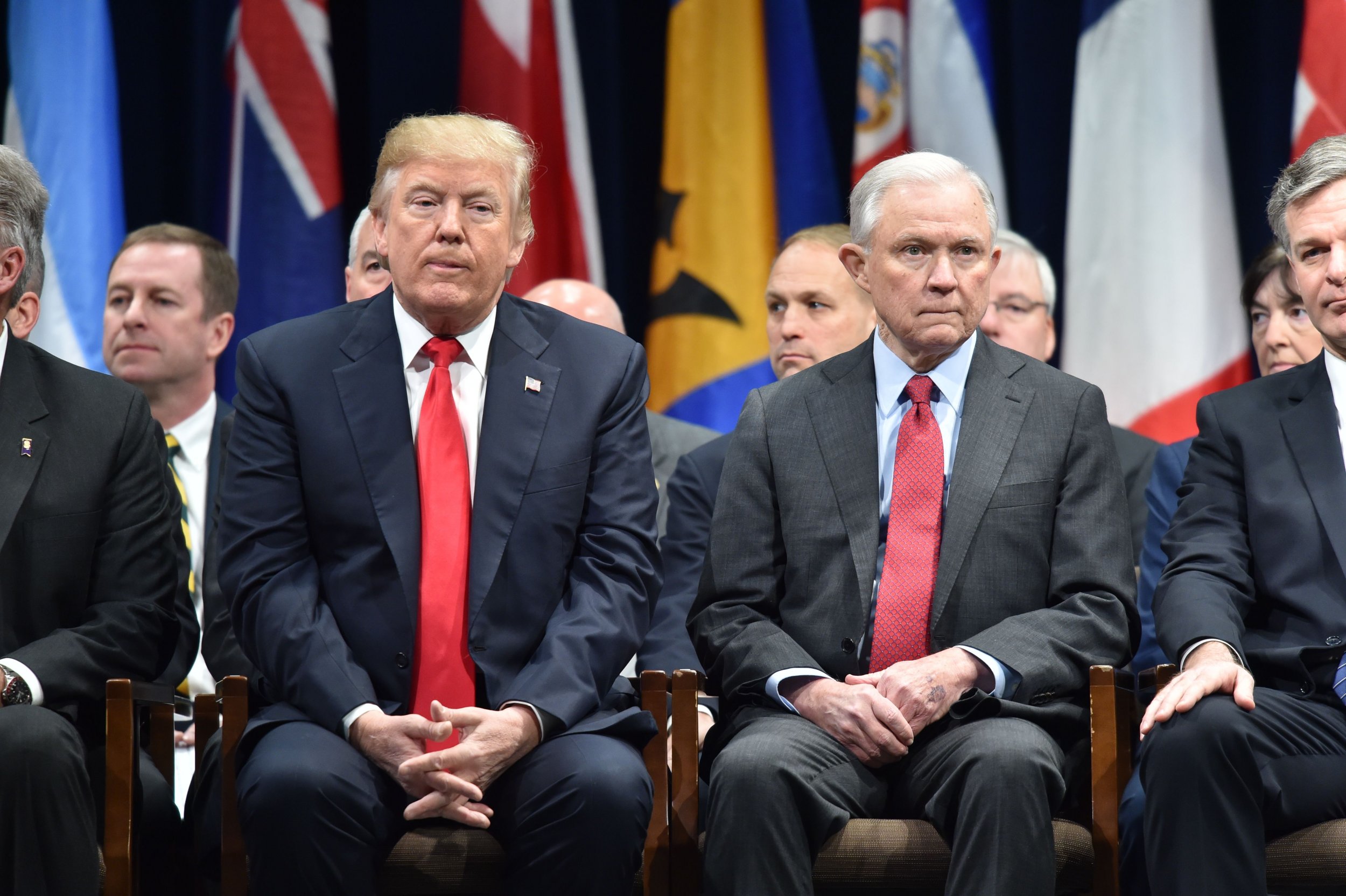 The Department of Justice said on Friday that President Donald Trump did not invite his maligned attorney general to a legislative discussion group at Camp David this weekend.
Asked if Jeff Sessions would be heading to Camp David for the working weekend to talk over 2018 legislative priorities, a justice department spokesperson answered only, "We weren't invited."
Trump invited 24 people to a meeting "for a small-group discussion of 2018 legislative priorities," Buzzfeed News's Chris Gardner tweeted Friday afternoon.
The invitation list includes several other cabinet members, such as Secretary of State Rex Tillerson, Department of Defense Secretary Jim Mattis, Department of Homeland Security Department Secretary Kirstjen Nielson, Central Intelligence Agency Director Mike Pompeo and Department of Education Secretary Betsy Devos, among others.
Sessions wasn't the only notable exception though. Only four of the people invited are women. One of those women, White House communications adviser Mercedes Schlapp, is Hispanic, but every other invitee is white and non-Hispanic, Garner reported.
Sessions has spent most of his tenure as the attorney general in Trump's doghouse. The New York Times reported on Thursday that Trump had ordered a top White House lawyer to lobby Sessions not to recuse himself from the FBI's investigation on Russian meddling in the 2016 election, but when that gambit failed, Trump was irate.
"[T]he president erupted in anger in front of numerous White House officials, saying he needed his attorney general to protect him," the Times reported. "Trump said he had expected his top law enforcement official to safeguard him the way he believed Robert F. Kennedy, as attorney general, had done for his brother John F. Kennedy and Eric H. Holder Jr. had for Barack Obama."
Sessions recused himself from the investigation in March and has since revealed he had several contacts with Russian officials as he campaigned for Trump's election.
"Where's my Roy Cohn?" Trump asked after he learned of Sessions's recusal. The comment was a reference to Trump's former "lawyer and fixer, who had been Senator Joseph R. McCarthy's top aide during the investigations into communist activity in the 1950s and died in 1986," according to the Times.
Trump has repeatedly scolded Sessions over the past year, both privately and in public.
"So why aren't the Committees and investigators, and of course our beleaguered A.G., looking into Crooked Hillarys [sic] crimes & Russia relations?" Trump tweeted in July—the month the FBI arrested his campaign's foreign affairs adviser George Papadapolous.
He also told the Times that month that he would not have hired Sessions as the chief law enforcement officer if he had known Sessions would recuse himself.
"Jeff Sessions takes the job, gets into the job, recuses himself, which frankly I think is very unfair to the president," Trump said. "How do you take a job and then recuse yourself? If he would have recused himself before the job, I would have said, 'Thanks, Jeff, but I'm not going to take you.' It's extremely unfair—and that's a mild word—to the president."
Last month, Trump said he was "far more frustrated with the attorney general, Jeff Sessions" than the special counsel now investigating Russian collusion.
Things have not unfolded according to Trump's plan since picking Sessions to head the justice department. Sessions vacated his Alabama Senate seat to accept the role as attorney general, clearing the way for a special election to fill his seat. Trump later endorsed two Republicans candidates, first Luther Strange, who lost the Republican primary, and then accused pedophile Roy Moore, who lost in the general election to Doug Jones, the first Democrat elected to the Alabama Senate in decades.
Sessions isn't just taking flack from his boss. He has been roundly criticized for another revelation in the Times bombshell article: that Sessions asked Capitol Hill staffers for dirt on former FBI Director James Comey and wanted to have one damaging story on Comey published every day in the news.