Jeff Sessions Pushed FBI Director to Clear Out Top Bureau Staff Amid Trump-Russia Investigation: Report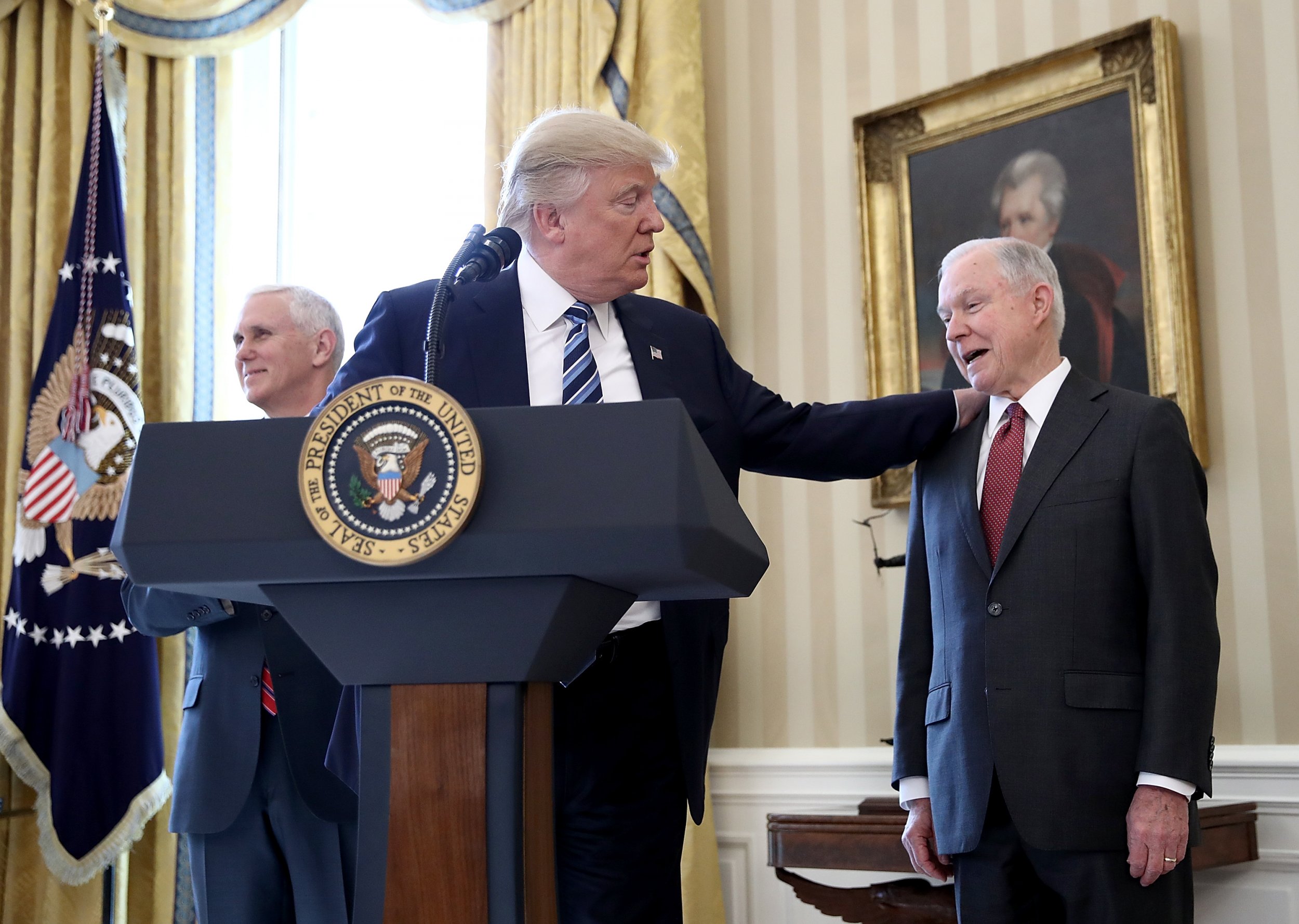 Attorney General Jeff Sessions has long been pressuring the FBI director to make a "fresh start" and clear out the bureau's top staff—including Deputy Director Andrew McCabe—amid the backdrop of an intensifying investigation into Russian meddling in the 2016 election and possible collusion with the Trump campaign, according to a new report.
For several months, Sessions has been prodding FBI Director Christopher Wray to clean house, according to Axios. Sessions has singled out two officials for the chopping block: McCabe, who previously oversaw the agency's investigation into Hillary Clinton's use of a private server, and a top bureau lawyer, James Baker.
"The conversations about McCabe and the core team started shortly after Wray was confirmed," an unnamed senior administration source told the news site. "They intensified from there."
McCabe, the target of fiery Trump tweets in July and December 2017, is expected to retire after he becomes eligible for his pension in March, The New York Times reported. Trump appeared to mock McCabe's delay in stepping down last month, tweeting, "FBI Deputy Director Andrew McCabe is racing the clock to retire with full benefits. 90 days to go?!!!"
In July, Trump targeted McCabe, then the acting FBI Director, and Sessions in a tweet, asking why his attorney general had not yet removed McCabe, whose wife Jill had received funds from a Clinton supporter while running for a Virginia state Senate seat.
"Why didn't A.G. Sessions replace Acting FBI Director Andrew McCabe, a Comey friend who was in charge of Clinton investigation but got...big dollars ($700,000) for his wife's political run from Hillary Clinton and her representatives," Trump wrote. "Drain the Swamp!"
The FBI has said McCabe was not involved in any fundraising events for his wife's campaign for state Senate and that he did not begin overseeing the Clinton investigation until after his wife's campaign was over.
The nonpartisan fact-checking site PolitiFact ranked Trump's tweet mostly false.
Wray, who assumed the director role last August, reassigned Baker in December. Baker was among the most respected national security officials in the government and had been for years the head of the bureau's Office of General Counsel, where he helped craft new policies.
He was also wrapped up in concerns over leaks, though his reassignment was not related to the issue. An investigation into leaks closed without anyone being charged, the Post reported.