Sessions Cracking Down on Immigration So Trump Will Like Him More, California Governor Suggests
California Governor Jerry Brown has suggested that Attorney General Jeff Sessions's crackdown on immigration is a way to seek President Donald Trump's approval.
Following Sessions's announcement in state capital Sacramento that the Justice Department would be pursuing a lawsuit against California on the basis that its sanctuary policies were obstructing immigration enforcement, Brown hit out at the attorney general on Wednesday.
"I do think this is pure red meat for the base, and I would assume—this is pure speculation—that Jeff thinks Donald will be happier with him, and I bet Donald will be tweeting his joy with this stunt," CNNreported Brown as saying. The governor took a personal dig at the pair, whose relationship has been strained for some time.
"Mueller is closing in. There are more indictments to come. So obviously the attorney general has found it hard to be just a normal attorney general. He's been caught up in the whirlwind," Brown added, referring to special counsel Robert Mueller's ongoing probe into Russia's attempts to influence the outcome of the 2016 election.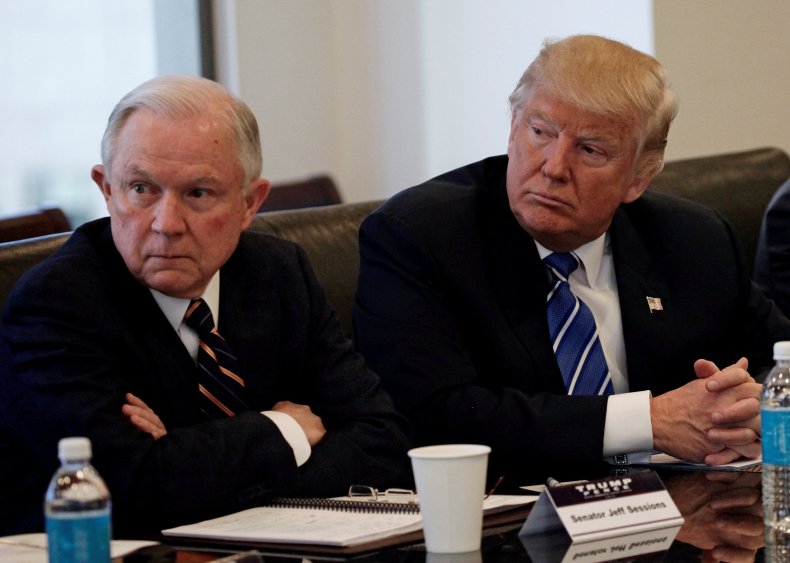 California has long been at odds with the Trump administration when it comes to immigration, becoming the first sanctuary state at the end of last year after Brown signed the legislation.
And its stance was described by Sessions as "radical" in a Wednesday night interview with Fox News. "Somebody needs to stand up and say, No, you've gone too far, you cannot do this, this is not reasonable," Sessions said. "It's radical, really."
The move against California's sanctuary policies has not gone down well with California lawmakers, with Brown accusing the administration of attempting to sow discord in the state.
"Look, we know the Trump administration is full of liars," Brown said.
"They've pled guilty already to the special counsel.... What Jeff Sessions said is simply not true, and I call upon him to apologize to the people of California for bringing the mendacity of Washington to California and trying to insert discord and dysfunction...to a state that's actually working," the governor added.